The Rookie Scene That Went Too Far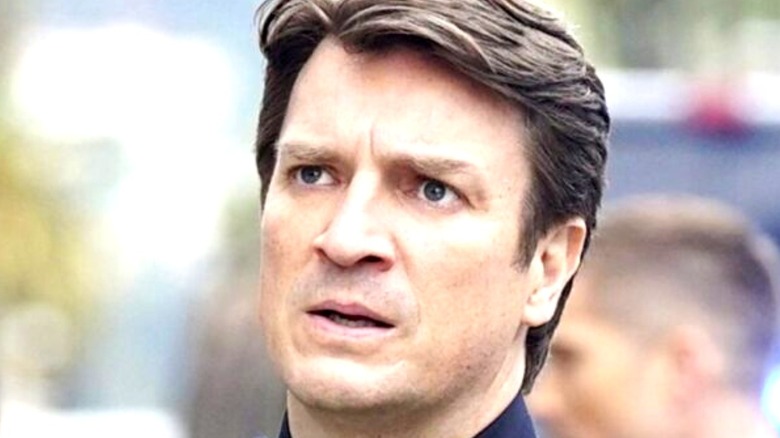 ABC
John Nolan (Nathan Fillion) is 45 years old. He is divorced with an adult son, a former construction business owner, and has lived a full life to middle age. Also, he is a rookie with the Los Angeles Police Department. This is the premise of ABC's police procedural drama, "The Rookie."
The series follows a new crop of LAPD rookies led by Nolan, including Lucy Chen (Melissa O'Neil) and Jackson West (Titus Makin Jr.), as they navigate their first year on the job under the supervision of their training officers, Angela Lopez (Alyssa Diaz), Tim Bradford (Eric Winter), and Nyla Harper (Mekia Cox). The dynamic between rookie and training officers lends to a light-hearted law enforcement perspective.
Even though Fillion adds his brand of snarky humor and wholesome persona to the series, there is no shortage of intense scenes that cause audiences to hold their breath. From terrifying gunfights, kidnapped officers, and unexpected deaths, there are plenty of edge-of-your-seat moments. But there is one moment in "The Rookie" that might have gone too far.
The death of Captain Anderson had viewers reeling
The death of a character is a common way for writers to keep viewers engaged and on their toes. Especially in a series about law enforcement, officers being in mortal danger is a part of the job. Without the deaths of a character every once in a while, the stakes seem to feel lower and lower. However, while multiple people die throughout the four-season run of "The Rookie," no death is more shocking and heartbreaking than that of Captain Zoe Anderson (Mercedes Mason).
A strong-willed and determined captain, Anderson is the youngest person to make police captain in the department at age 38. She's an incredibly well-liked character, and her death caused some backlash online. Reddit user u/Sami64 commented on the episode discussion thread, "Killing off strong female lead And replacing her with a white man. Low move." While Anderson has a short-lived replacement, the role has primarily remained empty for the more than two seasons after. U/blue7fairy also shared their frustrations about the death, saying, "I was so pissed she died, she was a strong badass women and in charge and they just killed her off. I was pretty upset."
"The Rookie" has gone on to kill more main characters after Anderson and continually puts the officers in mortal danger. The death of Captain Anderson begins a "Game of Thrones"-esque feeling that none of your favorite characters are safe, making each dangerous moment with them feel like their last.