An Original Cast Member Has Boarded Rob Zombie's The Munsters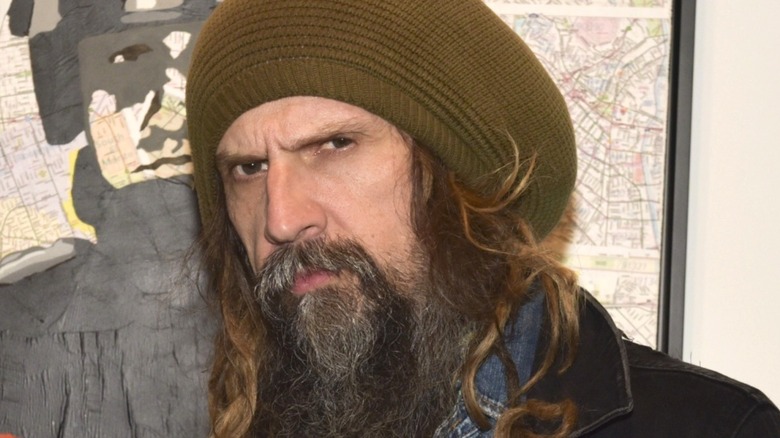 Rodin Eckenroth/Getty
Rob Zombie made it big as a heavy metal frontman before transitioning to the world of film, where he's built a brand directing blood-soaked horror films like "House of 1000 Corpses," "The Devil's Rejects," and "3 From Hell." Now, Zombie is treading into the most sinister territory yet: family-friendly sitcoms.
Last June, Zombie took to Instagram to announce his involvement in a film version of "The Munsters." Zombie's no stranger to reboots — he tackled a remake of "Halloween" in 2007, his highest-grossing project to date — but "The Munsters" marks a movement toward decidedly more cheery material.
The project has already landed a number of regular Zombie collaborators to bring the eccentric family of vampires, werewolves, and ghouls back to life. Sheri Moon Zombie, the director's wife, will be playing Lily Munster, with Jeff Daniel Phillips on board as her husband Herman and Dan Roebuck set to play Grandpa Munster. Now, Zombie has confirmed that an original "Munsters" cast member is officially joining the monstrous affair, as well.
Pat Priest is joining the cast of The Munsters movie
Though "The Munsters" first aired in 1964, the series has maintained a large base of devoted fans, who have been lapping up the news and first-look images emerging from Zombie's film set. Now fans have a new update to get excited about. Per a new Instagram post from Rob Zombie, Pat Priest has joined the cast of the reboot. "For once the rumors are true," the director confirmed (via Bloody Disgusting).
From 1964 until the series' cancelation in 1966, Priest played the role of Marilyn Munster, replacing original actress, the late Beverly Owen. The black sheep of the family, Marilyn was Herman and Lily's niece, whose conventional good looks the family considers a tragic affliction.
While the 85-year-old Priest is set to return to Mockingbird Lane, it's unclear if she'll be reprising the role of Marilyn. Zombie's announcement, "'What about Marilyn?' Well, here she is!" seems to imply as much, indicating that the series will be an updated, modern look at the Munster family. It's also uncertain whether other original cast members will join the project, as well. 
In any case, Zombie has already tapped horror icon Cassandra Peterson, better known as Elvira, to play a straight, normal woman in the vein of Marilyn Munster.