Rob Zombie's The Munsters - What We Know So Far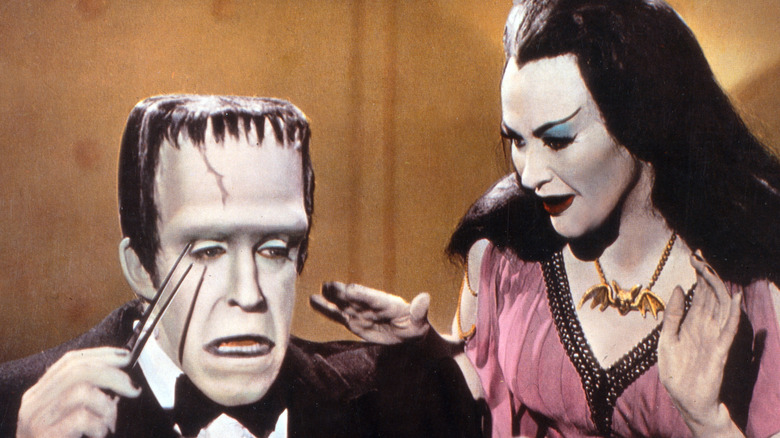 United Archives/Getty Images
Musician and "House of 1000 Corpses" director Rob Zombie took to Instagram on June 7 to confirm the rumor that he will direct a movie version of "The Munsters." While few details are known about this new take on the 1960s sitcom, which tells of a family of Transylvanian monsters living in the American suburbs, fans might get a grungier, edgier version of the family-friendly show. Zombie is known for making hardcore, blood-soaked horror films such as "The Devil's Rejects" and the 2007 remake of "Halloween." However, he's also a big fan of the original show. In confirming his involvement, Zombie wrote, "My next film project will be the one I've been chasing for 20 years!" 
While some fans took to social media to express their concern for a Rob Zombie-helmed "The Munsters," many showed their support, including Bloody Disgusting editor John Squires, who tweeted, "I get that nothing about Rob Zombie's established filmmaking aesthetic screams 'fun family sitcom!' but also keep in mind that he's a *massive* fan of The Munsters, and probably has more genuine love for that property than anyone. I think he's gonna surprise us all with this one."
Here's what we know about the release date, cast, and plot for the new version of "The Munsters." 
Updated November 17, 2021: This article has been updated to include information regarding the start of filming, the filming location, and the confirmed casting of Jeff Daniel Phillips, Richard Brake, and Dan Roebuck.
The Munsters will likely debut 2022
According to Variety, Rob Zombie's "The Munsters" was greenlit by Universal Studios through its 1440 Productions division. This means the movie will likely skip a theatrical release and air on Universal's streaming service, Peacock — a rumor first reported by Bloody Disgusting in April –, but this is still unconfirmed. Known for both animated and live-action movies, 1440 Productions projects typically only have worldwide distribution across non-theatrical platforms.
With the exception of "House of 1000 Corpses," most of Zombie's films have been released or screened less than a year after they've begun filming. For example, "The Lords of Salem" began filming in October 2011 and screened at the Toronto International Film Festival in September 2012, according to IMDB. When it comes to "The Munsters," Zombie is currently hard at work bringing his take on the property to life. His October 13, 2021 Instagram post shows off the completed set of 1313 Mockingbird Lane and announces that filming is underway in Hungary, though a release date has yet to come to light.
Should the shoot go as planned, "The Munsters" will most likely premiere sometime in late 2022.
The cast will feature familiar Zombie faces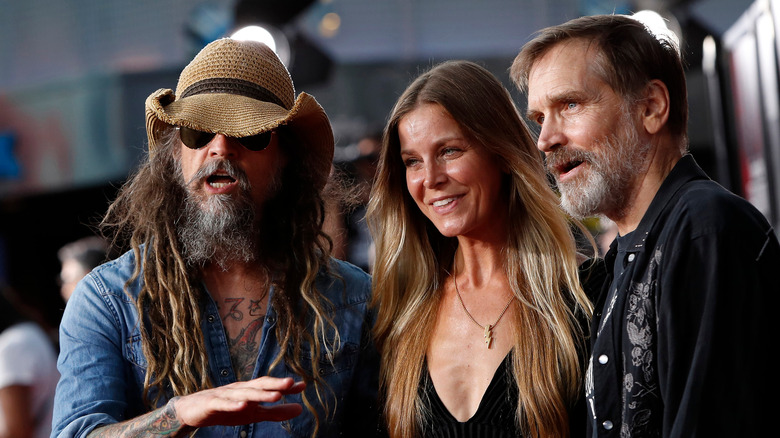 Shutterstock
While the full cast list has yet to go public, Rob Zombie himself has cued "Munsters" fans in on a handful of his chosen actors. First announced back in March via Murphy's Multiverse, his wife, Sheri Moon Zombie, has signed on to play Lily Munster. Following that up, Zombie's aforementioned October 13 Instagram post added frequent collaborators Jeff Daniel Phillips and Dan Roebuck as Herman and Grandpa Munster, respectively, to the lineup. News of Richard Brake's casting as Dr. Henry Augustus Wolfgang later made its way to the masses in a similar fashion.
Because Zombie is a huge fan of the original series, it's possible some of the TV show's original cast could make appearances in this remake. He recently joined original "Munsters" star Butch Patrick, who played Eddie, for a commentary of the movie "Munster, Go Home!" for its Scream Factory Blu-ray release. One casting that is almost certain is Dragula, the Munster family's car. Zombie named one of his biggest hit songs after the vehicle. On the commentary track for "Munster, Go Home!", Zombie revealed he had to use the TV family's coach in the "Dragula" music video because Dragula was on tour, according to Film School Rejects. An automobile website claims the original Dragula was put up for auction in 2019, although no information about its sale was reported.
The Munsters is about a weird but likeable family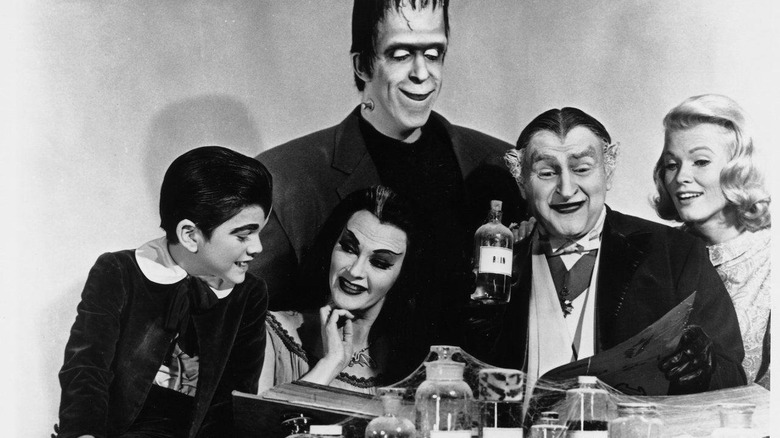 Universal Studios Home Video
When discussing his love for "The Munsters" on the commentary for "Munster, Go Home!", Rob Zombie said, "The weird characters who were put upon were sympathetic ... that's who you side with." The original CBS sitcom featured a family of kind monsters, including Herman, a Frankenstein-like creature, and his wife Lily, a vampire. The couple moved from Transylvania to 1313 Mockingbird Lane in the fictional America town of Mockingbird Heights with several other family members: their son, Eddie (a werewolf), Grandpa (a Count Dracula-type vampire), and their beautiful, human niece Marilyn, who was considered the ugly duckling of the bunch.
The TV series was a comedy centered around the fact the Munsters believed themselves to be the ordinary ones, not monsters. The show is considered to have been a satire of eastern European immigrants trying to fit into an American suburb and used characters based on popular monster movies of the 1930s to '60s. While no details about the new movie's plot have been released, Zombie's love of the source material is certain to influence the story.