Alexis Bledel Takes Home Emmy For The Handmaid's Tale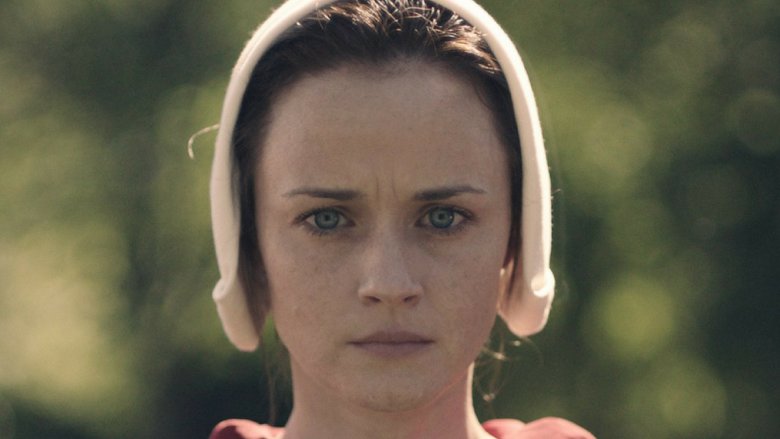 Alexis Bledel's eerie, powerful performance on The Handmaid's Tale has now made her an Emmy winner. Bledel took home the trophy for outstanding guest actress in a drama at the Creative Arts Emmys on Sunday night, joining her former Gilmore Girls co-star Melissa McCarthy, who won for outstanding guest actress in a comedy.
Bledel was up against one of her Handmaid's Tale co-stars, Ann Dowd, in the category, although Dowd was nominated here for The Leftovers. (She holds a nom for The Handmaid's Tale in the outstanding supporting actress in a drama category.) Her other competition included Alison Wright, a first time nominee for The Americans; Cicely Tyson, a perennial nominee popping up for the second time for her work on How To Get Away With Murder; Laverne Cox, earning her second nomination for Orange is the New Black; and Shannon Purser, a first time nominee for her Internet beloved turn on Stranger Things.
This is Bledel's first Emmy nomination and first win. She and her co-star Lauren Graham were famously snubbed at the Emmys for their turns on Gilmore Girls, but Bledel's performance in The Handmaid's Tale was hard to deny. The episode submitted for the ceremony, "Late," featured an almost entirely wordless performance from Bledel's Ofglen. Her performance was a standout on a series that featured many amazing moments, with the show earning a nod for outstanding drama series and Bledel's costars Dowd, Elisabeth Moss, and Samira Wiley also earning acting nods.
Bledel's character seemed to have met her end in The Handmaid's Tale's first season, but she will be back for season two, with Bledel being upped to a series regular. The show, which holds the title for Hulu's most watched premiere in its first week, is set to return for a second season at some point in 2018, graduating beyond the plot of the Margaret Atwood novel on which it was based. While we wait, see why the show's Serena Joy looks so familiar.