Melissa McCarthy, Dave Chappelle Win Emmys For Saturday Night Live Hosting Stints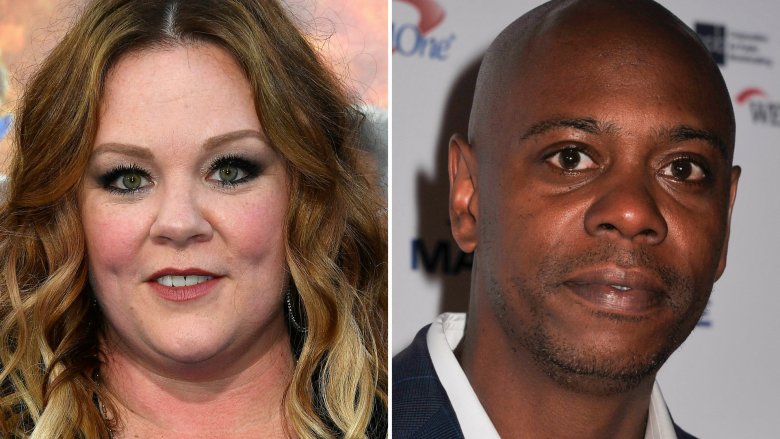 Getty Images
Saturday Night Live tied with Westworld for the most Emmy nominations this year, and now it already has two wins. Melissa McCarthy and Dave Chappelle both took home Emmys for their times hosting the series at the second night of the Creative Arts Emmys on Sunday. (via The Hollywood Reporter)
McCarthy appeared on Saturday Night Live a number of times this season as former White House press secretary Sean Spicer, debuting her critically lauded impression on the Kristen Stewart-hosted episode in February. She went on to host an episode of the show in May, marking her official entry into the five-timers club. This is the actress' second Emmy win after she took home the trophy in 2011 for Mike and Molly. She also holds six other nominations, for both Mike and Molly and Saturday Night Live.
In taking home the trophy, McCarthy beat out Kristen Wiig for her turn on SNL, Wanda Sykes for her time on black-ish, Becky Ann Baker for her appearance on Girls, Angela Bassett for her time on Master of None, and the late Carrie Fisher, whose former Star Wars co-stars campaigned for her to win for her appearance on the comedy series Catastrophe.
Chappelle won the award for his time hosting the series' first show back after the tumultuous 2016 presidential election. Chappelle used his stand-up skills to deliver a powerful host monologue; his episode also included the notable "Election Night" skit, which also featured Chris Rock. Chappelle had previously been nominated for three Emmys for Chappelle's Show and Dave Chappelle: What It's Worth. He beat out his fellow SNL hosts Tom Hanks and Lin-Manuel Miranda, as well as Girls' Riz Ahmed and Matthew Rhys and Veep's Hugh Laurie.
SNL's last season was one of the show's most successful ever. Buoyed by an Emmy-nominated Alec Baldwin as Donald Trump, the show managed to achieve a kind of cultural relevancy that has eluded it for a long time. Live coast-to-coast broadcasts, which began towards the end of the season and will likely continue through next season as well, helped to push the show to its highest ratings in 24 years, since the heyday of Adam Sandler, David Spade, and Dana Carvey.
SNL returns for season 43 with Ryan Gosling as the host and JAY-Z as the musical guest on Sept. 30 at 11:30 p.m. on NBC. While we wait, read up on the untold truth of the show.