Who Plays Kareem Abdul-Jabbar On Winning Time?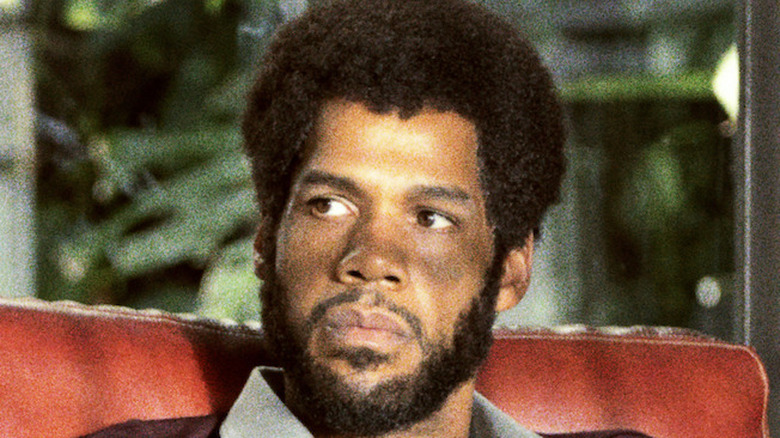 HBO/YouTube
HBO's "Winning Time: The Rise of the Lakers Dynasty" may not be a hit with the NBA stars who inspired it, but it's been popular so far with critics and audiences (via Rotten Tomatoes). The biographical drama series chronicles the life of Lakers owner Jerry Buss (John C. Reilly) and basketball legends Magic Johnson and Kareem Abdul-Jabbar — as well as key figures such as Jerry West (Jason Clarke) and Pat Riley (Adrien Brody) — during L.A.'s iconic championship runs in the 1980s. Created by Max Borenstein and Jim Hecht, the show is based on sportswriter Jeff Pearlman's book, "Showtime: Magic, Kareem, Riley, and the Los Angeles Lakers Dynasty of the 1980s," which was published in 2014. "Don't Look Up" and "Step Brothers" director Adam McKay is an executive producer (via IMDb). 
Many viewers may now be familiar with the man who is bringing the "Magic" in the debut season of "Winning Time" — Quincy Isaiah, who plays Earvin Johnson Jr., the Lakers' legendary point guard and future Hall of Famer. But what about the man who was arguably the second most important Laker from the 1980s Buss dynasty? Who is the actor who played Los Angeles' veteran center on the HBO series?
Kareem Abdul-Jabbar is being portrayed by ex-Cal basketball player Solomon Hughes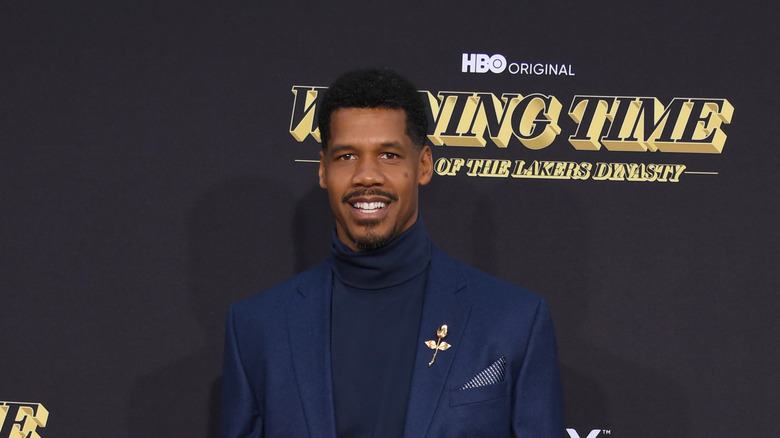 Jon Kopaloff/Getty Images
According to Sports Illustrated, former California Golden Bears center Dr. Solomon Hughes is the actor playing Kareem Abdul-Jabbar in HBO's "Winning Time: The Rise of the Lakers Dynasty." He's one of two former Cal athletes portraying Lakers players in the series, with the other being Austin Aaron, an ex-football player who is playing Lakers backup forward Mark Landsberger. 
"It's the opportunity to try to honor this figure and what he means to this country. What he means to this world, what he means specifically to Black history," Hughes told Esquire last month of his portrayal of Abdul-Jabbar. "I'm grateful that we're doing a TV series so you see the whole range of this Kareem character."
Before working to become an actor, Hughes spent time playing basketball professionally in Mexico and for the Harlem Globetrotters. One of the reasons he was chosen to portray Kareem, besides his acting skills and demeanor, was because of his playing experience and size. "You can't fake it," said co-creator Max Borenstein on TV's Top Five podcast. "A person who's seven foot tall looks like they're seven foot tall. And then beyond that, Kareem Abdul-Jabbar is, as you guys know, a towering figure intellectually as this gravitas, an appreciator of culture, of jazz. He's much more than just his persona on a basketball court. And that was extremely difficult. And we didn't think we were going to find the right guy at that."