Solomon Hughes Discusses The Giant Strides It Took To Play Kareem Abdul-Jabbar In Winning Time - Exclusive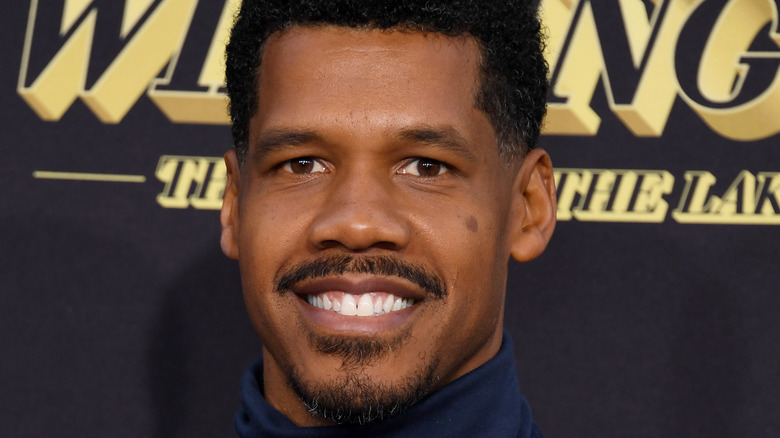 Jon Kopaloff/Getty Images
As if it weren't intimidating enough to learn how to play basketball like Kareem Abdul-Jabbar in "Winning Time: The Rise of the Lakers Dynasty," Dr. Solomon Hughes had an additional challenge in bringing the NBA legend to life in his first on-screen role: He had to delve into the mindset of Abdul-Jabbar, too.
New on HBO and HBO Max, "Winning Time" details the Lakers' NBA dominance in the 1980s after the team was purchased by innovative investor Dr. Jerry Buss (John C. Reilly). Buss' first major move was the selection of Earvin "Magic" Johnson as the No. 1 overall pick in the NBA draft, which was met with indifference by the likes of Abdul-Jabbar and the team's volatile player-turned-coach Jerry West (Jason Clarke). And while "Winning Time" naturally focuses on the dynamics between Johnson and Abdul-Jabbar, the series also peers into the famed center's personal life and convictions — most prominently Abdul-Jabbar's conversion to Islam, and changing his name from Lew Alcindor.
Holding a Ph.D. in higher education, Hughes, who teaches at Duke University, was naturally excited to embrace the deeper, cerebral aspects of playing Abdul-Jabbar, especially since he admired the Lakers legend on and off the court growing up.
Hughes wanted to understand Kareem's entire life in preparing for the role
HBO Max
Kareem Abdul-Jabbar, of course, has a storied history in the NBA, which began in 1969 with the Milwaukee Bucks before he was traded to the Lakers in 1975. Despite all of his accomplishments on the court — which includes six NBA championships, six MVP titles, and of course, the iconic "Skyhook" shot — Abdul-Jabbar has been a prominent figure off the court to this day as a socially-conscious writer and commentator. As such, Hughes said he focused on studying the Abdul-Jabbar of the present as well as the past to inform his portrayal.
"I definitely read some of the books that he's written recently, where in retrospect, he talks a little bit about his time in the NBA, but I primarily feel like we're in this age where you can pull up interviews on YouTube," Hughes told Looper in an exclusive interview. "It was fascinating to go back and look at how he interacted with the press, the way he spoke about himself when he was with the Bucks, when he was with the Lakers, etc. I definitely feel like I was at an advantage with resources that are available to really sit with Kareem of the 1970s and the 1980s — his autobiography, 'Giant Steps,' was one of the first autobiographies I read growing up, right up there with Malcolm X."
Hughes has admired Abdul-Jabbar his whole life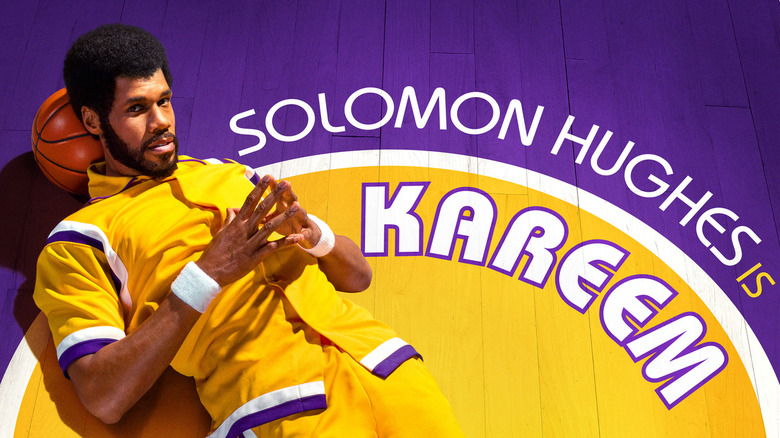 HBO Max
Hughes said that, thanks to his father, he gained a greater understanding and appreciation at a very young age of what Kareem Abdul-Jabbar stood for.
"I grew up an hour outside of Los Angeles, and so I was the kid that was very spoiled because all I knew was the Lakers success. [Kareem] was smack dab in the middle of all that because my dad really admired him for who he was, how he stood up socially," Hughes recalled. "When you think about the stances that he took at such a young age, when he joined the Cleveland Summit and supported Muhammad Ali along with others or athletes [when] he was a sophomore in college, when he boycotted the Olympics, these are profound stances to take in the time when the idea is, 'You really should just shut up and dribble.' It was an incredibly rewarding journey, deep diving into the life of someone that I've admired since I was a child.
"Winning Time" is on HBO and HBO Max, with a new episode every Sunday through May 8.