Cinematographer Andrew Droz Palermo Names His Favorite Moon Knight Sequences - Exclusive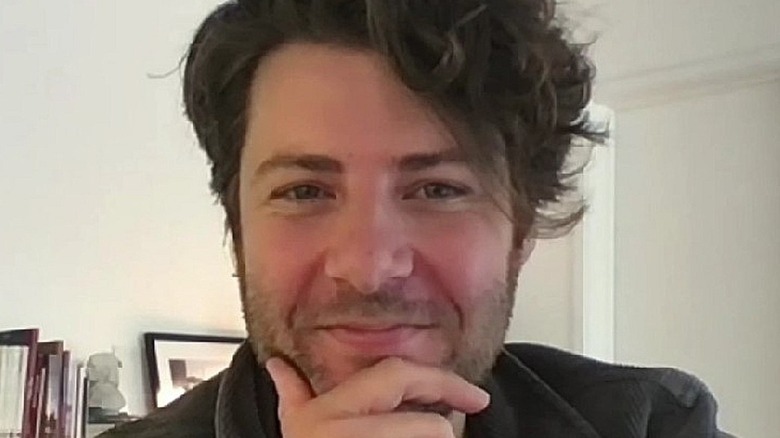 Disney+/Zoom/Looper
A veteran cinematographer of film and television for more than a dozen years, Andrew Droz Palermo has shot over two dozen projects in a variety of genres, including horror ("You're Next," "V/H/S"), fantasy-adventure ("The Green Knight"), the supernatural ("A Ghost Story"), and mystery-drama ("Strange Angel"). The projects have given Palermo plenty of opportunities to hone his craft, and the experience he's gained from them enabled him to take his vision to the next level as one of the cinematographers on the Marvel Studios series "Moon Knight."
As with many filmmakers and actors who have worked in the superhero genre, comic books were instrumental to Palermo's formative years as a budding artist. While "Moon Knight" wasn't on the stack of comic books the young Palermo owned, there were still plenty of Marvel Comics classics.
"This series was my introduction to 'Moon Knight.' I hadn't heard of him, but as a kid, I read comic books. I loved 'X-Men' and 'Wolverine,' [they] were kind of my go-to [comics], and I collected comic book cards," Palermo told Looper in an exclusive interview. "I really loved the art; I used to draw from them constantly. It's how I learned to draw, copying off of the 'Wolverine' comic books."
Working as the director of photography for directors Justin Benson and Aaron Moorhead on "Moon Knight" Episodes 2 and 4, Palermo said he became an instant fan of the cloaked superhero's source material. "The 'Moon Knight' comic books are such an inspiration for us for this show," Palermo said. "They do some really cool stuff, visually, and it's opened up this world for us to do really whatever interested us. We knew we could genre hop ... and we could play with reality and add meta-narratives and things like that."
With such room for creativity came the opportunity for Palermo to conceive some unique shots, and the cinematographer has some definite favorites in "Moon Knight."
Palermo's favorite shots happen in Moon Knight Episode 2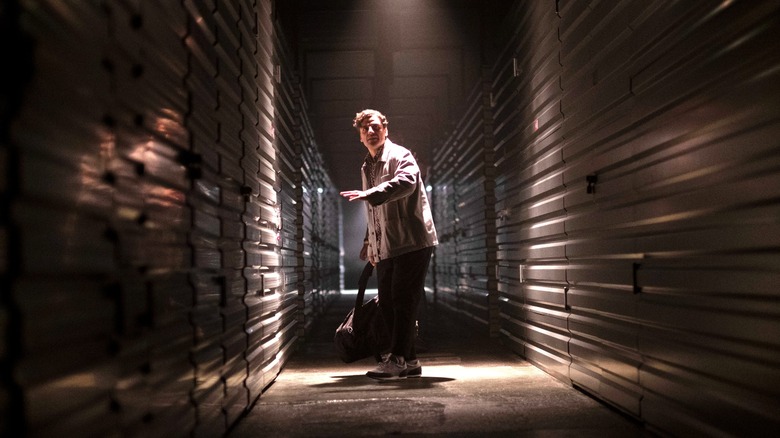 Marvel Studios/Disney+
Streaming exclusively on Disney+, "Moon Knight" follows the harrowing path of Marc Spector (Oscar Isaac), a former Marine and mercenary with dissociative identity disorder. As such, he has an alternate personality, Steven Grant, a mousy yet perpetually nervous former museum gift shop clerk who has a deep knowledge of Egyptian history. Steven becomes aware of Marc when he tries to get his alternate personality to surrender his body so he can summon the suit and powers of Moon Knight to battle evil forces. Unfortunately for Steven, that also means that he must confront the intimidating presence of Khonshu (voice of F. Murray Abraham), since Marc serves as the Egyptian god of the moon's avatar.
Andrew Droz Palermo said his favorite shots to do for "Moon Knight" both came during Episode 2, where Steven is still trying to grasp the circumstances surrounding his alternate identity and the god who grants the power of Moon Knight to Marc.
"I really like the sequence at the end of Episode 2, where Marc and Steven are talking to each other in that pyramidal structure in that open-air theater, and there's a light coming through the trees. That was a really great sequence. I like that a lot," Palermo told Looper. "I like the sequence where Steven is running from Khonshu in Episode 2, where he's in the storage lockers and the lights are going flashing. When I was shooting that, I was like, 'These are going to end up in the trailer. There's no doubt about it.' You can tell when you're shooting things like that, that they'll end up in marketing."
Also starring Ethan Hawke and May Calamawy, "Moon Knight" wraps up Wednesday, May 4, with the miniseries' finale.