Moon Knight Cinematographer Names The MCU Movie Scenes That Inspired Him The Most - Exclusive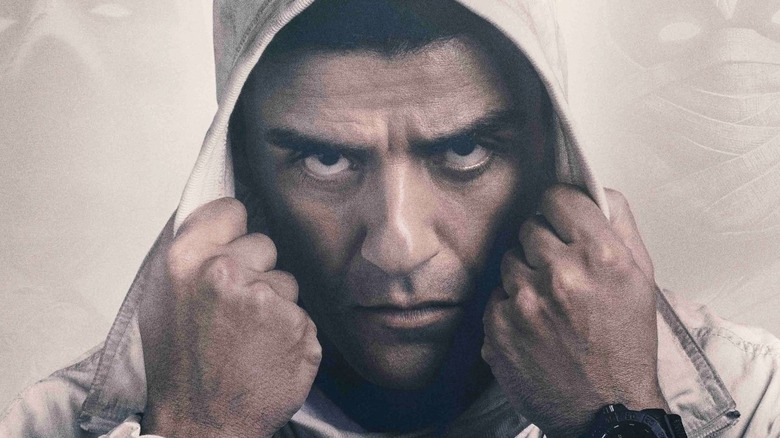 Marvel Studios/Disney+
While Emmy-winning cinematographer Gregory Middleton has looked through the lens at more than 60 movies and TV shows over the past 30 years (per IMDb), one thing that he's always kept his eye on is the Marvel Cinematic Universe. With cinematography credits on such smash-hit fantasy series as "Game of Thrones" and the acclaimed 2019 superhero series "Watchmen," it was only a matter of time before Middleton was going to find his way to the MCU.
Luckily for Marvel fans, "Moon Knight" executive producer and director Mohamed Diab recognized Middleton's unique sensibilities, which were enhanced by his work on the riveting character drama series "The Killing." Ultimately, Middleton's work on "Game of Thrones," "Watchmen," and "The Killing" — and undoubtedly other series in his immense body of work — was the right combination Diab was looking for. Not only does "Moon Knight" employ the sorts of action thrills fans want with the superhero genre, but it also highlights the complex character issues surrounding the series' protagonist.
Streaming exclusively on Disney+, Marvel Studios' "Moon Knight" follows the dangerous exploits of former Marine and mercenary Marc Spector (Oscar Isaac), who — due to his dissociative identity disorder — lives an alternate life as Steven Grant, a mild-mannered former museum gift shop clerk. When he suddenly finds himself in peril, Marc's presence bubbles to the surface of Steven's persona to inform him he's the avatar of Khonshu (voice of F. Murray Abraham), the Egyptian god of the moon. As such, Marc can summon the suit and otherworldly powers of Moon Knight — a cloaked superhero who must find and stop a diabolical cult leader, Arthur Harrow (Ethan Hawke), before he can unleash the dangerous powers of the Egyptian goddess Ammit.
In an exclusive interview with Looper, Middleton said he was prepared to serve as Diab's cinematographer in the series given his longtime affinity for the MCU.
Middleton was inspired by various MCU character interactions and comic book-style shots
The MCU began in 2008 with director Jon Favreau's "Iron Man," a role that catapulted Robert Downey Jr. into superstardom. Countless fans have been on board with the MCU ever since, including Gregory Middleton, largely because of the attention the saga pays to its characters.
"What's interesting, actually, is I have seen all the films ... and some of my favorite moments are with the character moments," Middleton told Looper. "I can think of Steve Rogers and Natasha [Romanoff] and the pickup truck in "The Winter Soldier," talking about what it's like to be a spy, and [Natasha saying in effect], 'I think you're in the wrong business, Rogers.' That's what interests me the most."
From a filmmaker's point of view, Middleton added that he loves how his fellow cinematographers sometimes mine their inspiration from the comic book source material.
"There's an amazing shot in the first 'Avengers' by Seamus McGarvey, [which is] right around the time that [Agent] Coulson dies, and it's that out of a comic panel," Middleton reflected. "We've got Iron Man in the foreground and there's the sun coming through the broken part of the Helicarrier. You've got all three of them composed and it's a real comic book frame, which [is] a way to bring a bit of the art of the competition and parts of comics into the cinema realm, without it being over the top and being a slave to it.
"That's one of the things about an adaptation," Middleton added. "It is honoring that piece of art and using it in a way to help form it that will also work within cinematic storytelling, and there's some amazing issues like that."
"Moon Knight" is streaming exclusively on Disney+, with the series finale dropping on Wednesday, May 4.