The Most Heartbreaking Stede Scenes According To Our Flag Means Death Fans
Hoist the flags and drop anchor because we're here to talk about "Our Flag Means Death." Featuring nuanced writing, incredible production design, thoughtful portrayals of LGBTQ+ characters, and an action-packed plot, "Our Flag Means Death" is a must-watch new series that premiered on HBO Max in March. Based on the true story of Stede Bonnet (played by Rhys Darby), an aristocrat who abandoned his comfortable life to sail the high seas as a pirate (via Smithsonian Magazine), the show explores a fictionalized narrative surrounding the real-life friendship between Bonnet and the notorious pirate Blackbeard, who's played by the one and only Taika Waititi. 
There are plenty of Blackbeard scenes in "Our Flag Means Death" that fans can't help but love, but the emotional journey that Stede takes over the course of the 10-episode freshman season is truly a sight to behold. Stede immediately endears himself to viewers with his elaborate wardrobe, childlike fondness for adventure, and genial attitude towards his seasoned pirate crew. Stede has some great moments in "Our Flag Means Death," but there's one painful parallel that makes fans want to reach through the screen and give the gentleman pirate a big hug.
Stede Bonnet has two lonesome dinner parties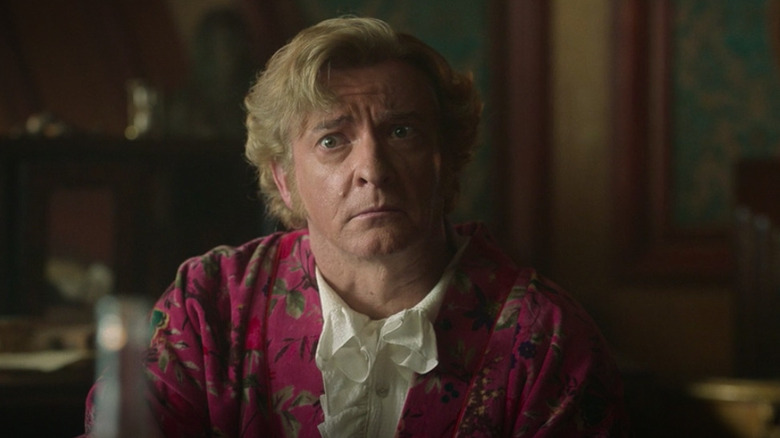 HBO Max
Fans quickly spotted a deeply compelling parallel that is introduced in Episode 1 of "Our Flag Means Death." In one scene, Stede is trying to fool British naval officer Captain Nigel Badminton (Rory Kinnear), a bully from Stede's younger years, and he is reminded of his life before turning to piracy. Flashbacks show Stede at a pitiful dinner with his wife and kids, during which he sits alone at the far end of the table. Stede's attempts at making conversation are met with silence and icy glares, making him feel like an outsider in his own home. The memory of this interaction reminds him of what drove him to become a pirate in the first place. 
On Reddit, u/toadpuppy highlighted this heartbreaking flashback scene in Episode 1 alongside a paralleling moment in Episode 8, titled "We Gull Way Back." When Blackbeard's old friend Calico Jack (another real buccaneer brought to life by Will Arnett) comes aboard the ship, he drives a wedge between Blackbeard and Stede. Jack monopolizes Blackbeard's time and constantly makes fun of Stede, creating a rift in the couple's developing relationship. Stede's sorrow is demonstrated clearly in a scene featuring the three men eating together. Jack forces Stede out of his seat next to Blackbeard, creating a tense environment in which Stede can't help but feel left out.
The positioning of the characters in both scenes is incredibly telling. In both instances, Stede is left alone and ignored. Visibly setting Stede apart from the other characters represents how lonely and disconnected he feels in each situation.
Fans couldn't help but empathize with Stede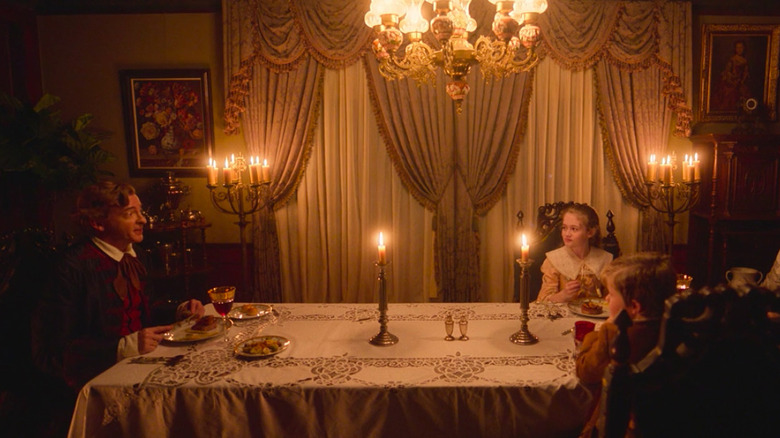 HBO Max
There are plenty of small details in "Our Flag Means Death" that add incredible depth to the story, and Stede's plight doesn't escape the viewer's attention. Fans on Reddit were quick to express their sympathy for Stede's difficulties in fitting in, believing these two scenes and their connection to be one of Season 1's saddest moments.
One user, u/modiste, perfectly summed up why the parallel is so gut-wrenching, saying, "A thing I love very much about Stede: he is an outsider in all the spaces where he regularly finds himself (amongst pirates, amongst his family, amongst high society), and yet he persists in being himself and loving the things he loves." Another fan, u/awayshewent, noted that when Stede and Blackbeard attend a high society get together in Episode 5, the gentleman pirate is once again left to sit alone at the dinner table. How much solitary dining can one sad pirate take?
Over the course of "Our Flag Means Death" Season 1, Stede and Blackbeard slowly but surely grow closer. It's a spell-binding dance that Darby and Waititi navigate with plenty of longing glances and increasingly tender displays of affection. Although the pair manage to admit their feelings for one another by the finale, circumstances force them to separate, leaving fans on the edge of their seats to find out what happens next. As of writing, the series hasn't been renewed for a second season.