The Blackbeard Scene That Our Flag Means Death Fans Can't Help But Love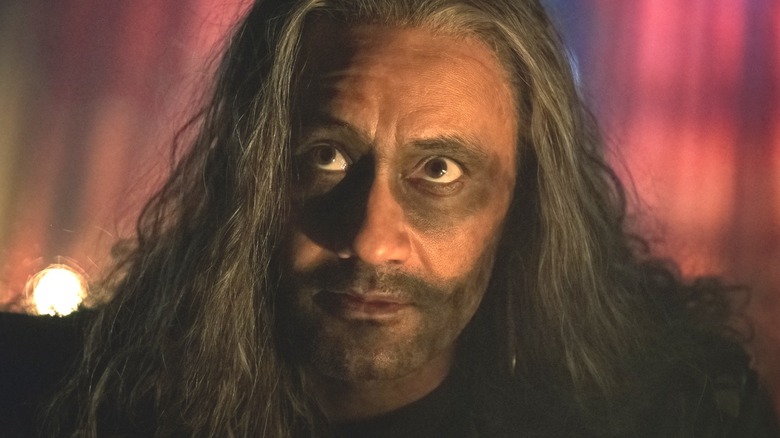 Aaron Epstein/HBO Max
Long after HBO's show about New Zealand's fourth most popular parody duo ended, Rhys Darby and Taika Waititi reunited in new series: "Our Flag Means Death." Darby and Waititi portray real-life pirates Stede Bonnet and Blackbeard, respectively, though with a slight twist (via Today). While these pirates did sail the high seas, "Our Flag Means Death" takes liberties in the best way possible: Stede and Blackbeard are a delightful application of the enemies-to-lovers trope. First meeting when Blackbeard's crew commandeers Stede's ship, the infamous pirate intends to steal Stede's identity. But as Blackbeard comes to terms with his own ennui, he finds love in an unlikely place.
Waititi, in particular, stresses that "Our Flag Means Death" has a heartfelt story to share. "It's not 'bromantic,' it's ROMANTIC," Waititi posted on Twitter. "If you hate this show, don't worry, I still love you. And I hope you begin to understand the many layers that love can encompass." Even though the Gentleman Pirate and the notorious Blackbeard seem like opposites, they bond over their issues with their fathers, which ultimately culminates in a beautiful love story by the end of the season. Fans do not disagree. After the first season aired, viewers commented about the best moment featuring the two pirates.
Fans can't get over the foot touch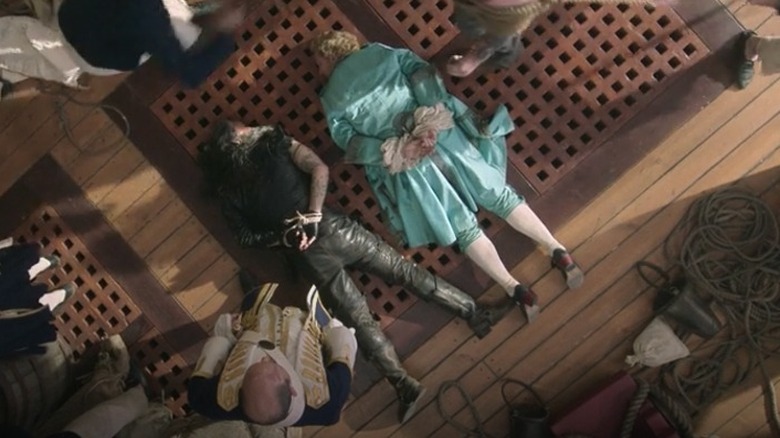 HBO Max
There is nothing more romantic than being captured by the Royal Navy for the one that you love. That's exactly what happens at the end of Episode 8, entitled "We Gull Way Back." Set to the backdrop of Fleetwood Mac's incomparable song "The Chain," Blackbeard is captured alongside Stede as their ship is boarded by the British. One subtle detail about Blackbeard didn't go unnoticed by one fan.
"Can't believe taika waititi was in a silly goofy mood one random day in the summer of 2021 and decided to move his foot two inches to the right and seven months later it ruined the life of thousands of people," @chaoticmulaney originally posted on Twitter. The fan references a moving moment when Blackbeard touches his foot to Stede's while they are under attack. Fans on Reddit took note and sounded off about how important the small detail was.
"Holding hands is sooo 2022 We holding feet like it's 1717," replied Redditor u/BigLebrullski. Other fans went on to credit this moment to the actors, whose chemistry is an important part of the dynamic. "I love how responsive they are to each other as actors," commented u/lappalies. "This is pure gold." 
The actors were a big part of this moment, to be sure. In an interview with Collider, Rhys Darby revealed that the foot touch was an improvisation courtesy of Waititi, a gifted actor as well as director. Unfortunately, fans of "Our Flag Means Death" will have to wait and see if they can look forward to any more moments like this one, as both Waititi and creator David Jenkins have said they are still unsure whether Season 2 will get HBO's stamp of approval.