The Castle Family Reunion You Likely Missed On The Rookie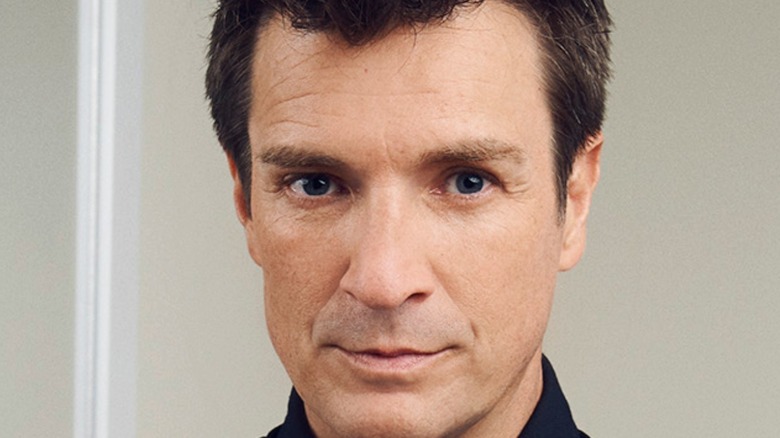 ABC/Andrew Eccles
In October 2018, Nathan Fillion first appeared as John Nolan in ABC's "The Rookie." The middle-aged former construction contractor becomes the oldest rookie in the Los Angeles Police Department. While he faces playful ridicule for his age, his endearing approach to police work, combined with his more-than-usual life experience, allows him to be a formidable cop and a dependable colleague for the other officers.
The first few seasons of the series follow Nolan and two other rookies, Lucy Chen and Jackson West (Melissa O'Neil and Titus Makin Jr., respectively), as they go through their first days of on-the-job training with their training officers. Each one faces different challenges and resorts to leaning on each other as much as possible. Four seasons later, Chen is no longer a rookie, West is no longer with us after his gut-wrenching death, and Nolan is extended as a rookie due to extenuating circumstances.
What makes the series compelling are the very different characters with diverse perspectives coming together to navigate the life of law enforcement. But mixed in with the heavy themes of the series are some fun moments for fans of "The Rookie" and Fillion's past projects. In fact, one episode featured an enjoyable family reunion from a previous Fillion ABC hit, "Castle."
Castle's Molly C. Quinn appeared in a Season 3 episode of The Rookie
In the ABC series "Castle," Richard Castle (Nathan Fillion) is the author of numerous thrillers starring the character Derrick Storm. He is pulled in to consult on a murder mirroring scenes in his books, where he finds a new muse in Detective Kate Beckett (Stana Katic), on whom he bases a new series. Leveraging his relationship with the mayor of New York, Castle shadows her on murder cases for years and eventually forms a romantic relationship with Beckett. Unfortunately, the show was canceled in 2016 after eight seasons under suspicion of conflict between the two main stars.
Castle is a writer, a sleuth, and a man-child. But most importantly, he is a father. His daughter, Alexis (Molly C. Quinn), is the only mature adult in the home. She's driven in school, responsible, and dependable, and her relationship with her father most times resembles a friendship more than a father/daughter bond. However, the series doesn't shy away from deep scenes that show their relationship as stronger than many other parental bonds on TV.
Eagle-eyed fans of "Castle" showed excitement at the unannounced surprise appearance of Quinn on "The Rookie" in Season 3, Episode 8, titled "Bad Blood." Reddit user u/WeirdlyAbsurd commented on a discussion thread, "Omg, Molly was there. And they didn't even announce it or hype it up." Quinn appeared briefly as the daughter of a recurring character, conman Oscar Hutchinson (Matthew Glave). While it was a brief introduction, and her character likely won't be back, it was a fun throwback for fans still missing "Castle."