Who Plays Katherine Casillas In NCIS: Los Angeles?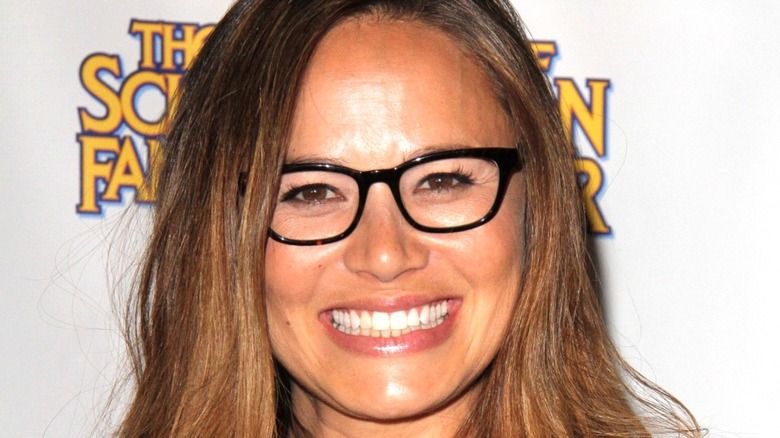 s_bukley/Shutterstock
Six years after Donald P. Bellisario and Don McGill created the original "NCIS" (a spin-off from Bellisario's mid-'90s hit, "JAG"), its first spin-off, "NCIS: Los Angeles," starring Chris O'Donnell and LL Cool J, began developing a following all its own, ultimately drawing in some fans who'd never even seen the parent series (via Reddit). The long-running series moved its formula from the East Coast to the West and in doing so, stood out from the litany of procedurals or crime narratives based in the Northeast. Unsurprisingly, rival network NBC launched its own La-la-land spin-off, "Law & Order: LA," the following year.
For any series lasting more than five seasons ("NCIS: Los Angeles" is currently holding strong at 13), a refresh of the recurring cast is integral to maintaining audience interest. Though O'Donnell and Cool J have maintained their position as the series' two main protagonists, many an actor has come and gone over the years, and the series has seen former recurring actors, such as Gerald McRaney, evolve over time into series regulars (via Deadline). Among the newer cast of characters is Katherine Casillas, the girlfriend of LL Cool J's Special Agent Sam Hanna. The character was first established in 2019's Season 11, Episode 5, "Provenance," and has appeared in six episodes to date. Though the actor behind Casillas may be new to the franchise, she's far from new to popular television series.
Moon Bloodgood, who stars as Katherine Casillas, is no stranger to TV series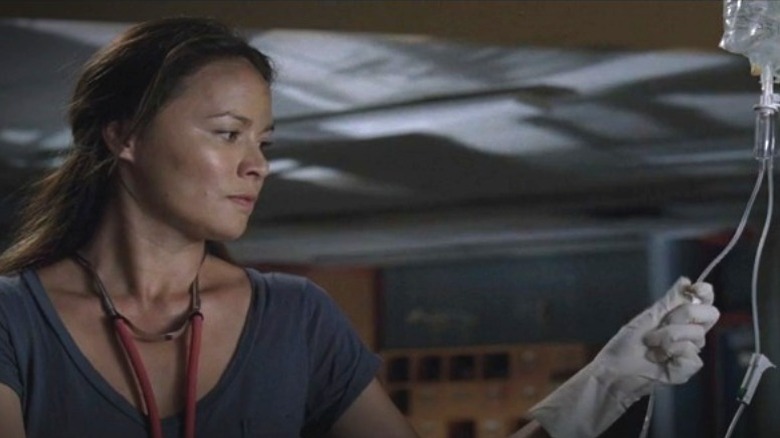 TNT
Well before she joined the cast of "NCIS: Los Angeles," Moon Bloodgood had already established herself in a handful of other dramatic television series. After appearing briefly in one-episode arcs on "Just Shoot Me," "Fastlane," "CSI," "North Shore," "Monk," and "Rocky Point," the actor landed the recurring role of Rita Shelten in ABC's sci-fi drama "Day Break." Following her season run on the series, Bloodgood starred alongside Kevin McKidd ("Kingdom of Heaven," "Brave") as the time-traveling protagonist Livia Beale in NBC's 2007 sci-fi series "Journeyman." The actor returned to television in 2009, portraying Detective Paxson in three episodes of "Burn Notice," but it was a return to the world of sci-fi and postapocalyptic narratives that most successfully put the actor on the primetime map.
From 2011 to 2015, she starred as former pediatrician Anne Glass in TNT's "Falling Skies." The alien invasion series, co-executive produced by Steven Spielberg, received two Emmy nominations for outstanding special visual effects and earned Bloodgood a Saturn Award nomination for best actress on television (via IMDb). Three years later, Bloodgood officially joined the CBS lineup with her role as EMT Rox Valenzuela in Michael Seitzman's medical drama, "Code Black."
In addition to her long-established career in television, Bloodgood is also known for her roles in a handful of films with distinctly different tones, genres, and critical responses.
Bloodgood had hits and misses on the big screen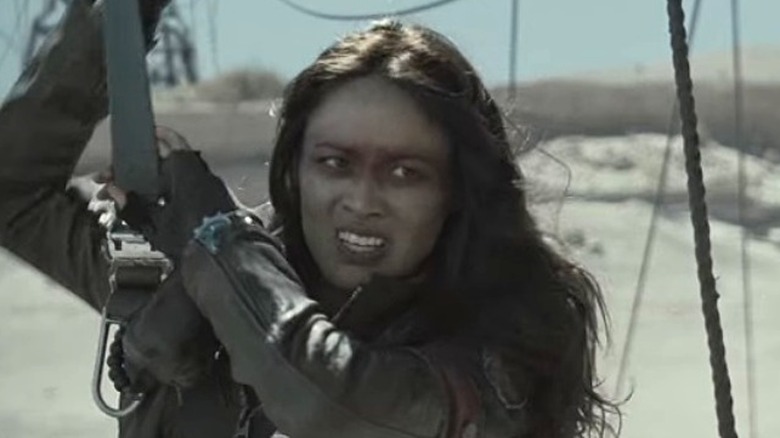 Warner Bros. Pictures
In 2009, Moon Bloodgood starred opposite Christian Bale and Sam Worthington in one of the least successful installments of the "Terminator" franchise, "Terminator Salvation." Though the film's music, stunt work, and visual effects received praise (as did Bloodgood's performance, at least at the Scream Awards), it was simultaneously nominated for biggest disappointment of the year by the Golden Schmoes and sequel that shouldn't have been made by the Alliance of Women Film Journalists (via IMDb). Despite the movie's mixed reception, Bloodgood reprised her role as obligatory badass Blair Williams in the 2009 animated spin on the story, "Terminator Salvation: The Machinima Series."
After appearing in 2010's only slightly more favorably received "Faster" (via Rotten Tomatoes), Bloodgood struck indie film gold when she appeared in Ben Lewin's critically acclaimed biographical dramedy "The Sessions" (via Rotten Tomatoes). The Oscar-nominated film about a man in an iron lung who hires a sex surrogate (Helen Hunt) to help him experience sexual intimacy before he dies was showered with awards and nominations from a litany of organizations and earned Bloodgood (who played Vera, one of the man's caregivers) and her co-stars the Special Jury Prize at the 2012 Sundance Film Festival (via IMDb).
In addition to appearing frequently in television series and showcasing her range on the big screen, the "NCIS: Los Angeles" star serves as a goodwill ambassador for the Korean Tourism Organization, a position she's held since 2009 (via The Korea Times).