Director, Writer Recall The Nicolas Cage Films That Sparked The Idea For The Unbearable Weight - Exclusive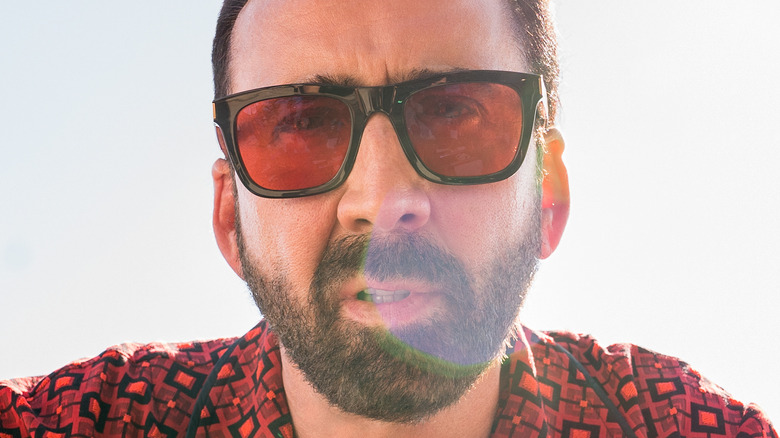 Lionsgate
In all likelihood, the new action-comedy "The Unbearable Weight of Massive Talent" is the only movie audiences will see in theaters this year starring an iconic actor playing a fictionalized version of their own persona for the duration of the film. Forget about the features where a star cameos for a minute to get a quick laugh — "The Unbearable Weight" is a full-blown 1-hour-and-47-minute romp that takes the meta-movie concept to a whole new level.
"The Unbearable Weight" is the brainchild of director and writer Tom Gormican and writer-executive producer Kevin Etten. New in theaters, "The Unbearable Weight" stars Nicolas Cage as Nick Cage, the famous film star whose career has hit the skids, and he's in need of some serious cash. Luckily for Nick, a wealthy superfan, Javi Gutierrez (Pedro Pascal), invites his idol to appear at his birthday party at his remote island compound for $1 million. Before he gets to his destination, though, Nick is informed by a pair of CIA agents (Tiffany Haddish and Ike Barinholtz) that Javi is actually a notorious crime lord, and they need the actor to spy on his host.
He agrees, but stakes are raised when some of Javi's underlings kidnap the actor's wife, Olivia (Sharon Horgan), and teen daughter, Addy (Lily Sheen), forcing Nick to channel some of his most famous movie action heroes to save them and escape from the compound.
The idea for "The Unbearable Weight" was grounded in one simple truth, Gormican and Etten told Looper in an exclusive interview: They're both huge fans of Cage's work.
The filmmakers' favorite Cage films run the gamut of his career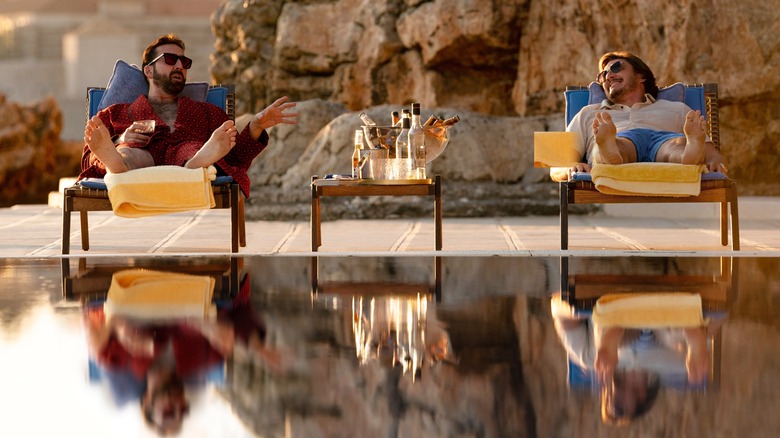 Lionsgate
Kevin Etten said his affinity for Nicolas Cage dates back to his childhood.
"My mother loved the movie 'Moonstruck,'" Etten recalled. "I remember seeing that at an early age and remember his performance in it and how electrifying and funny and real it was, and then into my teens, when "The Rock" came out ... that movie, still to this day, if it's on, I won't turn it off. Really, he has such a wide body of work. He's done every kind of genre."
Then, one day, Tom Gormican bounced the concept for "The Unbearable Weight" off his collaborator. "When we were talking about this idea, Tom had sparked it off by saying, 'What about Nic Cage playing Nick Cage?'" Etten remembered. "I immediately said yes because I had such a love for not only his movies, but also him as an artist, as a guy who follows his own path in his own way and doesn't care what anybody thinks."
In "The Unbearable Weight," Cage has different personas — Nick Cage the actor and Nicky Cage, the obnoxious younger version of himself — an idea rooted in one of Gormican's favorites.
"There's two performances that Nic gives that I always come back to, that I really love, and they're indicative of the types of character we had him play in this film. It's 'Raising Arizona' and 'Adaptation,'" Gormican revealed. "In 'Raising Arizona,' it's this big, broad comedic performance that you're drawn into on an emotional level; and in "Adaptation," you've got him playing two different characters, which we do in this film. There's two characters in this film, but it's split, and that was a big influence on us. That performance is really nuanced and detailed and very small and natural and real, and I thought those are two very different versions of Nic Cage that we tried to channel in 'Unbearable Weight.'"
"The Unbearable Weight of Massive Talent" is now in theaters.