The Most Underrated Scene In This Is Us According To Fans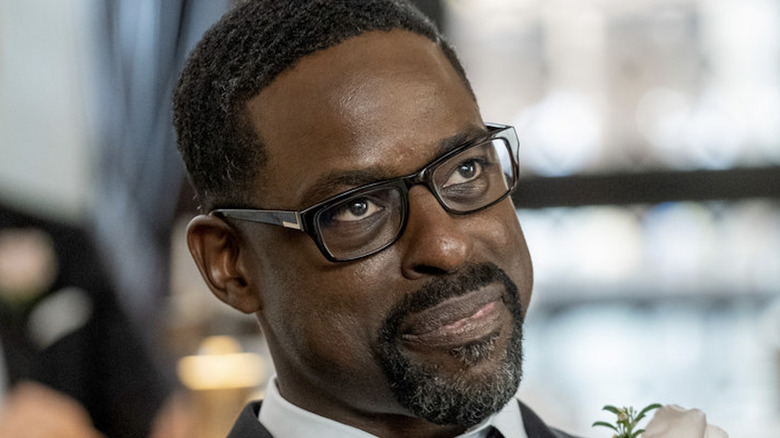 Ron Batzdorff/NBC
The series finale of "This Is Us" arrives in May 2022, as fans get ready to say goodbye to NBC's hit drama after six seasons and more than 100 episodes of tears, multiple timelines, and family strife and togetherness. Siblings Kevin (Justin Hartley), Kate (Chrissy Metz), and Randall (Sterling K. Brown), nicknamed "The Big Three," and their parents, Jack (Milo Ventimiglia) and Rebecca Pearson (Mandy Moore) go through an awful lot over several decades. This includes Kevin's addiction to alcohol and pain medication, Randall's nervous breakdowns, Kate's uncertainty over her life direction, and Jack dying from a heart attack.
Yet the Pearsons are often there for each other even when the siblings don't get along or disagree, such as when Kevin and Randall help Kate get through her wedding day, or when the Big Three, as adults, say their childhood chant together. These moments of familial love can result in even the most cynical viewers needing tissue boxes. But "This Is Us" fans think one scene from the first season is truly magical.
Kevin sacrifices his goal to help Randall through a breakdown
Kevin and Randall may be siblings in "This Is Us," but they don't always get along. Kevin resents the attention Randall's achievements receive, while Randall dislikes Kevin's need for validation. Maybe that's why this Season 1 scene feels so special.
After mounting pressure at work and home, Randall begins to dissociate in Season 1, Episode 15,  "Jack Pearson's Son." Kevin is about to star in a new play when Randall unexpectedly calls him. Recognizing from their past that he's having a breakdown, Kevin leaves the theater to go comfort Randall instead of neglecting him like he does as a teen. Kevin ends up cradling his brother in his arms while he cries.
When u/printedthoughts20 posted about the scene on the show's subreddit, fans couldn't agree more about how beautiful it is. Many Redditors mentioned crying themselves while watching the sequence, and u/singoneiknow wrote, "To see two grown men have a moment like this is so important, let alone it being one of the stand-alone best scenes of this series."
What makes the episode "Jack Pearson's Son," and this moment in particular, stand out is how Kevin actively changes his behavior with his sibling after they are both so cold with each other. U/Geronimoski points out that "the moment above was actually very surprising, iirc, and was one of the first signs that maybe Kevin was going to try and start pulling himself together."