The Yellowstone Scene That Had Luke Grimes Fearing For Kayce's Life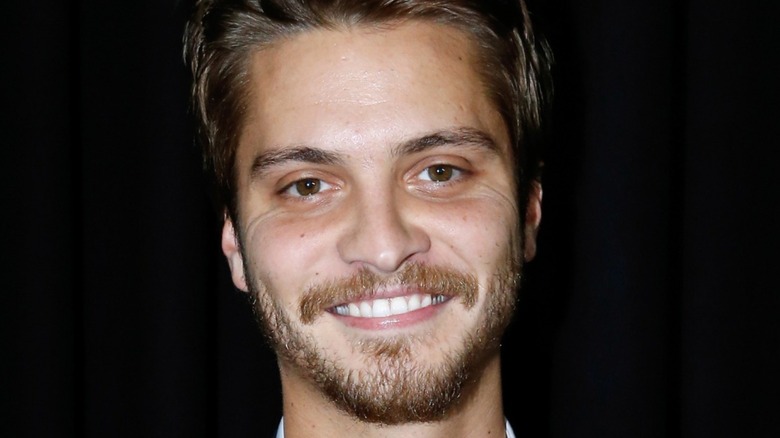 Rindoff/dufour/Getty
From the very outset of his popular contemporary western, Taylor Sheridan made it clear that, despite the modern-day setting, "Yellowstone" wouldn't shy away from incorporating the volatility and violence of its Wild West roots. Though it is, at its heart, a family drama, the popular Paramount Network phenomenon is every bit as action-packed as any of its more obviously explosive contemporaries.
Over the course of the past four seasons, Luke Grimes' "Yellowstone" character Kayce Dutton has seen his share of death, violence, and danger (as has just about every other character on the show, including his wife and child). The series kicked off with a dispute over cattle that ended in the death of Kayce's brother, Lee (Dave Annable), and saw the prodigal son return to the Dutton fold only after avenging his brother's murder. Later in the series, Cole Hauser's Rip Wheeler and Kayce came to some serious blows in a staged fight that, despite its predetermined outcome, at least appeared to pose a major threat to the current livestock commissioner. 
There's one scene, however, that caused even the actor to wonder whether or not the noblest Dutton would survive the episode. In an interview with Gold Derby's Rob Licuria, the "True Blood" and "Fifty Shades of Grey" actor opened up about his response to Kayce's (and the series') most intense plot twist to date.
Grimes shared viewers' fears that Kayce wouldn't make it to Season 4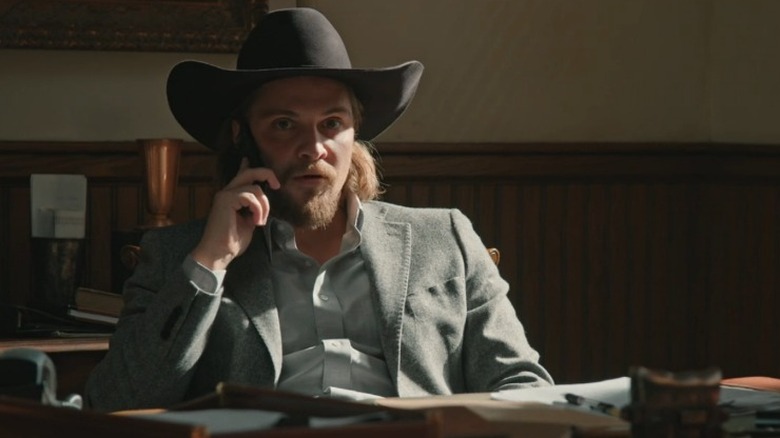 Paramount Network
In the Season 3 finale, as fans will recall, a yet-to-be-revealed antagonist orders a hit on the Dutton family. At the end of "The World is Purple," a mail bomb blows up in the office of Kelly Reilly's Beth Dutton, Kevin Costner's John Dutton is sprayed with bullets while attempting to help a stranded traveler and her son, and in the middle of a phone call with his wife Monica (Kelsey Asbille), Kayce comes under fire while sitting at his desk. The cliffhanger ending left many fans wondering who, if anyone, would be left standing at the start of Season 4, and apparently, they weren't the only ones. 
Speaking to Rob Licuria of Gold Derby, Luke Grimes said the scene made him wonder how anyone would survive such an ambush. "I think I even asked him," Grimes said, referring to Taylor Sheridan, "'Do I die? Am I dead now? Like is this over?'" It's little wonder Grimes was worried. The last few glimpses viewers catch of Kayce in the episode see him flip over his desk to use it as cover, while off-screen, an unknowable number of shooters burst into the office and begin firing. Thankfully, Sheridan was able to reassure Grimes that his character would indeed make it and be there to kick off Season 4, but it seems the close call was just as worrisome for the actor as it was for viewers.