Yellowstone's Luke Grimes Gets Candid About Kayce's Role In The Dutton Family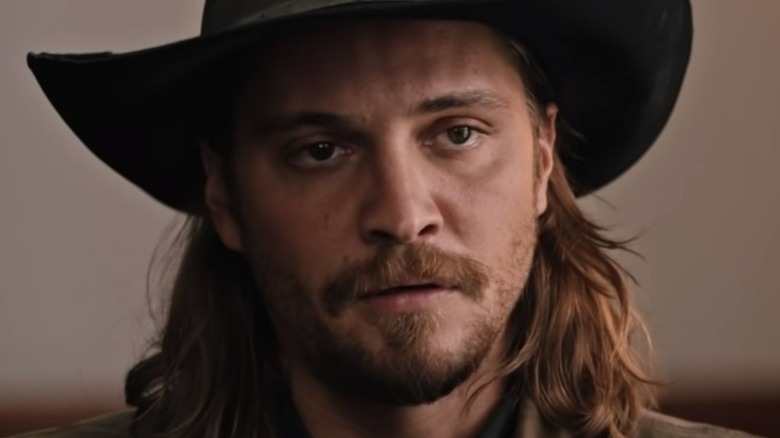 Paramount
Since premiering in June of 2018, Taylor Sheridan and John Linson's "Yellowstone" has become nothing short of a small screen favorite. The Paramount Network series is currently up to four seasons, and it's likely only a matter of time before the powers that be formally announce a fifth. Not to mention, spin-off titles such as "1883," "1932," and "6666" have and will bring the franchise to new heights. Thus, it stands to reason that television audiences haven't seen the last of the Dutton family, no matter the era, and it seems as though most fans wouldn't have it any other way.
Much of the appeal of "Yellowstone" compared to other neo-Westerns is its cast of characters — most prominently those within the Dutton family. Patriarch John (Kevin Costner) leads the pack as the main operator of the Yellowstone Ranch, doing whatever he can to prevent outside forces from encroaching on the land his family has held for generations. His children also feature quite heavily on the program, each with different parts to play in relation to the ranch and the overall family dynamic. Lee (Dave Annable) was the oldest, followed by the only adopted child, Jamie (Wes Bentley), then Beth (Kelly Reilly), and finally Kayce (Luke Grimes).
Kayce Dutton has appeared quite frequently on "Yellowstone," and in that time, he has faced his share of ups and downs. Nevertheless, he's still a part of the family, and according to Luke Grimes himself, he plays a very specific role within it.
Grimes likens Kayce to Michael Corleone from the Godfather trilogy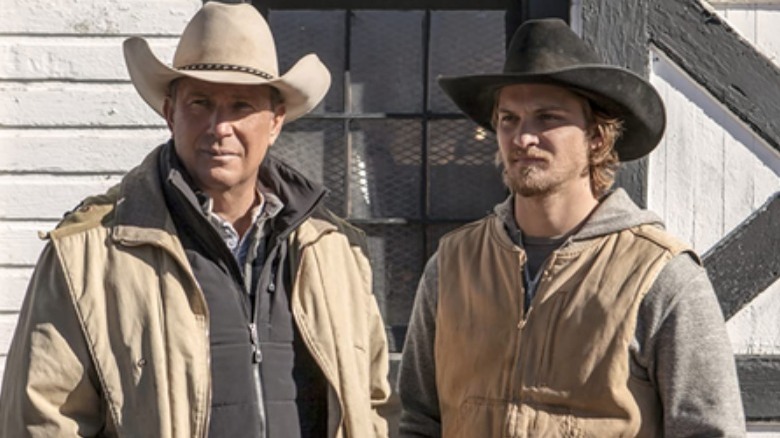 Paramount
Not unlike his fellow Duttons, Kayce hasn't lived the easiest life. Not only did he witness his mother, Evelyn (Gretchen Mol), die right in front of him when he was merely a child, but he later became a United States Navy SEAL and committed acts that haunt him to this day. Thus, try as he might to contain it, he has exhibited signs of Post Traumatic Stress Disorder now and again, which has sometimes made it difficult for him to carry out his duties on the ranch. This has led Luke Grimes to compare his "Yellowstone" character to Michael Corleone (Al Pacino) from the "Godfather" film series.
During Deadline's Contenders TV event, Grimes mentioned that even dating back to "Yellowstone" Season 1, Taylor Sheridan drew parallels between Michael Corleone — a World War II veteran and heir to the Corleone crime family whose experiences on the battlefield changed him forever — and Kayce Dutton. As Grimes explained on the panel, they're both caught in a tug-of-war between their own personal issues and the family legacy it's expected they'll someday carry on. At the same time, the actor couldn't divulge where Kayce's story will go next, noting that he's awaiting the chance to read the Season 5 script.
As "Yellowstone" continues, it'll be interesting to see whether or not Kayce Dutton will stay on his Michael Corleone-esque path or if he'll go in another, more unexpected direction.