Unbearable Weight Star Lily Sheen Recalls Her First Encounter With Nicolas Cage - Exclusive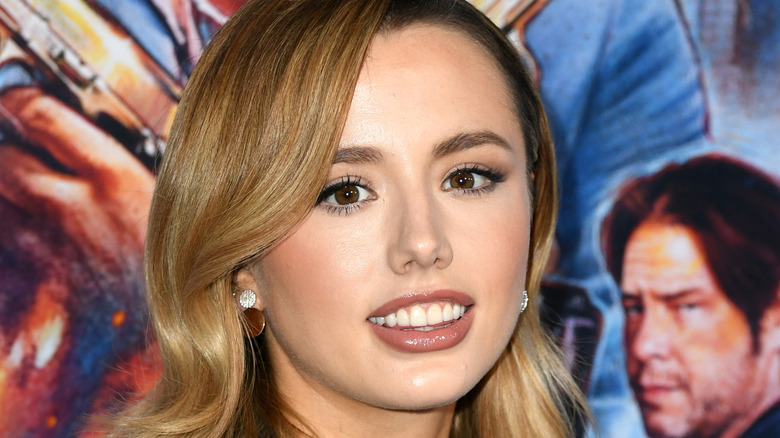 JC Olivera/Getty Images
Starring as the daughter of Nicolas Cage (played by none other than Nicolas Cage) in the new meta action-comedy "The Unbearable Weight of Massive Talent," actor Lily Sheen found herself in perhaps the strangest film scenario she'll have in her career. After all, it's not often that a child of famous actors — Sheen is the daughter of Kate Beckinsale and Michael Sheen — finds themselves playing the teenage child of a movie icon playing a heightened version of himself.
New in theaters, "The Unbearable Weight" finds Cage entering the twilight of his career, where despite all of his earlier achievements, he's suddenly struggling to find work. In desperate need of some serious cash, Cage accepts a $1 million offer to appear at the party of Javi Gutierrez (Pedro Pascal), unaware that the billionaire superfan is also a crime lord wanted by the U.S. government. Talked into spying on Gutierrez's operation by a pair of CIA operatives (Tiffany Haddish and Ike Barinholtz), Cage eventually has no other choice but to channel the types of movie action heroes that made him famous to escape from Gutierrez's compound with his wife, Olivia (Sharon Horgan), and daughter, Addy (Sheen), after they've been kidnapped by the crime boss' underlings.
Oddly enough, "The Unbearable Weight" didn't mark the first time Sheen depended on Cage to save the day. Unlike the scenario in the movie, though, Sheen's first encounter with the actor felt like something you'd see in another one of the Oscar-winning actor's action films.
Cage's presence on the same flight comforted Sheen when she was a nervous young passenger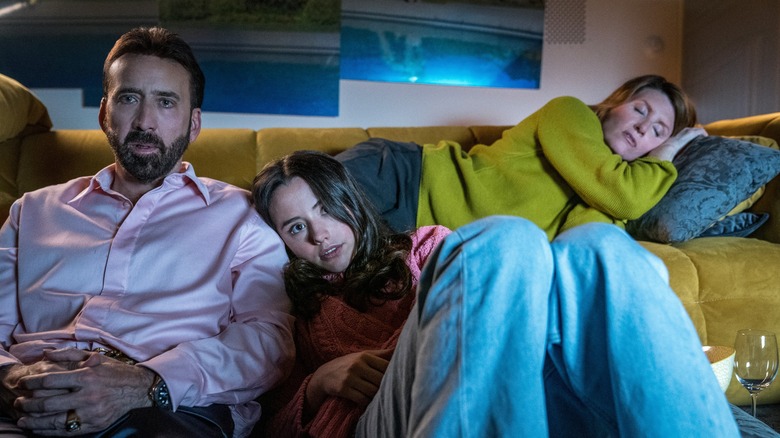 Lionsgate
"The Unbearable Weight" marked the first time Lily Sheen met Nicolas Cage, although she said they serendipitously shared a flight years before. That's when Kate Beckinsale assured her then-young and very jittery daughter that there was nothing to fear because a certain action star known for movies like "Con Air" and "The Rock" would keep her safe.
"One time I saw him on a plane, actually. I had really bad plane anxiety as a kid, and my mom, one time we saw Nic on the plane and she went, 'Don't worry, the plane is not going to go down because Nic Cage is on the plane,'" Sheen said with a laugh in an exclusive interview with Looper. "That was great, it really did soothe me. That was lovely, but no, I've never met him before ['The Unbearable Weight']. The first day when we met on set, he was already so paternal and welcoming. It felt like I'd already met him, but I wish."
In "The Unbearable Weight," Cage's relationship with his wife and daughter is dysfunctional at best, something Sheen said she's been lucky to avoid, being the child of a family in the bright spotlight of Hollywood.
"At first glance, you go, 'Of course, this is exactly the same as me,' but there are so many differences, and as an actor, the beauty of the character really started to solidify for me when I started drawing those comparisons and noting what I could relate to and what I couldn't," Sheen said. "I'm very lucky to have not had this upbringing, but this is real, and the industry can really fray relationships, especially between kids and parents. It was something that I was really looking forward to being able to explore."
Directed by Tom Gormican and co-written by Gormican and Kevin Etten, "The Unbearable Weight of Massive Talent" is playing in theaters nationwide.