Are Jesse Lee Soffer And Marina Squerciati From Chicago P.D. Friends In Real Life?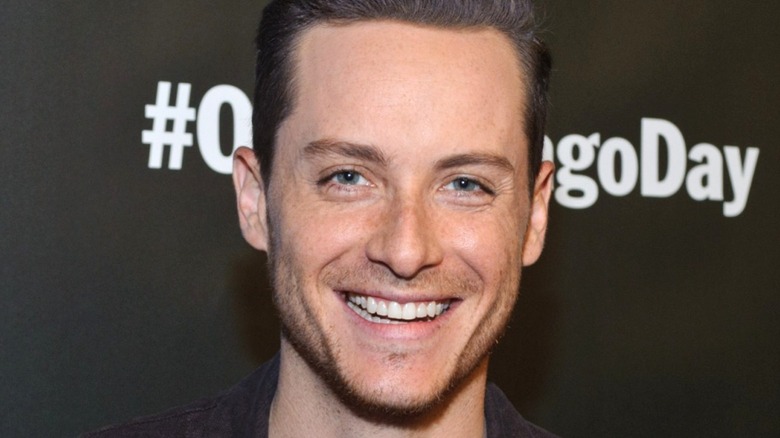 Timothy Hiatt/Getty
As veteran first responders in NBC's hit action-drama "Chicago P.D.," Detective Jay Halstead (Jesse Lee Soffer) and Intelligence Unit Officer Kim Burgess (Marina Squerciati) spend years together chasing down bad guys on Chicago's mean streets. 
The fact is, the duo has been part of the long-running "One Chicago" franchise since the series debuted in 2014 with the "Chicago P.D." pilot episode, "Stepping Stone." Since then, both actors have appeared together in over 180 episodes of the show (per IMDb), as they join I.U. head Hank Voight (Jason Beghe) and squadmates Officer Adam Ruzek (Patrick John Flueger) and Detective Hailey Upton (Tracy Spiridakos) to bring Chi-town's most heinous offenders to justice.
With the duo spending the majority of their recent professional lives together either shooting scenes or rehearsing, viewers might wonder if all that up-close and personal time working on the show might result in the two actors needing to spend a little time apart when kicking back off the set. So, with all of the above to consider, what clues might tell us if "Chicago P.D." stars Soffer and Squerciati are real-life buddies during their downtime?
Soffer and Squerciati seem to get along great when not on duty in Chicago P.D.
While fans would clearly be justified in assuming that Jesse Lee Soffer and Marina Squerciati might just want to go their separate ways after sharing so much of their working lives in "Chicago P.D.," the online evidence indicates that this is not the case.
For one, Squerciati's Instagram account features plenty of casual pics with her fellow cast member. In several of her Instagram posts, Squerciati references a long-running joke that she and Soffer share together on the set of "Chicago P.D." Interviewed by the site TVBrittanyf.com, Squerciati described the gag, saying, "There's a joke among the fans, and between me and Jesse [Lee Soffer], that we don't know each other's first names. So he'll come by my desk and he's like 'Kate, right?' It'll be like 'Yeah, you're Jake. Right?'" 
This mistaken identity joke also repeatedly plays out on Squerciati's Instagram account, and she has made a few appearances on Soffer's social media as well. In one Instagram post from Squerciati, she's pictured beaming up at Soffer with an adoring look, accompanied by the message, "Here's a BTS [Better Than Sex] pic of a storyline that got cut for time, 'In tonight's episode, Kate plays it cool so Jake will finally admit his love for her.'" 
Along with this evidence, the entire cast of "Chicago P.D." appears to be close with one another off set, so it seems safe to assume that Squerciati and Soffer (or Kate and Jake, if you prefer) have established a real-life friendship as well.