Are Marina Squerciati And Patrick John Flueger From Chicago P.D. Friends In Real Life?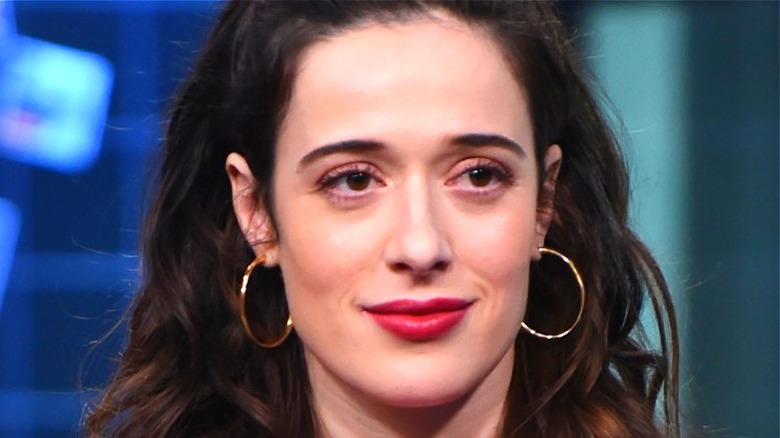 Daniel Zuchnik/Getty
NBC's "Chicago P.D.," the second installment in the Dick Wolf-created "One Chicago" franchise, will wrap its 9th season on May 25 (via TV Line). While many of the show's main characters have come and gone since it debuted in May of 2013, two that have been there since the very beginning are Officer Kim Burgess (Marina Squerciati) and Detective Adam Ruzek (Patrick John Flueger).
Burgess and Ruzek have a tumultuous and intense relationship, and recently faced their greatest challenge as a couple — the kidnapping of their adopted daughter Makayla (Ramona Edith Williams) and the murder of her nanny, Gabby Serrano (Gloria Chavez). Their constant push and pull dynamic and frustrating inability to meet each other halfway has annoyed some viewers, but Flueger says their relationship is more true to life than most television pairings.
Flueger told US Weekly, "It's complicated. It's not easy. And they lean on each other and they hurt each other and they beat each other up. It's so different. When have you seen that before? I don't know if we worked it into that groove or if the writers did, or if people even are aware that that's where our characters live. All I know is that it is really interesting to play."
With such a complex and fraught on-screen relationship, it would be equally as understandable for Squerciati and Flueger to be close off-screen as it would be for them to want to go their separate ways once shooting is done. So which is true?
Squerciati and Flueger are close friends away from set
Many of the photos Marina Squerciati has posted to her Instagram page show her and Patrick John Flueger together, both on set and off. One snapshot shows the two stopping during a winter walk so he can hoist her foot up to a propane heater, with the caption, "If your friends don't hold your cold foot up to heater, they aren't your friends" and includes the hashtag #friendshipgoals. 
Another image with the hashtag #besties shows the two of them together at work in front of a sound-deadening blanket, which prompted commenter justnoelle44 to point out that they "have a great brother-sister relationship offscreen." A photo posted to Pinterest shows the two together in the crowd at an outdoor concert, complete with Flueger's arm across Squerciati's shoulder, and both with beaming smiles. 
On his YouTube interview show, Squerciati told Brett Allan that her and Flueger's close relationship off-screen makes her time on the set more enjoyable. "Whenever I work with Patty, it's just, I don't know, it's the best thing ever." 
Flueger told US Weekly's Stephanie Webber it's not just he and Squerciati that are truly close. "The cast, the crew, the producers. We're very lucky. We've got a family situation going on for sure." But there is a particular depth and intensity to Burgess and Ruzek's relationship that clearly benefits from how close the two actors are away from the show.