The Last Jedi Toy Hints At Meaning Of Benicio Del Toro's Character's Name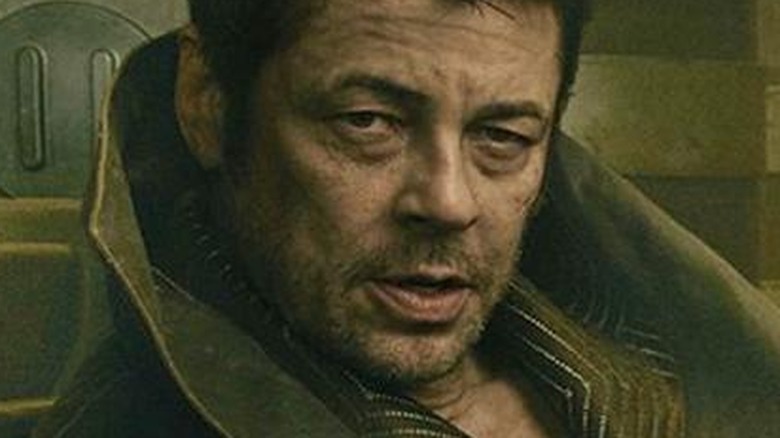 A Funko Pop figure for Benicio del Toro's Star Wars: The Last Jedi character potentially hints at the meaning of his name. 
In the spring of this year, del Toro's enigmatic codebreaker D.J. was unveiled to hopeful audiences. D.J. is described as a mysterious figure whose "tattered, threadbare clothes and lackadaisical attitude conceal a sharp mind and expert skills," which apparently include cracking complex codes no one else can. According to details that were rolled out in August, D.J. will be brought into the Last Jedi mix with John Boyega's Finn and newcomer Kelly Marie Tran's Rose embark on a mission to the lavish casino planet of Canto Bight. 
Despite having what seems to be a large personality and a very unique set of capabilities, D.J. was actually went nameless in the film, a choice made by writer and director Rian Johnson. However, Johnson revealed that he's referred to his double-letter moniker for a very specific reason. What exactly that is remains a mystery, but the recently released Funko Pop appears to uncover what the initials truly stand for. 
As reported by Making Star Wars, a Twitter user known as UgurB_M purchased the D.J. figure as part of Force Friday II merchandise haul. D.J. is shown wearing a chocolate brown-colored hat, which is accented by a small silver bar that has an Aurebesh (a language unique to the Star Wars franchise) phrase written on it. In English, it reads, "Don't join." 
Many have taken this to mean that del Toro's character is called D.J. because he wants to push a "don't join" message. This could tie into D.J.'s stance as a neutral party in the battle between the First Order and the Resistance. We know that he has connections to Maz Kanata (Lupita Nyong'o), and Boyega once stated that D.J. views the war as a chance to pull in substantial monetary gain and isn't exactly keen on the idea of siphoning his cash flow. "[Finn and Rose] just need a codebreaker and he's the best in the galaxy. Unfortunately, [D.J.] is very dodgy and only in it for financial gain. He doesn't fight for any side. He has distinct opinions," said Boyega. "The Resistance bombs the First Order one day, the First Order bombs the Resistance on another. It's an ongoing war that will never end. For him, he's trying to benefit off of that, which doesn't make him the person you want to trust."
"Don't join" could also be a warning sign for those wanting to cross over to a certain side, especially Finn and Rose. Perhaps it's a subtle hint at his questionable nature, cautioning others to avoid forming an allegiance with him. Tran recently discussed del Toro's performance as D.J., calling it unpredictable and unsettling. "When I was on set with that character, I felt like there was a tiger in the room, and I always had to be watching," she said. "Like an animal, at any moment he could do something, and I didn't know what." Unfortunately, the Resistance is running out of options to recover from the destruction of the Hosnian system, so even a shady character like D.J. is someone they need to turn to for help.
On the flip side, this could just be a silly coincidence. Director Johnson previously indicated that The Last Jedi merchandise won't contain any spoilers for the film, and will just show what characters will look like on screen.
What this all means probably won't be answered until The Last Jedi is released in theaters on December 15. In the meantime, read up on the biggest mysteries surrounding the upcoming movie.