Finn Is A 'Big Deal' In The Last Jedi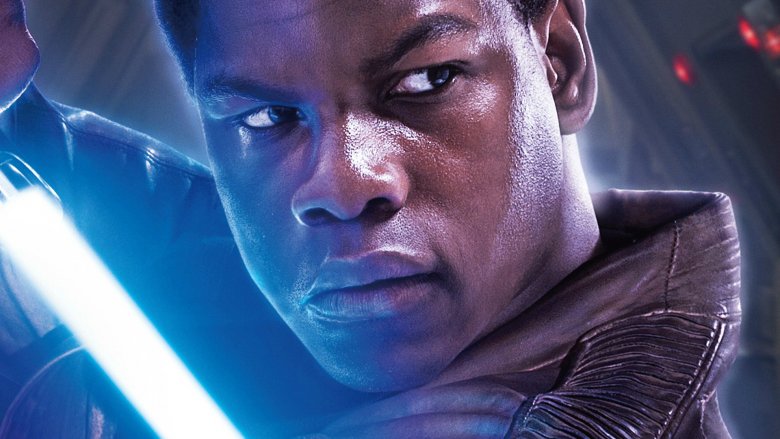 Lucasfilm
Word travels fast in the Star Wars galaxy.
In a new interview with Entertainment Weekly, John Boyega said that his character Finn is something of a celebrity in The Last Jedi. Of course, that's understandable when you consider everything that Finn and Rey (Daisy Ridley) went through in The Force Awakens.
"Everyone in the space, throughout the galaxy, would have heard about the young Jedi who discovered her powers and defeated Kylo Ren and the young former Stormtrooper who helped save the day," Boyega says. "He's a hero to people like Rose, who fight for the Resistance because their homes have been destroyed by the First Order."
The "Rose" that Boyega refers to is Rose Tico, a Resistance mechanic played by Star Wars newcomer Kelly Marie Tran. A "gearhead" and a "jack-of-all-trades," she is the sister of a Resistance gunner named Paige (Veronica Ngo) who fights on the front lines alongside the X-wing ace Poe Dameron (Oscar Isaac). 
"Poe Dameron is super cool. Finn's super cool. Even though [Rose] is good at what she does, she's not known," Tran said. "She's not cool. She's this nobody, this background player, which is what makes her interesting. She's not the best. She's not royalty. She's someone who is just like everyone else."
However, Rose is totally startstruck by Finn. "He appreciates the adoration for a second, but when he meets her, Finn is trying to escape the whole war. He's trying to leave," Boyega said. "And she comes in and basically gives him a depiction of himself that wasn't necessarily true."
While Rey is off training with Luke Skywalker (Mark Hamill), Finn and Rose team up on a mission. Much in the same way that The Force Awakens mirrors events of the original Star Wars, The Last Jedi will feature elements of The Empire Strikes Back, including a trip to a glamorous location (like Cloud City): the casino planet Canto Bight.
"The whole city is kind of one sort of luxury resort that's been built on this very otherwise abandoned, arid planet," said director Rian Johnson. "It's like Vegas with aliens. So maybe it is just like Vegas."
Entertainment Weekly also released a photo of the new location along with a batch of behind-the-scenes pics. 
The Last Jedi lands in theaters on Dec. 15. Find out why Rose looks so familiar.