The Euphoria Star You Didn't Realize Started On The Disney Channel
HBO's teen drama show "Euphoria" immediately grabbed the attention of fans and became a breakout hit after its 2019 debut. The series, created by Sam Levinson, centers on a group of teenagers who explore the concepts of sexuality, addiction, and identity, all while navigating high school. Today, "Euphoria" is probably HBO's most talked-about show, considering it's the most-tweeted-about show of the decade. Part of that is because the series gives an unflinching, grim, and sometimes devastating peer into such young lives. And it's all brilliantly presented, thanks to the praiseworthy acting of its cast.
Zendaya earned an Emmy win with her fantastic acting as lead Rue Bennett in the series. Her fellow castmates Hunter Schafer and Sydney Sweeney have also received great recognition for their standout performances. Besides the stellar acting, fans may have noticed something else about the show's stars. The ensemble cast of "Euphoria" is full of some familiar faces you've probably seen before. In fact, fans may not realize that there's one "Euphoria" star that once appeared in a hit Disney Channel series — apart from Zendaya, of course.
Nika King appeared on Hannah Montana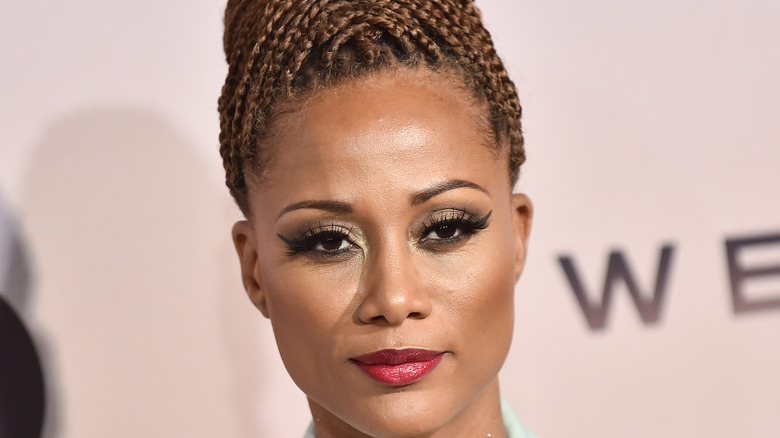 DFree/Shutterstock
Zendaya notably got her start as the co-lead on the Disney Channel show "Shake It Up," but she's not the only "Euphoria" actor to go through the House of Mouse. In "Euphoria," Nika King plays Leslie Bennett, the mother of the main character Rue. Given the complex relationship between mother and daughter in the series, it's easy to say that the role of Leslie is a very heavy and dramatic role for King. It's also in stark contrast to one of the actor's earlier roles. 
Before King joined "Euphoria," King could be found playing an enthusiastic coach in search of potential high school cheerleaders. In 2006, she acted in an episode of the Disney Channel's "Hannah Montana." In the episode "Mascot Love," she plays Coach Lewis (via IMDb), an encouraging educator who holds tryouts for a cheerleader squad at Miley's (Miley Cyrus) school.
In 2009, King also got the chance to appear on another hit children's show with Nickelodeon, thanks to "iCarly." She portrayed a fictional MMA fighter for the episode "iFight Shelby Marx." King's earlier child-friendly roles present just a tiny slice of her numerous TV appearances throughout her career. She's also appeared in procedural dramas "CSI: Miami" and "NCIS," as well as sitcoms "2 Broke Girls" and "Modern Family." The actor got the chance to truly show off her skills in 2016 with her first recurring role for the Oprah Winfrey Network's "Greenleaf."