Johnny Depp's Eye-Opening Claim About Pirates Of The Caribbean May Surprise You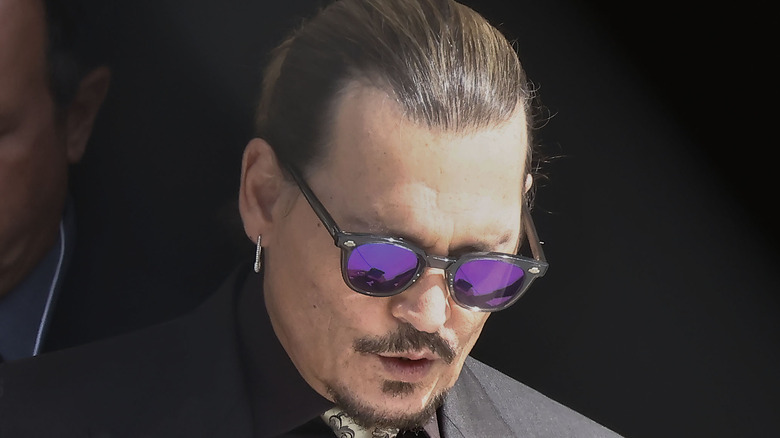 Paul Morigi/Getty Images
When most people think about Disney's "Pirates of the Caribbean," one name almost immediately comes to mind: Johnny Depp. Not only did he star in each of the fantasy saga's five films between 2003 and 2017, but an animatronic version of the actor has even been incorporated into the iconic, story-inspiring Disney theme park attraction of the same name (via WDW Magazine). That's how much of an impact Depp has had, not just on the actual "Pirates of the Caribbean" film franchise, but on all of Disney and pop culture as a whole. 
It is for that reason that a recent comment from the actor is raising eyebrows. While testifying in an ongoing defamation case against his ex-wife, Amber Heard, Depp made a claim that is simply baffling to "Pirates of the Caribbean" fans. The legendary Hollywood actor was talking about his career and his most famous role when the origins of Captain Jack Sparrow came up. 
"The character, Captain Jack, was more like a swashbuckler type that would swing in shirtless and, you know, be the hero," Depp explained during his testimony (via Law & Crime Network). "And I had quite different ideas about the character, so I incorporated my notes into character and brought that character to life, much to the chagrin of Disney initially." Depp further likened the changes he made to adding various ingredients to a soup, noting, "There's some Pepé Le Pew in there, there's some Keith Richards in there."
However, it's what he said next — after being asked about his outlook on the "Pirates of the Caribbean" saga and how the first film turned out — that is shocking fans the most. 
Johnny Depp claims he's never actually seen Pirates of the Caribbean
According to Johnny Depp's testimony on Wednesday, April 20, the actor has never actually seen "Pirates of the Caribbean." Instead, he's only ever been told about it. 
"I didn't see it," Depp revealed, after being asked what he thought of his Jack Sparrow portrayal (via Law & Crime Network). "But I believe that the film did pretty well, apparently, and they wanted to keep going — making more — and I was fine to do that." It's ultimately unclear if Depp meant he just didn't see the first film, "The Curse of the Black Pearl," or the entire franchise as a whole. Either way, fans on Twitter were beside themselves.
"I think the most shocking news to come out of this entire Johnny Depp vs. Amber Heard situation, is Johnny Depp saying he's never watched 'Pirates Of The Caribbean,'" @Firefallisland tweeted. Unsurprisingly, this was a common response on the social media site. "Can't believe Johnny Depp has never watched 'Pirates of the Caribbean,'" @sa_unkn0wn said. Elsewhere, @MihkelStint wrote, "I just found out that Johnny Depp has never seen 'Pirates of the Caribbean.' Mind. totally. blown."
Depp's defamation case against his ex-wife, Amber Heard, comes in response to a 2018 Washington Post column in which Heard alleged spousal abuse. The "Puffins Impossible" actor is suing for $50 million (via CNN).