The Character You Forgot Patti LaBelle Played In American Horror Story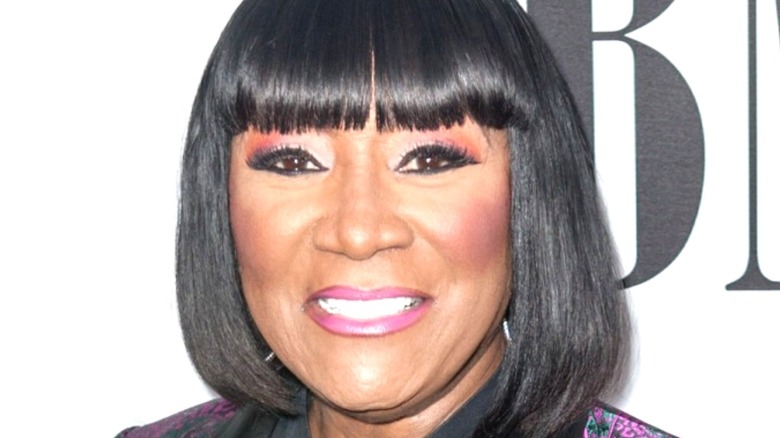 Jamie Lamor Thompson/Shutterstock
Since its premiere in 2011, "American Horror Story" has succeeded in weaving an evocative narrative for each of its standalone seasons. One of the best aspects of "American Horror Story" is that a number of the main actors, like Evan Peters, Sarah Paulson, Jessica Lange, Lily Rabe, and Frances Conroy, appear as different characters for each new installment. Every year fans wait with bated breath to find out what kind of character these returning actors will play. One season, they'll be a terrifying villain, and in the next, they'll be a heroic protagonist, or maybe somewhere in between. Some of the characters on the show are even based on real people! With the devious minds of Ryan Murphy and Brad Falchuk at the helm, you truly never know what's coming.
On the other hand, each season also introduces fans to new actors. The show typically features some amazing guest stars who come in to play a character for just one season. There have been so many spell-binding performances on "American Horror Story" over the years that it can be difficult to remember all of them. You might not even recall that legendary singer Patti LaBelle appeared in Season 4 of the hit anthology series.
If you're struggling to remember who LaBelle portrayed in "American Horror Story," then you've come to the right place. 
Patti LaBelle played Dora in Freak Show
Patti LaBelle plays Dora Brown in Season 4 of the series, titled "American Horror Story: Freak Show." As Dandy (Finn Wittrock) and Gloria Mott's (Frances Conroy) housekeeper, Dora has to deal with a never ending slew of menial tasks. As Dandy grows more and more unhinged, Dora aids Gloria in her attempts to dote on his every whim. Even with Dandy's exorbitant wealth, nothing his mother does is ever enough to satisfy him. His search for purpose leads him to Elsa's (Jessica Lange) freak show, where he becomes enamored with show business and conjoined twins Bette and Dot, who are both portrayed by Sarah Paulson.
Dora has some great one-liners, including a scene where Gloria makes her cackle like Woody Woodpecker. She even stands her ground when Dandy threatens to kill her. Unfortunately, Dandy ultimately does kills Dora in Episode 4, titled "Edward Mordrake (Part 2)." When Dora's daughter Regina (Gabourey Sidibe) shows up looking for her mother, Dandy has her killed, as well, before turning his murderous intentions on the members of the freak show. Since Patti LaBelle's tenure on "American Horror Story" was so brief, we can only hope that someday she'll appear in another installment.