How Sarah Paulson Filmed Her Roles As Bette And Dot In AHS: Freak Show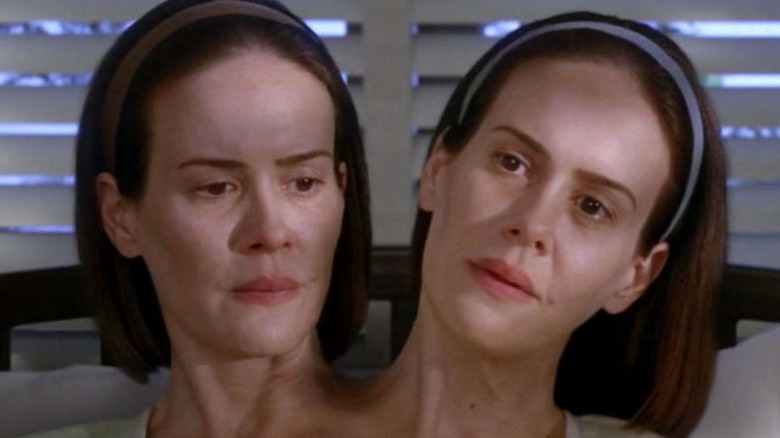 FX
Given her current level of fame, it's tough to imagine that Sarah Paulson was a relative unknown just a decade ago. Yes, the actor had noteworthy roles in short-lived series like "American Gothic," "Jack & Jill," and "Studio 60 on the Sunset Strip," but those were mere stepping stones. Paulson's career exploded with Ryan Murphy's horror anthology "American Horror Story." Featured in eight of the series' nine seasons, Paulson has played a variety of roles, often as multiple characters in a given season.
A chameleon in her craft, Paulson disappears into her characters with an ease most actors can only dream of. Whether she's playing a yoga teacher, a spiritual medium, or real-life figures like Marcia Clarke and Geraldine Page, her presence and delivery erase all traces of the actor, allowing the character to shine through. One of Paulson's most challenging transformations occurred in "American Horror Story: Freak Show," when she played conjoined twins Bette and Dot Tattler.
Sarah Paulson's scenes took hours to film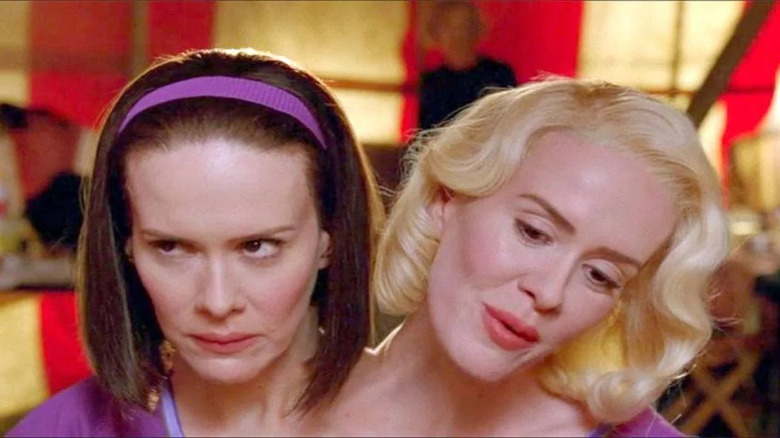 FX
Playing twins in movies and television is typically achieved through split-screen camera magic. But when it comes to conjoined twins, the creative team needs to dig deeper into their bag of tricks. In an interview with The Hollywood Reporter, showrunner Ryan Murphy explained the arduous process. At the start of production, the effects team took a mold of Paulson's head and created two prosthetic heads (one for each twin). And these weren't just any ordinary prosthetics. No, the heads were animatronic, meaning they could blink and move their mouths. In addition to the heads, a specially designed body harness was created to evenly distribute the weight of the prosthetics across Paulson's body (per New York Post). Yet even with the harness, Paulson still needed to keep her head tilted while filming. She told the New York Post that she'd often ask the crew to hurry as they set up her shots due to the discomfort of bending her neck for long stretches of time.
With the physical expression of the twins addressed, the next challenge was the actual performance. As Murphy told THR, Paulson would record one twin's dialogue, which would then be pumped through an earpiece as she played the other twin. The process helped create a smooth presentation when Dot and Bette were talking to each other. Smooth as it may appear to viewers, the process was tedious, with Paulson's scenes requiring 12 to 15 hours to film – which casts some doubt on the old adage that two heads are better than one.