Lakers Legend Jerry West Makes A Stunning Demand In Response To HBO's Winning Time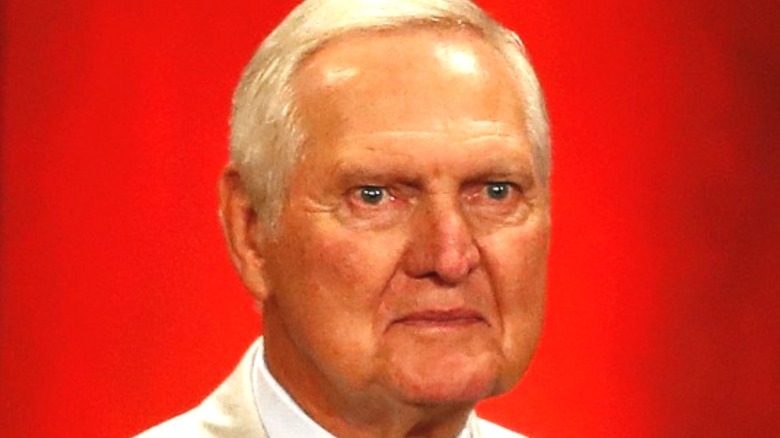 Tim Nwachukwu/Getty Images
HBO is chronicling the Los Angeles Lakers dynasty in the 1980s in its new series "Winning Time: The Rise of the Lakers Dynasty," which premiered earlier this year to significant fanfare. The unique series from executive producer Adam McKay makes significant use of McKay's trademark meta-narratives, with characters directly addressing the audience at times similarly to McKay's films "Vice" and "The Big Short." "Winning Time," which meets the Lakers when Jerry Buss (John C. Reilly) purchases the team as it drafts Magic Johnson (Quincy Isaiah) started making waves across the entertainment industry even before it premiered, with McKay and Will Ferrell's longtime personal friendship and professional collaborations reportedly ending due to McKay casting Reilly as Buss over Ferrell (via Vanity Fair).
While "Winning Time" has proven entertaining and amusing in its humorous depiction of Buss and legendary Boston Celtics coach Red Auerbach (Michael Chiklis) as a conniving, cartoonish villain, the new series has started to receive significant criticism from the real-life figures it actually portrays. Kareem Abdul-Jabbar (Solomon Hughes), who played for the Lakers from 1975 to 1989, leveled heavy criticism against "Winning Time" in his Substack blog, calling it boring, its portrayal of several Lakers figures mere caricatures, and that the filmmakers appeared more interested in shocking moments than the reality of Los Angeles' five NBA championships in the 1980s. "Jerry Buss is Egomaniac Entrepreneur, Jerry West is Crazed Coach, Magic Johnson is Sexual Simpleton, I'm Pompous Prick," wrote Abdul-Jabbar.
Days after Abdul-Jabbar criticized "Winning Time," another living basketball legend dropped a scathing criticism of the series and an interesting demand for HBO.
Jerry West's attorney said HBO owes West an apology and a public retraction for his Winning Time portrayal
Jerry West's attorneys demanded a legal retraction and apology from HBO for the unpleasant portrayal of West in "Winning Time: The Rise of the Lakers Dynasty," which premiered earlier this year (via Variety). Jason Clarke portrays West as angry and resentful of his only one championship as a Lakers player as he struggles to effectively coach the Lakers on the cusp of the 1980 season in the series' first season — in a portrayal that West and his lawyers reportedly called a deliberately false characterization of the real-life figure. Clarke has previously said he reached out to West in preparation for the series, but the NBA legend declined to speak with him.
While the show is based on a non-fiction book by Jeff Pearlman called "Showtime: Magic, Kareem, Riley, and the Los Angeles Lakers Dynasty," the actual show makes it clear it's stretching the truth (via The Hollywood Reporter). Even so, its depictions of West aren't meshing well with the real-life man: according to Variety, West's lawyer said the series has caused the 83-year-old basketball legend and his family distress in recent weeks. West's attorney's letter to HBO included testimonies from eight former Lakers players and employees, including Abdul-Jabbar, who affirmed that the series' portrayal of West is demeaning. Claire Rothman, who is portrayed by Gaby Hoffmann in "Winning Time," said in the letter that West was soft-spoken, respectful, and never screamed at other employees in her 20 years working with the Lakers (via Variety).
"The person depicted in the show is not the real Jerry West," Rothman said, per Variety's copy of the letter.