The El Camino Scene That Aaron Paul Begged To Be Kept In The Film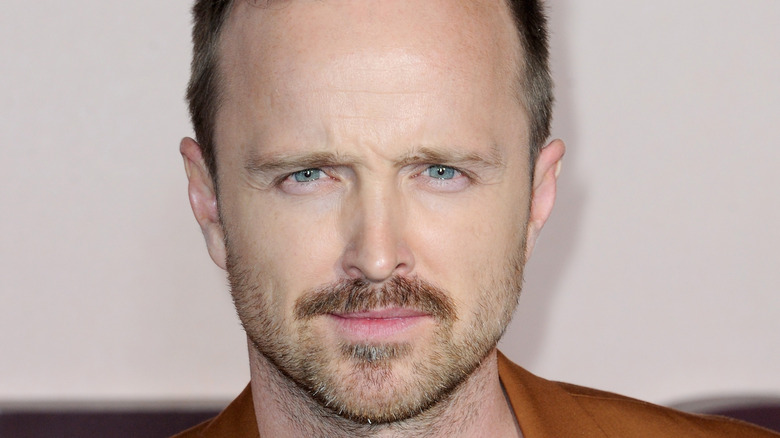 Albert L. Ortega/Getty Images
Even though "Breaking Bad" concluded with what many consider the most satisfying TV finale ever, showrunner Vince Gilligan felt there was still more story to tell. The landmark prestige show concluded with the death of meth kingpin Walter White (Bryan Cranston) and the narrow escape of his longtime partner, Jesse Pinkman (Aaron Paul), and it was while writing the final episode that Gilligan first conceived a follow-up project in the form of a standalone movie (via Rolling Stone).
Starring Aaron Paul once more as Jesse, that project came in the form of 2019's direct-to-streaming film, "El Camino: A Breaking Bad Movie." The movie picks up in the moments after "Breaking Bad" left off, with Jesse escaping the Brotherhood's compound where he was kept in chains and forced to cook meth. Wanting nothing more than a fresh start, he seeks to recoup his meth money and skip town for a new life in Alaska, but it proves to be a far from a simple task. To escape a life of crime and violence, Jesse must make a final, violent choice.
Although many assumed "El Camino" would be the last time fans got to see Jesse Pinkman, it was recently revealed that both Paul and Cranston will be returning for Season 6 of "Better Call Saul," the "Breaking Bad" prequel that follows criminal lawyer Saul Goodman (Bob Odenkirk) in the years before and after his entanglement with Heisenberg. In a new interview promoting "Better Call Saul," Aaron Paul talked about playing Jesse for so long and finally revealed the scene he asked not to be scrapped in "El Camino."
Aaron Paul begged to keep an intimate moment with a beetle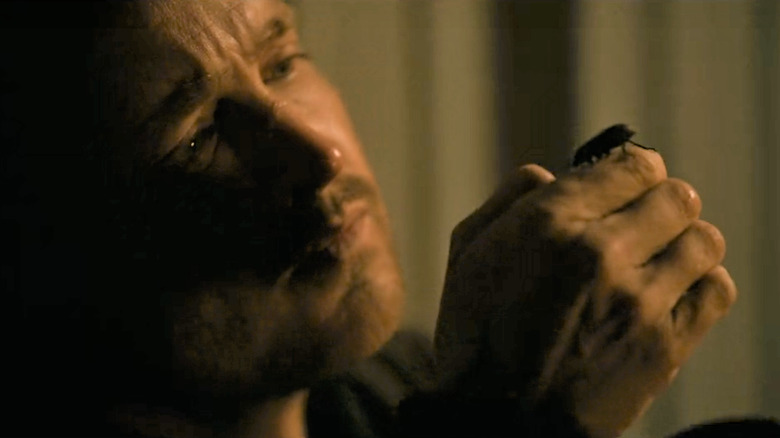 AMC/Netflix
In a new interview with The Hollywood Reporter, Aaron Paul revealed the one Jesse Pinkman scene he begged to be kept in "El Camino." At the climax of the movie, Jesse finds himself waiting outside of a warehouse. Inside, the men who robbed him earlier in the movie are entertaining themselves with cocaine and sex workers. In order to avoid innocent casualties, Jesse waits for the girls to leave, and while he's waiting, he spots a black beetle. He lets the bug crawl onto his hand and gently watches it.
According to Paul, the scene was almost scrapped. Paul explained, "The first AD came up to me and was like, 'We're gonna scrap that little scene. We're gonna head to this other shot. We're running out of time,'" But the actor wasn't willing to let go of the beetle scene and managed to convince the crew to film it. "I just loved that moment so much," Paul said. "I was like, 'Look, let's just set up the camera. We'll do one take. Let's just do it.' And so we did and it made it in."
In the context of "El Camino," the beetle scene is a last moment of calm before a bloody showdown filled with bullets and explosions and a final drive toward a new life at the movie's end. It seems Jesse relates to the little bug, and as he turns it over in his hands, Paul's acting betrays a deep pain in Jesse's gaze. It's a small moment of insight into the depths of the character. As Paul put it, "I just love those little moments that peek inside Jesse's heart."