The Most Satisfying TV Finales Ever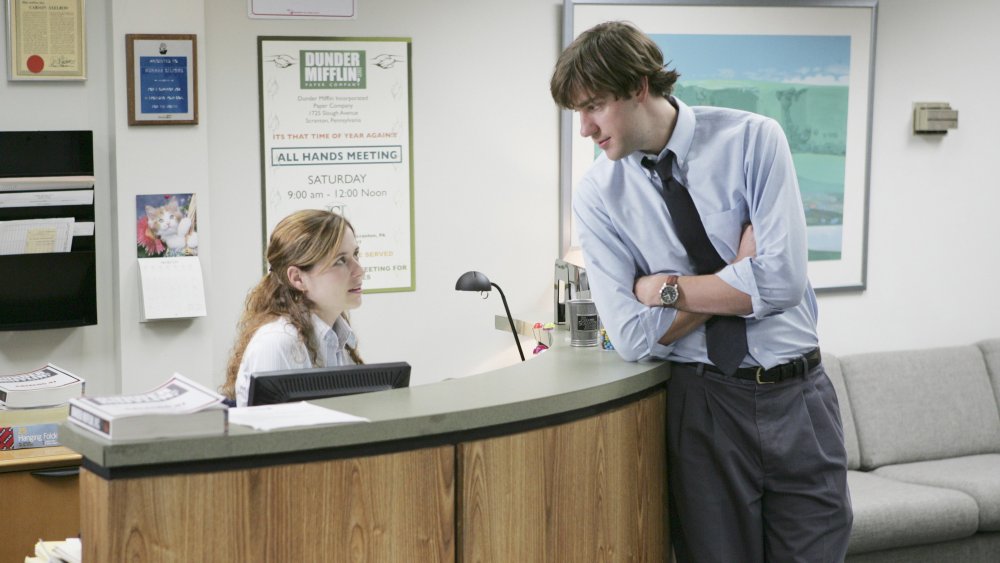 NBC
Ending a long-running show is not easy. Some showrunners try to get too thematically deep and fancy with the wrap-up, and end up damaging everything that came before (looking at you, How I Met Your Mother). Others aren't sure how to end it at all, and just wind up slapping a bizarre twist at the end in the hopes it'll work out (see: Lost, Dexter). Others, still, simply race to a contrived finish ignoring all considerations of character and pacing (see: Game of Thrones). 
The worst TV finales have the power to cast a negative light on everything that came before — no matter how much joy those earlier seasons brought in the moment. It's infuriating to watch a show you've kept up with for years disintegrate in its last act. Given all the examples of unsatisfying finales out there, it's almost enough to make you wonder if it's even possible to bring a great show to a wonderful conclusion — one that enriches the show itself and makes you want to watch it over and over again.
Then you watch these following finales, and remember that, oh, right, it's totally possible to stick the landing. WARNING: SPOILERS AHEAD.
The Americans, 'START'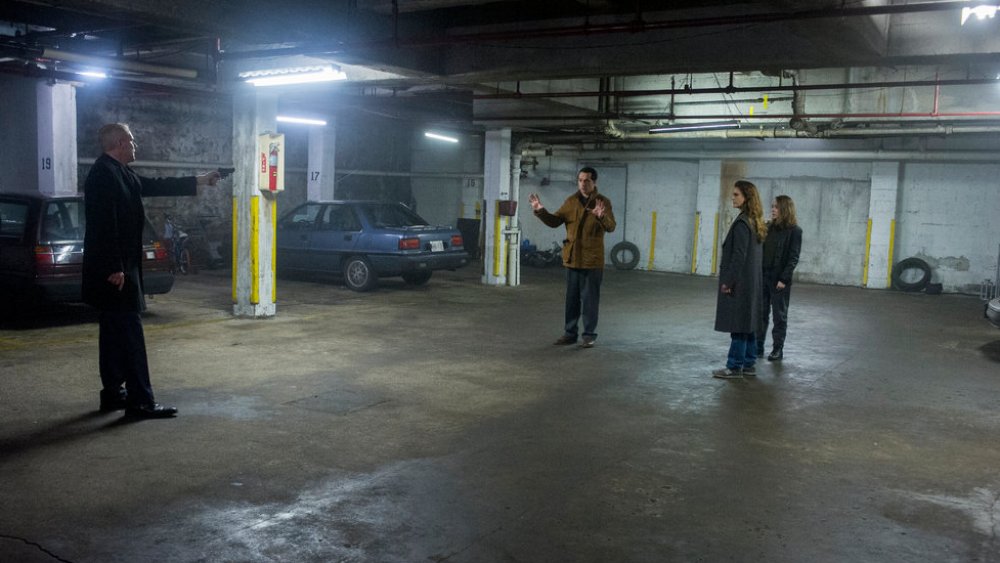 FX
The Americans, a remarkable show about Soviet deep-cover agents living as American suburbanites in the outskirts of Washington, D.C., was never going to end pleasantly. 
On the series, the secret identities of the protagonists Phillip (Matthew Rhys) and Elizabeth Jennings (Keri Russell) are unknown to everyone but each other, and — in the later seasons — their American daughter Paige (Holly Taylor). Their FBI agent neighbor, Stan Beeman (Noah Emmerich), has his suspicions. In "START," they are proven true, and although the Jennings get away with it all and flee to Russia, Stan does get a chance to confront them at gunpoint in a tense standoff that could have been the end of the road for the Jennings if things had gone a different way. 
KGB antihero Oleg Burov (Costa Ronin) goes to prison. Whether Stan's girlfriend Renée (Laurie Holden) is a spy, too, is never fully revealed, and fans are left to ponder their suspicions. Hanging over all this — all the lies and deceptions and ruined relationships — is the bittersweet knowledge that the Cold War is ending. The title of the episode itself refers to an actual strategic arms treaty between the United States and the Soviet Union, one of the most important diplomatic features of perestroika.
The episode received widespread acclaim, especially for the parking garage confrontation between Stan and the Jennings, who he thought were his friends and neighbors. Every line in the scene was masterfully written and performed, making it perhaps the most memorable scene in a series packed full of them.
Broad City, 'Broad City'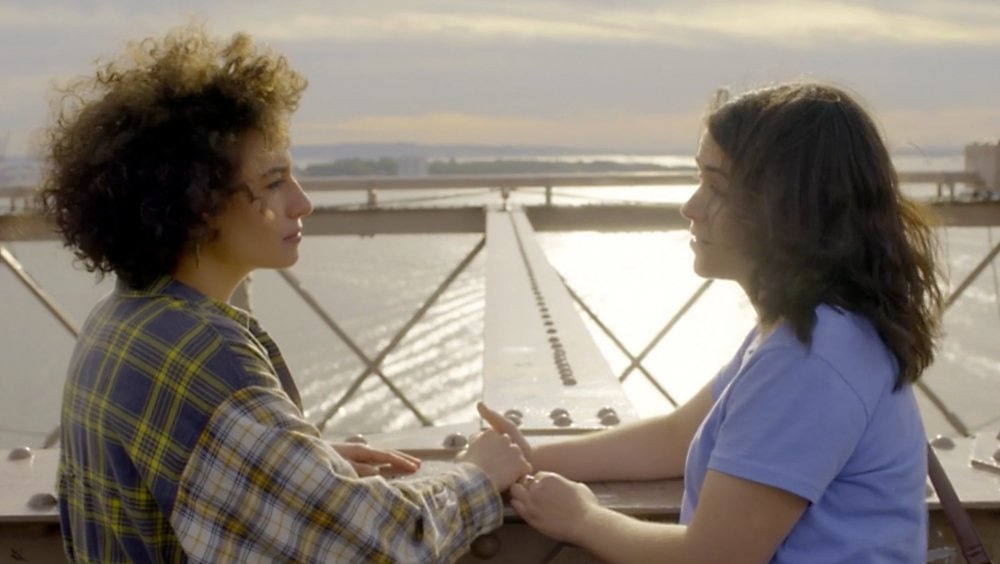 Comedy Central
Broad City is a sitcom about the real-life friendship between comediennes Ilana Glazer and Abbi Jacobson, two young women struggling to make it in New York City. The whole show is bizarre and wonderful, and the finale, named after the show itself, is one of its most special episodes.
In it, Abbi is preparing to move to Boulder, Colorado, for a new job opportunity. She and Ilana trek around the city in search of one last bodega breakfast sandwich before the lunch menu goes up at 11 AM. They fail, but not before finding a perfectly functional toilet on the street that they try to cart back to the apartment on a skateboard. This also ends in failure. It's stolen from them while they're busy reminiscing one final time atop the Brooklyn Bridge. They then throw a final party and part ways, but stay in touch regularly over the phone.
The finale ends the story satisfactorily and perfectly captures the zany, heartwarming energy that makes Broad City one of the best shows of the decade. By the time you reach the end, part of you wants to just flip back to season 1 and start it all over again. Quite the feat for any finale.
The Office, 'Finale'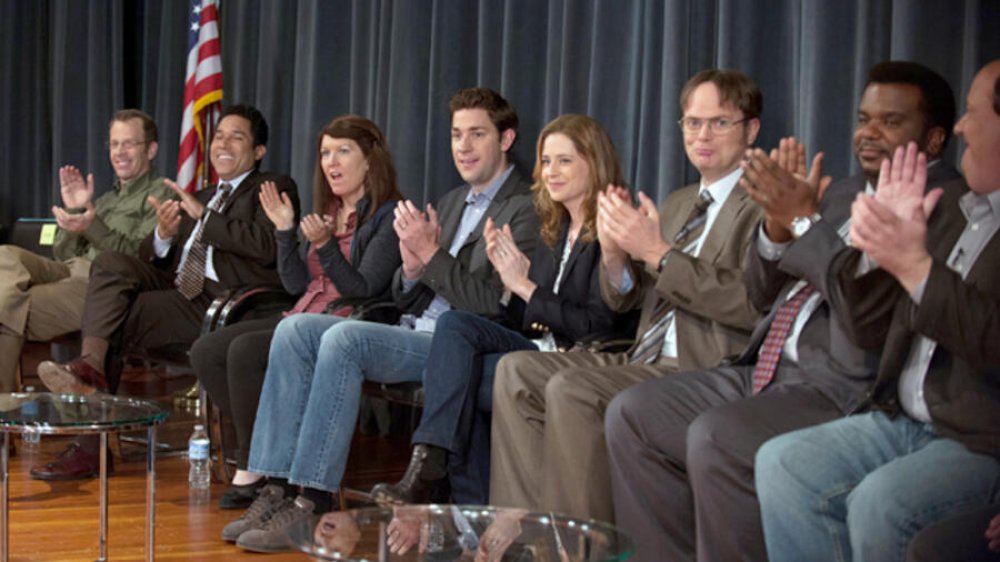 NBC
"Finale" begins with accountant Angela Martin's marriage to salesman-turned-manager Dwight Schrute, and ends with a seriously meta Q&A panel during which the characters answer audience questions about the recently released documentary, the filming of which served as a low-impact framing story for the entire series. In the final moments, the main cast — many of whom had moved on at this point to new positions with new companies — gathers in the office to spend a final evening together. On paper, it's overstuffed even for a double episode, but after nine seasons, it's honestly not enough. You want every moment to drag, because the thought of never again getting to check in with the gang at Dunder Mifflin Scranton is a little bit heartbreaking.
So what if it's a bit sappy? It's a pitch-perfect ending for an outrageous comedy that found its heart along the way. Everyone loves the Michael Scott appearance, for good reason, but the ending is arguably the best part. Perhaps that's the show's greatest accomplishment: taking boring background characters and bringing them to life while lampooning the mundanity of nine-to-five work. Everyone is a bit of a star in the end, and everyone gets just enough of a happy ending. Ultimately, the finale makes up for the final two questionable seasons and helps make the show one of the most rewatchable of all time (just ask the data folks at Netflix).
The West Wing, 'Tomorrow'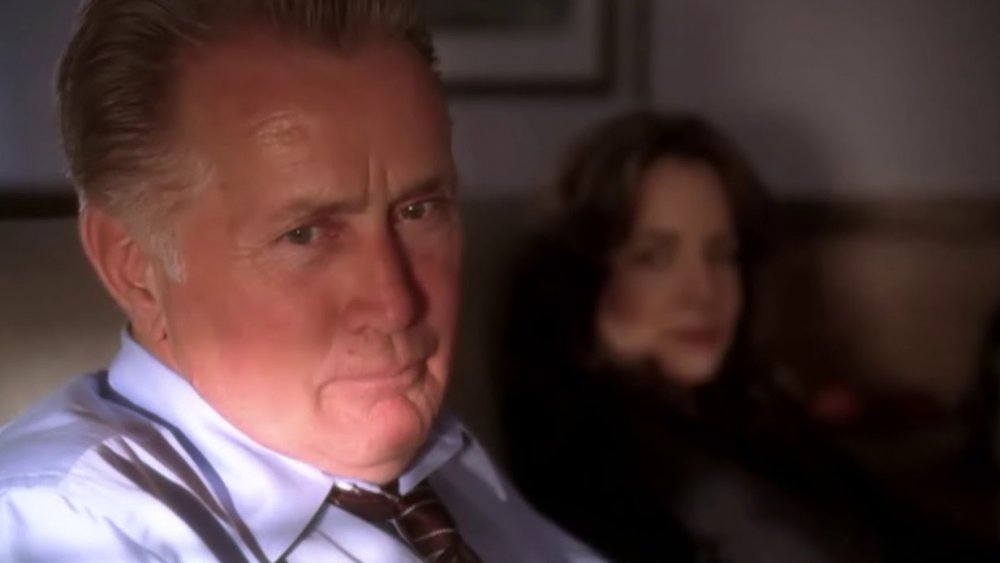 NBC
The West Wing stumbled a bit after creator and head writer Aaron Sorkin departed following the show's fourth season. However, it's seventh and final season, which largely focuses on President Bartlet's final months as president and the election between Democrat Matt Santos (Jimmy Smits) and Republican Arnie Vinick (Alan Alda) is undoubtedly one of the political drama's strongest. One of the episodes was an actual live presidential debate between the two candidates to succeed President Bartlet that felt bizarrely authentic.
The final episode largely deals with Santos' victory and upcoming inauguration, the aftermath of Chief of Staff-turned-Vice Presidential candidate Leo McGarry's death (actor John Spencer's unexpected death right before the final episode was written into the show in a touching tribute), and the Bartlet administration's fond memories of the past eight years in office. 
It wasn't just a nostalgia-fest, however. The episode was named after its final line (spoken by Jed Bartlet, obviously). When former First Lady Abby Bartlet (Stockard Channing) asks him what he's thinking about on their flight back home to New Hampshire, he looks out the window thoughtfully and replies, "Tomorrow." This vision of earnestness and optimism in politics feels even more urgent and necessary today that it did when The West Wing finale originally aired. 
M*A*S*H, 'Goodbye, Farewell, and Amen'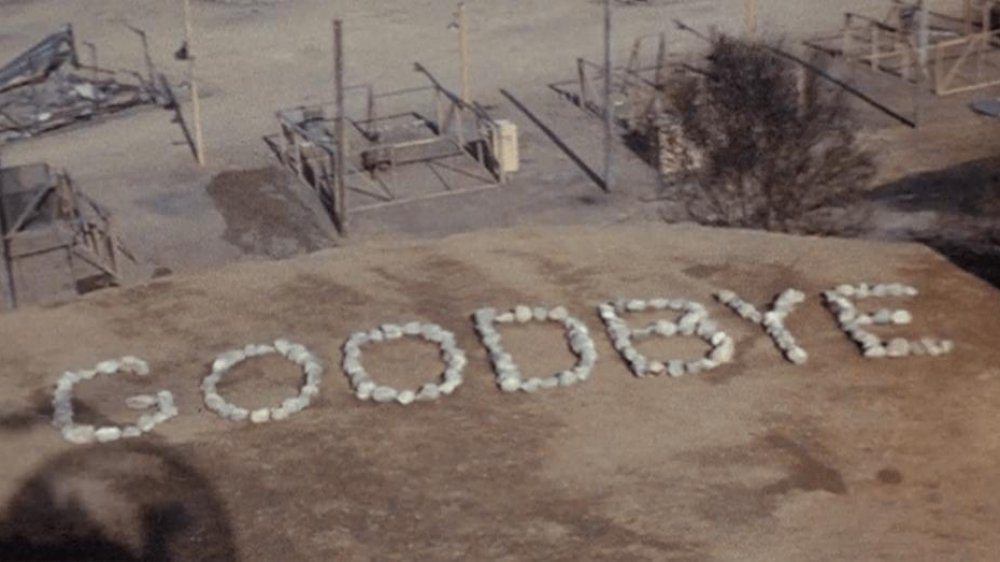 CBS
It's been noted, repeatedly, that M*A*S*H (an acronym for Mobile Army Surgical Hospital) lasted far longer than the actual Korean War, which served as the backdrop for the series. That's not to say anyone was ready to say goodbye when the 11-season ratings behemoth bid adieu in 1983.
The final episode, written and directed by series star Alan Alda (and several others), and appropriately entitled 'Goodbye, Farewell, and Amen,' depicts the final days of the Korean War through the eyes of Hawkeye (Alda), Trapper John (Wayne Rogers), B.J. Hunnicut (Mike Farrell), and Margaret Houlihan (Loretta Swit). In the end, a ceasefire is declared, and the group throws a final party. The next day, after Klinger and Soon-Lee's marriage (he decides to stay with her in Korea), everyone says their final goodbyes and departs for home. B.J. shouts to Hawkeye, then leaving on a chopper, that he "left a note." Hawkeye looks down to see the word "Goodbye" written in rocks on the landing pad.
The episode was nominated for a whole pile of Emmys and Golden Globes, but honestly didn't need it. It had the approval of the masses, bringing in a jaw-dropping 121.6 million viewers for its two-hour duration, beating out that year's Super Bowl. It remains one of the most watched broadcasts in the history of television, and it deserved every set of eyeballs.
Fleabag, 'Episode 6'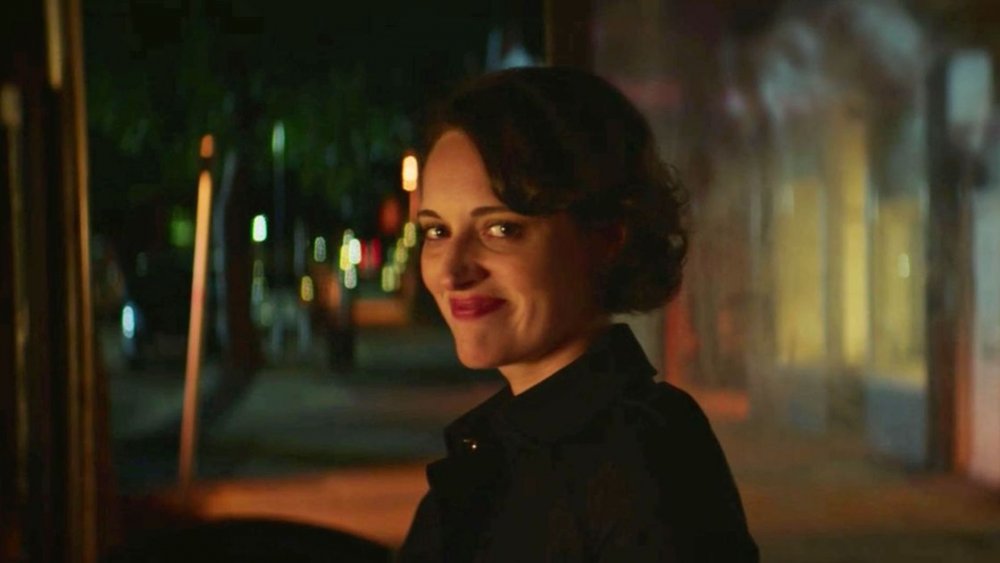 BBC/Amazon Studios
Fleabag should not have a third season. We don't say that because the show was garbage, but because it said everything it needed to say – perfectly. The show, created by and starring Phoebe Waller-Bridge (and based off her 2013 one-woman show), follows her escapades as a confused, free-spirited (and nameless) woman in London.
The final episode, which wraps up the show's multiple-Emmy award-winning second season, is a pitch-perfect farewell. We won't go into a play-by-play here, but it ends with a breakup: Fleabag and the priest (Andrew Scott) decide that — despite their love for each other — it won't work out. She then smiles tearfully at him, tells the audience not to follow her, and heads off down the street. It's an achingly beautiful ending in which a little ambiguity actually works. We don't know if she'll return to her old, self-destructive ways, or if she'll grow up at last and move forward, but we can hope it's the latter.
The show is so short (12 episodes only) that it almost qualifies as a miniseries, but it used every minute of screen time to touch hearts and leave its bizarre, wonderful little mark on TV history.
Futurama, 'Meanwhile'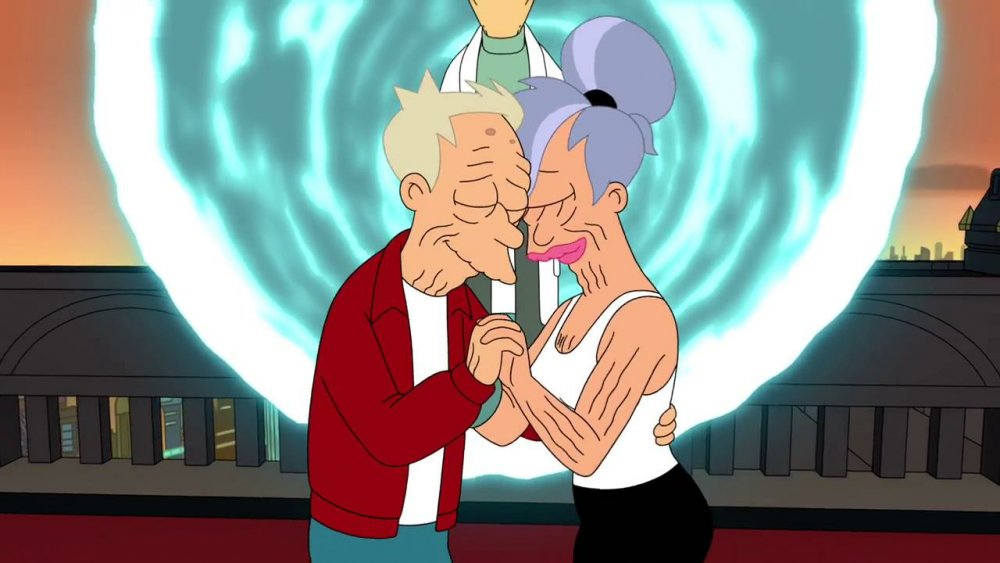 Comedy Central
Who said only live-action shows can have mighty endings? Futurama, created by Simpson's chief Matt Groening, follows Phillip J. Fry (voiced by Billy West), a down-on-his-luck pizza delivery driver who's cryogenically frozen by mistake just before New Year's Day 2000. He wakes up a millennium later, in New New York, a city now dominated by flying cars, robots, mutants, and aliens. He quickly finds work with the wacky delivery crew of Planet Express, which takes him across the galaxy on a series of bizarre adventures. The show is crass and hilarious more than anything else, so it might be surprising to see it on a list like this.
Thing is, Futurama also had the ability to slip around your defenses and make you feel something. Fans still reference the episodes "Jurassic Bark" and "The Luck of the Fryrish" with reverence and awe, and its finale might've been its crowning achievement. In the episode, Fry's misuse of a time-reverting button designed by Professor Farnsworth results in the world being frozen except for himself and Leela (Katey Sagal), his one-eyed, purple-haired lover. This allows the two to grow old together and alone. In the end, a malfunction results in all the events of the entire show thus far being reset as Fry and Leela agree to "go around" one more time. 
When the finale first aired, Comedy Central aired the pilot episode again immediately after, which begs the question: Did Futurama even end?
The Wire, '-30-'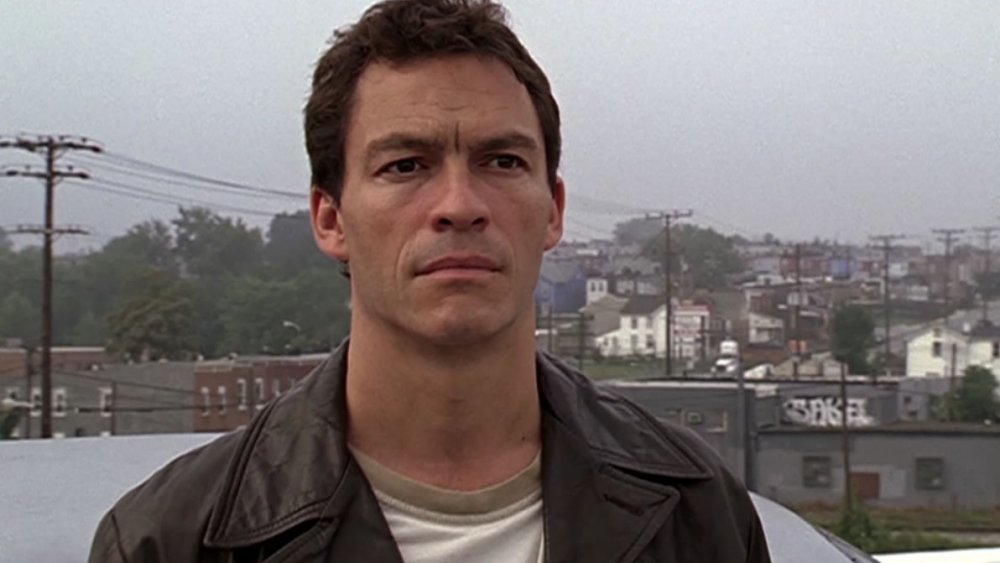 HBO
The Wire is the story of a societal traffic jam, one in which little acts of opportunistic selfishness incentivize more cheating, a cycle that ultimately leads to an endlessly churning wheel of systemic corruption and despair.
In "-30-," Mayor Carcetti (Aidan Gillen) leaves for the Governor's mansion. Valchek (Al Brown) replaces Daniels (Lance Reddick) as Commissioner. McNulty (Dominic West) is fired for insubordination, and replaced as the resident 'problematic-but-effective cop' by a disillusioned Kima Greggs (Sonja Sohn). Bubbles (Andre Royo) gets clean, but Dukie (Jermaine Crawford) gets hooked. Omar (Michael K. Williams) is dead, and Michael Lee (Tristan Wilds) takes up his mantle. Marlo (Jamie Hector) walks free, but loses his empire; Slim Charles (Anwan Glover) and the New Day Co-Op secure the Greek's (Bill Raymond) heroin hookup and the reigns of power on the streets.
The wheel continues to turn, and nothing about this vicious cycle has been broken. We don't need to see what happens to these new cogs; we've spent the last five seasons learning that it hardly matters. The wheel turns itself, regardless of who specifically fills the constituent slots of 'addict,' 'crooked cop,' 'corrupt politician,' and so on. The garbage rolls downhill, and the neglected poor suffer the consequences. It's a tale as old as time, but one never more powerfully, tragically, or unforgettably told.
Newhart, 'The Last Newhart'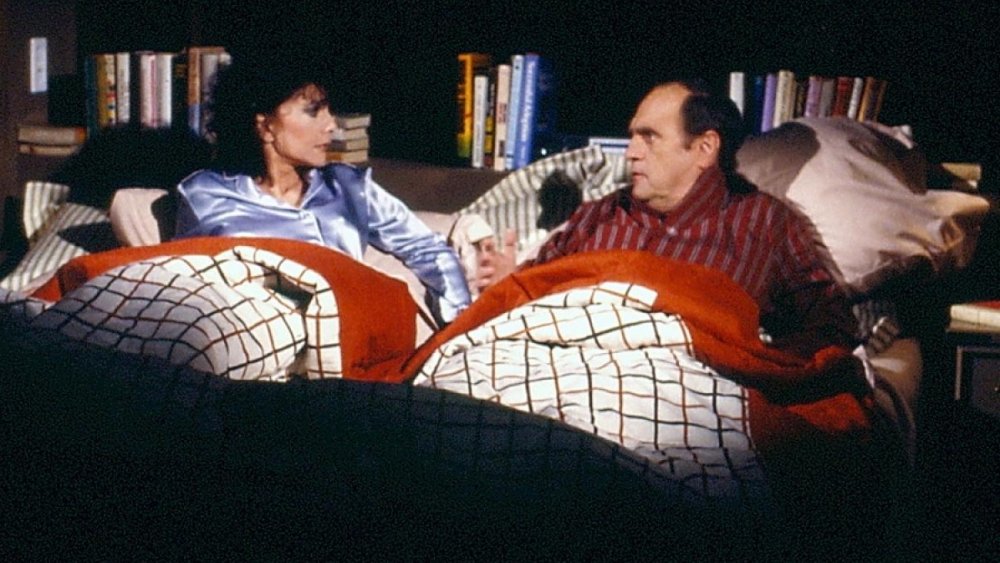 CBS
We'll cut right to the chase on this one, because it requires some explanation. Stand-up comedian Bob Newhart, currently 91 years young, had several shows in the 70's and 80's. Most notably, he captained The Bob Newhart Show (1972-1978), about a psychologist who had humorous interactions with his wife (Suzanne Pleshette), as well as his colleagues and patients. He also starred on the confusingly titled Newhart (1982-1990), a show about the proprietor of a small bed and breakfast in Vermont. In the Newhart finale, Dr. Bob Hartley, from The Bob Newhart Show, wakes up next to his wife Emily (Pleshette), and tells her about a strange dream he's just had: the entirety of Newhart. It might be a bit confusing to explain, but it's absolutely hysterical to watch. Sure, with worse execution this might qualify as one of the aforementioned contrived twists, but for some reason Newhart really sells it — and it totally works.
Many other endings are great because they wrap up the themes and loose ends of a story in a satisfying way. This one is great because of a simple, unforgettable, somewhat-meta punchline that's since gone on to become one of the most memorable TV moments of all time. It also may be the one-and-only time in the history of fictional storytelling that "it was all a dream" wasn't an eye roll-inducing disappointment.
Six Feet Under, 'Everyone's Waiting'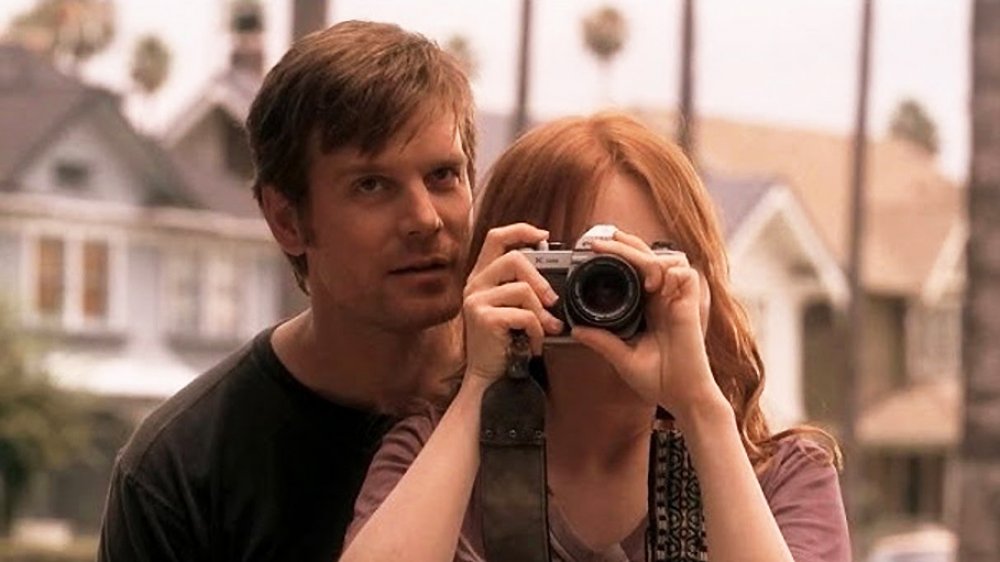 HBO
It's not exactly rare for a television show to be remembered for its finale more than the full series leading up to it, but usually that means it didn't stick the landing. Not so for Six Feet Under, which follows the Fisher family and their Los Angeles funeral home in the tumultuous years between the death of the family patriarch (Richard Jenkins) and the death of their prodigal son (Peter Krause). The show itself, a brainchild of Alan Ball, was acclaimed for writing and acting throughout its run, but its finale has since been described as one of the finest in television history.
The final episode, 'Everyone's Waiting', bucks series tradition by opening with a birth, rather than a death: Brenda (Rachel Griffiths) and the late Nate's daughter Willa is eight weeks premature, and the doctor tells her all they can do is hope for the best. After checking in with all the surviving characters, the episode's final sequence flashes forward to the deaths of the entire main cast as Claire (Lauren Ambrose) drives away from her family home to begin a new life in New York. It's a beautiful, chilling montage set to Sia's ghostly "Breathe Me." As unexpected as it was when it first aired, in hindsight it feels like the only satisfying way to end such a macabre and groundbreaking show.
The episode went on to receive five Primetime Emmy Award nominations: Outstanding Writing, Directing, Art Direction for a Single-Camera series, Outstanding Prosthetic Makeup (which it won), and Outstanding Hairstyling.
Breaking Bad, 'Felina'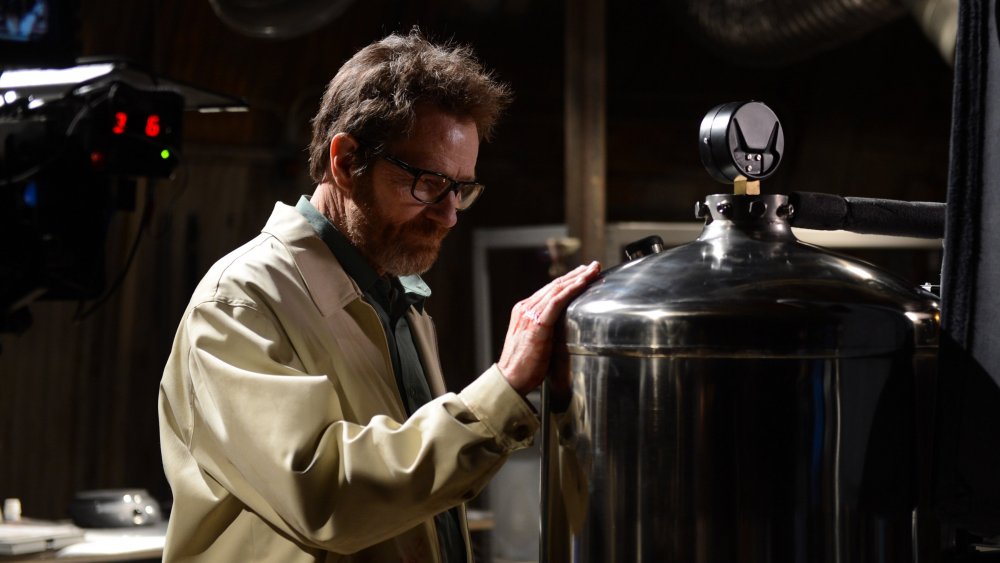 AMC
It's fitting that the show that came closer to perfect than just about anything else in the history of television would stick the landing. It's also worth noting that few people, if any, predicted exactly how it would play out. That a show could keep such a passionate fanbase guessing about the ultimate fate of family man-turned-meth kingpin Walter White (Brian Cranston), and all those who'd survived his villainy thus far, is a testament to the impeccable vision of showrunner Vince Gilligan.
Perhaps an even bigger question than how Walt's story would end was what kind of catharsis, if any, he'd be permitted. He was both the show's main character and its most soulless villain. In the end, Walt got what he wanted: a chance to see his family one last time, a chance to rescue Jesse, a chance to avenge the deaths of brother-in-law Hank Schraeder and Steve Gomez, and one last moment with his true love: a meth lab. 
Yes, he'd lost his family and his empire and died in the end, but the lung cancer that kicked off his journey, so close to claiming his life, was ultimately upstaged by his own criminal comeuppance. During the final episode, Walt inadvertently takes one of his own bullets in the gut, while blowing away Jack Welker's (Michael Bowen Jr.) gang. As far as we know, he dies minutes later — unintentionally undone by his own machinations. Maybe that's a perfect metaphor for the entire show.