A Breaking Bad Reunion Is Coming To Better Call Saul Season 6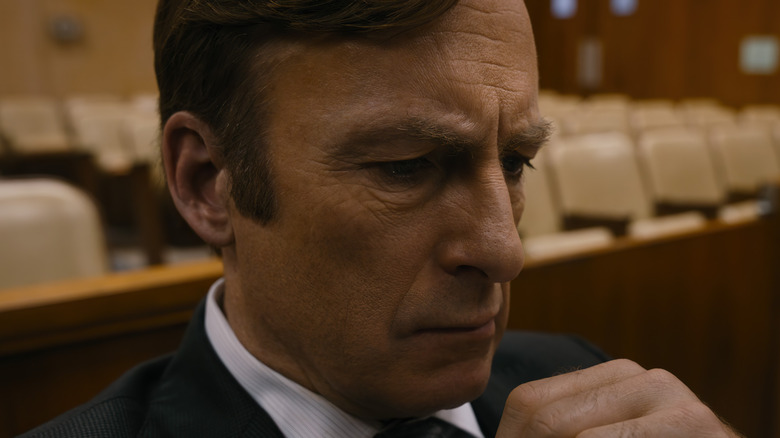 AMC
AMC's "Better Call Saul" is the prequel series to the hit show "Breaking Bad," and after six seasons of watching Saul Goodman (Bob Odenkirk) go from a well-meaning attorney to the corrupt man from "Breaking Bad," the two storylines appear to finally be coming to a connecting point in Season 6.
Being a prequel series, "Better Call Saul" has the power to bring back old characters from the dead for cameos to guide the storyline. This was previously seen, for instance, with the appearance of "Breaking Bad" Season 1 antagonist, Tuco Salamanca (Raymond Cruz) who is killed at the beginning of Season 2, and then comes back in the spin-off. Krazy-8 (Maximino Arciniega) also appears briefly in Season 2 of "Better Call Saul." With such an excellent opportunity to reprise old roles, many have been wondering since the show's release in 2015 if Walter White (Bryan Cranston) and Jesse Pinkman (Aaron Paul), the two main characters of "Breaking Bad," will be making any appearances. 
Well, this question finally has an answer, and the news is good.
Bryan Cranston and Aaron Paul are coming to Better Call Saul
Well, after five seasons of the "Breaking Bad" spin-off series "Better Call Saul," the guest appearance we've all been waiting for from Walter White and Jesse Pinkman is finally happening. Co-creator of "Better Call Saul," Peter Gould, confirmed with Variety that both Bryan Cranston and Aaron Paul are included in Season 6. 
However, in his interview with Michael Schneider for Variety, he keeps quiet about just how and when the two will appear within the season. "How or the circumstances or anything, you'll just have to discover that for yourself, but I have to say that's one of many things that I think you'll discover this season." 
Shortly after, the "Better Call Saul" official Twitter account shared an image of the two with the words "They're coming back." 
Cranston, Paul, and Bob Odenkirk haven't been together in their "Breaking Bad" roles since the Season 5 episode of "Breaking Bad," "Granite State," which also happened to be Odenkirk's final episode as Saul Goodman in the series. "Breaking Bad" ended in 2013, but Cranston and Paul appeared in their iconic roles once more for the 2019 film "El Camino: A Breaking Bad Movie." 
Season 6 of "Better Call Saul" airs on April 18.