Who Plays Aberforth In Fantastic Beasts: The Secrets Of Dumbledore?
If you're one of the many Potterheads who flocked to see — or are planning on flocking to see — the third installment in the prequel franchise, you've undoubtedly noticed that "Fantastic Beasts: The Secrets of Dumbledore" boasts some pretty major Hollywood heavyweights. Directed by wizarding world veteran David Yates, the film sees Jude Law, Eddie Redmayne, and Ezra Miller (aka The Flash, for now) reprise their roles as Albus Dumbledore, Newt Scamander, and Credence Barebone, respectively, while "Hannibal" star Mads Mikkelsen joins the cast as Gellert Grindelwald. 
In its synopsis of the new film's premise, Warner Bros. revealed that the film revolves largely around Dumbelbore's enlistment of Scamander and a ragtag team of various magical folk (and at least one Muggle) to halt the rapid progression of the power-hungry Grindelwald (via The Wrap). The film also sheds further light (as its title suggests) on the storied Dumbledore family and their various relationships, including that between the famous Hogwarts Headmaster Albus and his less celebrated, less academically inclined brother, Aberforth. The younger Dumbledore brother was first introduced to filmgoers in "Harry Potter and the Deathly Hallows: Part 2," but features more heavily in the recently released film. But just who is the actor behind Albus' mustachioed sibling, and where have you seen him before? 
Richard Coyle portrays Aberforth Dumbledore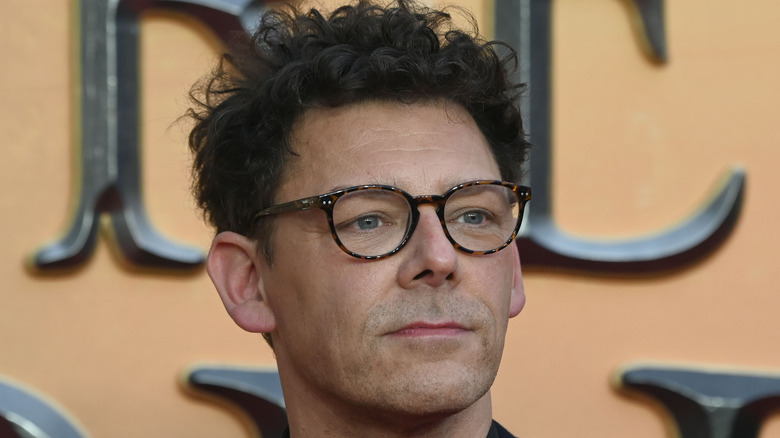 Stuart C. Wilson/Getty Images
In "Fantastic Beasts: The Secrets of Dumbledore," Aberforth is portrayed by Sheffield native Richard Coyle. Coyle's career kicked off in 1998, and by 2000, he'd moved into a regular role on the BBC's "Coupling" (aka the British version of "Friends," created by a pre-"Doctor Who" Steven Moffat, per Bustle). 2004's "The Libertine" saw him star alongside Johnny Depp in Laurence Dunmore's silver-screen spin on the famed Earl of Rochester, and in 2010, he appeared in Disney's "Prince of Persia: The Sands of Time" before landing the lead role in Luis Prieto's "Pusher" in 2012.
Despite the actor's prolific career, which includes a seven-episode arc on USA's "Covert Affairs" and a lead role in NBC's short-lived "Crossbones," it's most likely that upcoming "Fantastic Beasts" audiences will recognize Coyle from one of two places. 
In 2016, Coyle portrayed the sympathetic and dutiful Dr. O'Donnell in BBC2's "The Fall." Starring international treasure Gillian Anderson and Jamie Dornan of "The Tourist," the series gained an even larger following when it moved to Netflix and hung out in the Top 10 for an impressive length of time (via The Guardian). Following his success on the serial killer vs. intrepid investigator phenom, Coyle remained on Netflix, this time on the streaming service's original series, "Chilling Adventures of Sabrina." In Roberto Aguirre-Sacasa's dark reboot of the late-'90s series, Coyle portrayed none other than Father Faustus Blackwood, ex-husband to Sabrina's aunt Zelda (Miranda Otto) and a jealous, zealous antagonist to Kiernan Shipka's titular protagonist.