The Orville Is For 'Disgruntled Star Trek Fans,' Says Series Star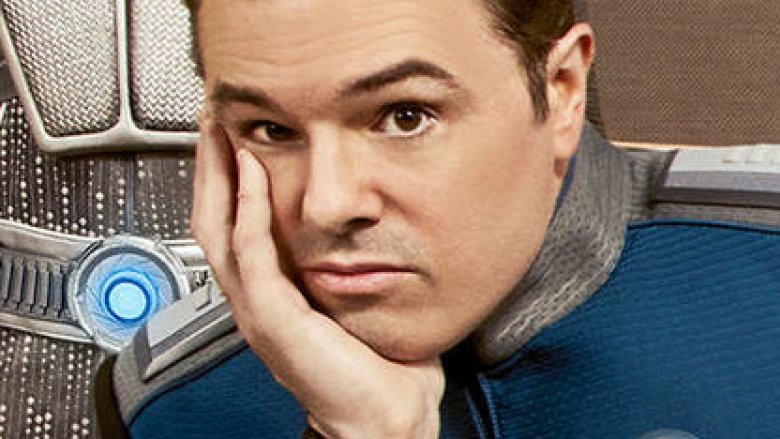 Syfy
Seth MacFarlane's forthcoming sci-fi series The Orville has long been billed as a spoof on another beloved show of its kind: Star Trek. While creator and star MacFarlane hasn't shied away from the connection between the two series, British actor Mark Jackson, who plays Isaac on the show, has revealed that The Orville is the perfect remedy for disappointed Star Trek fans. 
In an exclusive interview with ScreenRant, Jackson stated that there has been quite a bit of positive chatter surrounding The Orville, a good portion of which has come from Star Trek fans who are angry over the fact that the franchise's refresh series, Star Trek: Discovery, is only available online and blocked by a paywall. "We've had a lot of buzz. At San Diego Comic-Con, we had a lot of people queuing who wanted to get into our panel, and because it's Seth I think people will give it a go," said Jackson. "I think a lot of the Star Trek fans, disgruntled about not having Star Trek for years [will enjoy it.] There is [Star Trek: Discovery] but that's only going to be available online and you have to pay a subscription for it, so I think there's going to be a few disgruntled Star Trek fans who will love this show, as well as Seth MacFarlane fans, so we'll have quite the mix."
Speaking of MacFarlane fans, Jackson also mentioned that how The Orville doesn't incorporate much of MacFarlane's signature use of pop culture references, as seen in his past work on Family Guy. "There hasn't been a lot of nodding heads to other sci-fi franchises, which is a bit hard when you're 400 hundred years in the future, but there are elements of that," the actor explained. "But what is the great thing about sci-fi is that you can take modern issues of the world today but put them on a planet with aliens that you can resolve in different ways because they're not humans. You don't risk offending anyone or making it about us."
Jackson also talked how his character, an artificial life form named Isaac from the planet Kaylon who's sent as an ambassador from the Kaylon race to serve as the science officer on the Orville. He's also "vastly intelligent" and "doesn't have a malicious bone," but his demeanor can come across as condescending to others. "[He] ends up saving the day quite a lot but in the first few episodes you don't really see him, though I'm in all of them," Jackson said. "Towards the end he adapts and it's been really interesting to see how he changes, and he does form some special relationships with certain characters."
On the whole, The Orville is very much rooted in the optimistic side of sci-fi, a far cry from the bleak nature of modern works of the genre, and boasts a handful of Star Trek writers to help make that narrative possible. "What Seth has said time and time again is that he wanted to create a sci-fi show which was helpful, that provided you with a bit of hope which is fighting against the trend of [dystopian] gloomy sci-fi. Many of the writers who wrote for Star Trek are writing for us, having said that there are some really heart-wrenching moments that you won't expect," said Jackson.
The Orville stars MacFarlane as Planetary Union officer Ed Mercer, Adrienne Palicki (Agents of S.H.I.E.L.D.) as Mercer's ex-wife Kelly Grayson, Scott Grimes (Justified) as Mercer's best friend Gordon Malloy, Peter Macon (Shameless) as the alien Bortus, and Penny Johnson (24) as Dr. Claire Finn. Goosebumps actress Halston Sage, Family Guy alum J. Lee, and Saturday Night Live icon Norm Macdonald round out the cast. Charlize Theron is set to guest star. 
Directed by Jon Favreau, The Orville is scheduled for a two-night premiere on Sunday, September 10 and Sunday, September 17. The show will start its regular broadcast schedule on September 28. 
Until we see the series for ourselves, find out which of MacFarlane's other television shows was almost canceled.