Watch The First Trailer For Seth MacFarlane's Star Trek Spoof The Orville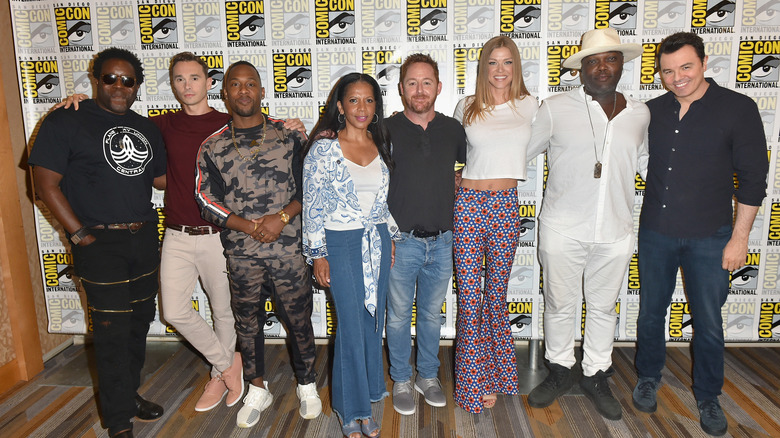 Jerod Harris/Getty Images
Fox has released the first look at Family Guy creator Seth MacFarlane's latest series, The Orville, and it looks pretty dang similar to Star Trek.
Directed by Jon Favreau (The Jungle Book, Iron Man), The Orville centers around a crew of space-adventuring humans and galactic creatures as they traverse through the stars, take on exciting challenges, deal with common workplace problems, and crack more than a few bathroom jokes along the way. (Hey, the series is from the mind of Seth MacFarlane.)
The Orville stars MacFarlane as Planetary Union officer Ed Mercer, Adrienne Palicki (Agents of S.H.I.E.L.D.) as Mercer's ex-wife Kelly Grayson, Scott Grimes (Justified) as Mercer's best friend Gordon Malloy, Penny Johnson (24) as Dr. Claire Finn, Peter Macon (Shameless) as the alien Bortus, and Mark Jackson (That Royal Today) as the artificial life form Isaac. Joining them are Family Guy alum J. Lee, Goosebumps actress Halston Sage, and Saturday Night Live legend Norm Macdonald.
Here's the synopsis: "The Orville is a one-hour science fiction series set 400 years in the future that follows the adventures of the U.S.S. Orville, a mid-level exploratory vessel. Its crew, both human and alien, faces the wonders and dangers of outer space, while also dealing with the familiar, often humorous problems of regular people in a workplace... even though some of those people are from other planets, and the workplace is a faster-than-light spaceship... somehow, Ed (MacFarlane) and Kelly (Palicki) must put the past behind them and, with the help of the crew, navigate fascinating and sometimes dangerous adventures in outer space, as well as the tumultuous and captivating day-to-day personal relationships with their colleagues."
The Orville is set to premiere on Fox sometime during the network's 2017-2018 broadcast season. We'll update you when a premiere date is set. Until then, find out the reason why MacFarlane's Family Guy was almost canceled.