Seth MacFarlane's The Orville Will Show Optimistic Side Of Sci-Fi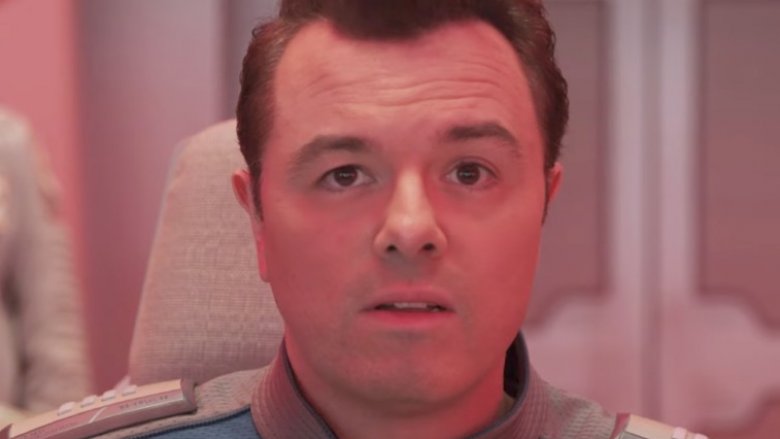 It won't be doom and gloom for Seth MacFarlane's upcoming sci-fi series The Orville.
Speaking at the the Television Critics Association's press tour in Beverly Hills, MacFarlane revealed his sincere goal to bring optimism, lightheartedness, and a sunny disposition back to sci-fi.
"I miss the optimism," MacFarlane said (via Entertainment Weekly). "I'm tired of being told everything is grim and dystopian and people are going to be murdered for food. I miss the hopeful side of science fiction. Now things are very grim."
He continued on this note, commenting on the rather downtrodden overtones present in the modern entertainment scene and the slightly negative ways in which dark sci-fi portrays humanity. "It can't all be The Hunger Games," noted MacFarlane, referencing his aim for The Orville. "There has to be an aspirational blueprint for [a future] where we get our s*** together."For MacFarlane's part, that future where society has a chance to thrive despite any eerie circumstances is exactly what he hopes to portray in The Orville, taking inspiration from sci-fi series past. 
The Orville has been billed as a Star Trek spoof, but MacFarlane's comments here seem to indicate that it'll also serve as a sort of less-serious homage, striking a balance between dramatic and comedic elements and telling episodic adventures. 
"Star Trek itself sprang from a lot of different shows before it. I miss the hopeful side of science fiction. That flourished in the '90s. Some shows did it in a more cheesy fashion, and some shows, like Star Trek, did it a little more seriously," said MacFarlane. "[The Orville] can't just be gag, gag, gag. There has to be some reality from where the comedy comes from."
Overall, with The Orville, MacFarlane stated he's "seeking to break a bit of new ground" in terms of tone. "It's not something that has been done on TV in recent years, at least in the hourlong format ... we really do see it as a sci-fi comedic drama. We allow ourselves room for levity in the ways that a traditional hourlong show doesn't," he said (via The Hollywood Reporter). 
The Orville stars MacFarlane as Planetary Union officer Ed Mercer, Adrienne Palicki (Agents of S.H.I.E.L.D.) as Mercer's ex-wife Kelly, Penny Johnson (24) as Dr. Claire Finn, Mark Jackson (That Royal Today) as an artificial life form named Isaac, Peter Macon (Shameless) as an alien named Bortus, and Scott Grimes (Justified) as Mercer's best friend Gordon. J. Lee (Family Guy), Halston Sage (Goosebumps), and Norm Macdonald (Saturday Night Live) round out the cast. 
The series is scheduled for a two-night premiere on Sunday, September 10 and Sunday, September 17. The Orville will start its regular air schedule on September 28. 
Until then, find out why MacFarlane's Family Guy was almost canceled.