The Marvel Movie You Likely Forgot Starred Troye Sivan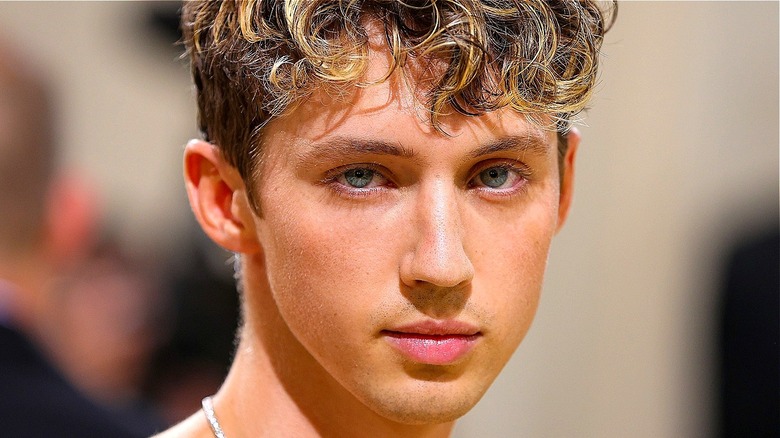 Theo Wargo/Getty
Marvel has often cast a wide net for actors to play its adapted characters. Whether it's the Marvel Cinematic Universe, Sony's Spider-Man Universe, or Fox's "X-Men" series, many of the most popular faces in modern Hollywood have made an appearance in leading and minor roles. Sometimes, Academy Award-nominated actors like Samuel L. Jackson will play massive and essential characters like Nick Fury in the MCU, while Brad Pitt appears in "Deadpool 2" for barely one second as Vanisher. Either way you look at it, Marvel has consistently been able to bring some of the greatest actors over multiple generations to star as characters in its comic-book movies.
The "X-Men" movies have been particularly incredible at this, rattling off a list of talent that begins with Patrick Stewart, Ian McKellen, Hugh Jackman, and Halle Berry while coming to include James McAvoy, Michael Fassbender, Jennifer Lawrence, Kevin Bacon, and Oscar Isaac through the most recent installments. Jackman even became so popular to audiences because of his character that he had his own spin-off trilogy in "X-Men Origins: Wolverine," "The Wolverine," and "Logan."
These Wolverine solo films continued to cast well-known actors for roles, and one even cast an unknown who has since grown to music stardom: Troye Sivan.
Troye Sivan played young Logan in X-Men Origins: Wolverine
In 2009, Marvel decided to release an origin story for Hugh Jackman's Wolverine: "X-Men Origins: Wolverine." At the beginning of the movie, fans witness a family back in the 1800s that holds a complicated relationship between two brothers and parents torn apart by an affair. The brothers are, of course, Victor (Michael James-Olsen) and James, aka Logan, played by none other than now popular music artist Troye Sivan.
Sivan's Logan is introduced sick in bed, being tended to by a man whom he believes to be his father, while his mother is downstairs being attacked by their drunk groundskeeper. Logan ultimately confronts the man, getting angry enough to activate his mutant abilities of claws made out of bone, stabbing him. However, it is revealed that the man he killed is actually his real father, prompting Logan to run out into the night with Victor while the townspeople seek to kill them for their mutations.
Sivan delivers an emotional performance as little Logan, especially considering it was his first role ever as an actor, although it would not be his last. Aside from his successful music career — he has over 20 million monthly listeners on Spotify – the actor has appeared in films like "Boy Erased" in 2018 and the Paramount+ movie "Three Months" in 2022. Although Sivan hasn't spoken much about "X-Men Origins: Wolverine" in recent years, it's likely that his first movie role will always hold a special place for him.