Brad Pitt's Highest Grossing Movie Might Surprise You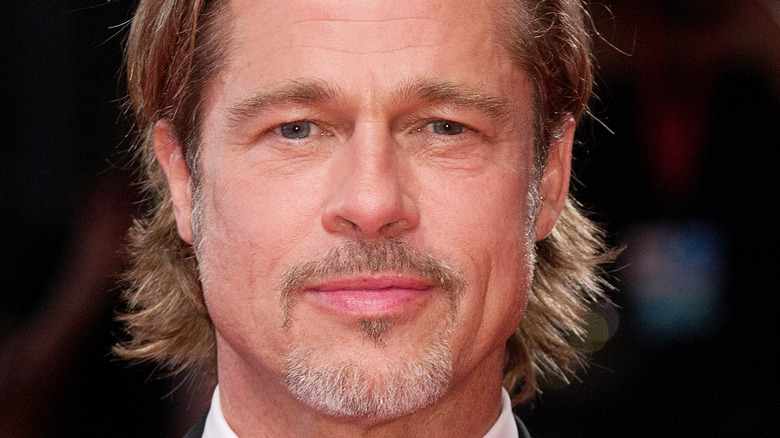 Andrea Raffin/Shutterstock
When thinking about Hollywood A-listers, one of the first names that comes to mind is probably Brad Pitt. The actor has worked on numerous hit projects and was once famously married to Angelina Jolie. Pitt has had quite the impressive career looking at his IMDB page. In the '90s, he landed roles in hit movies such as "Se7en" and "Fight Club." From there, his career only reached higher as he solidified himself as a household name and respected actor.
Entering the early 2000s, he starred in more modern classics such as the "Ocean's" franchise and "Mr. & Mrs. Smith." He's even been in an animated movie or two having voiced characters in both "Megamind" and "Happy Feet Two." In the 2010s he continued to star in box office smashes and fan favorites with the likes of "World War Z," "12 Years a Slave," and "Once Upon a Time... In Hollywood." With all these impressive roles under his belt, his highest grossing movie might surprise you.
Brad Pitt's highest grossing movie is Deadpool 2
Surprisingly, Brad Pitt's highest grossing movie is "Deadpool 2." Now, you might find yourself thinking, "Was Brad Pitt even in 'Deadpool 2?'" Well, there's an answer to your confusion. Pitt is not a part of the main cast of the film. In fact, he's in the film for less than 5 seconds. Pitt plays a cameo role in the movie as The Vanisher. His character is an invisible friend of Deadpool who is revealed to be Pitt after a skydiving accident. In the scene, available to watch on YouTube, the X-Force must skydive from a moving plane. The Vanisher unfortunately runs into a telephone pole on his descent down and while being electrocuted he is no longer invisible. This is when viewers realize this is Pitt if they are able to catch it fast enough as the reveal is about 2 seconds long.
The film brought in around $324 million at the domestic box office (per Box Office Mojo). This beats Pitt's second highest grossing film "World War Z" which brought in roughly $202 million (per Box Office Mojo). So, while Pitt is the star of "World War Z," his cameo appearance in "Deadpool 2" has it beat. However, Pitt was happy to do the cameo as discussed by Ryan Reynolds in an interview with Entertainment Tonight. Reynolds revealed that Pitt was so happy to do the cameo that he did it for free, his only payment being a singular cup of coffee. Reynolds said, "I was told all he wants is a cup of coffee ... which was really his way of saying, 'I'm doing it for nothing.' And it was a total solid and the nicest thing anyone could do."