Fans Are Angry At Fantastic Beasts 3 Over This One Thing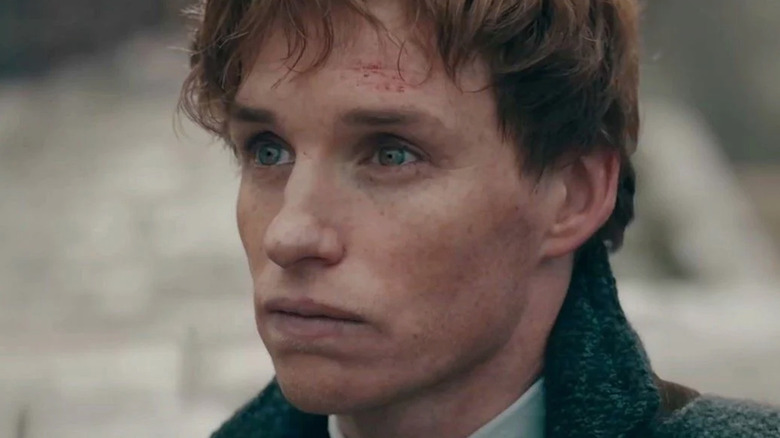 Warner Bros.
The Wizarding World has been mired in controversy in the last few years thanks to a combination of author J.K. Rowling's inflammatory comments, as well as Johnny Depp's legal battle with his ex-wife, Amber Heard. "Fantastic Beasts" fans will remember that Depp plays the dark wizard, Gellert Grindelwald in the first two movies of the "Harry Potter" prequel. The star left the role in 2020 when he lost the high-profile libel case in the U.K. against The Sun newspaper. "Hannibal" star Mads Mikkelsen stepped in to replace him in "Fantastic Beasts: The Secrets of Dumbledore."
The result is a much different version of the villain, as Mikkelsen plays Grindelwald as more of a scheming politician than a deranged killer. In the new film, Newt Scamander (Eddie Redmayne) and Albus Dumbledore (Jude Law) race to stop him from overthrowing the magical world. They assemble an elite team of wizards, witches, and one particular muggle — Jacob Kowalski (Dan Fogler) — to save the day.
But there's one huge part of the "Fantastic Beasts" franchise that is missing for most of "The Secrets of Dumbledore" — and fans are understandably outraged.
Tina Goldstein only appears briefly
Warner Bros.
Although a huge part of Newt's story revolves around his romantic journey with Tina Goldstein (Katherine Waterston), Goldstein barely registers in the third film. She briefly shows up in a scene depicting various wizarding authorities around the world, before again making an appearance at Jacob and Queenie Goldstein's (Alison Sudol) wedding at the Kowalski bakery. She shares a tender moment with Newt as he prepares to give his Best Man speech, and although it's great to see them together again — it's also bittersweet.
Fans aren't happy that Tina isn't a bigger part of the adventure in "The Secrets of Dumbledore," and many took to Twitter to complain about her absence, or as @downtonks put it: "my girl Tina Goldstein deserved better." 
Meanwhile @Ayannalei_ tried to ask "Harry Potter" alum Tom Felton if he knew why the witch wasn't in the film much, tweeting, "I NEED to know what the heck is going on with our missing woman Tina Goldstein, Tom! I'm gonna NEED these answers!"
Meanwhile @ThatsOurLewis joked that Waterston gave the best short performance writing, "Best GIF Performance in a Motion Picture by a Supporting Actress this year." 
Some fans are so disappointed that Tina's been left behind, they're vowing not to watch the movie at all. @Rogueoneisbest blasted the sequel, tweeting, "Well, without Tina/ Katherine Waterston in the new Fantastic Beasts movie I sure won't be seeing it . Yet another movie about white guys running around waving their wands."
So why was Katherine Waterston left out of "The Secrets of Dumbledore"?
Katherine Waterston spoke out against Rowling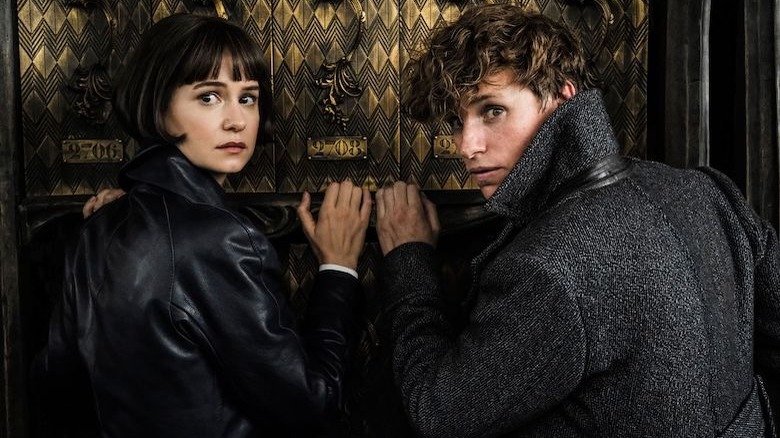 Warner Bros.
There's been plenty of speculation over Tina's absence in the film, and it's possible that her role was squashed because Katherine Waterston has previously voiced her support for the transgender community — seemingly in response to Rowling's own controversial opinions. Back in June 2020, Waterston shared support for trans people on her Instagram story by sharing a headline from The Guardian. The headline reads: "Trans women pose no threat to cis women, but we pose a threat to them if we make them outcasts."
The star later opened up to the Independent about why she felt the need to voice her support for the community. "Because I was associated with Fantastic Beasts," she said. "It felt important to communicate my position. One wondered if they might be grouped in with other people's views by association." Waterson was clearly concerned that because she has a role in the Wizarding World that this would look like she supports the views of the franchise's creator.
But was this specifically the reason behind Tina's omission? The causal connection isn't quite so clear. In 2019, Warner Bros. confirmed that Jessica Williams' Eulalie Hicks would have a bigger role in the sequel (via Deadline), so it doesn't seem like she was used as a replacement for Tina. Of course, production was originally meant to start in March 2020 — months before Waterston's comments — but work was delayed due to the pandemic.
If there are more "Fantastic Beasts" projects on the way, let's hope Tina gets more of the spotlight.