Fantastic Beasts Review: The Secrets Of Dumbledore Rediscovers The Magic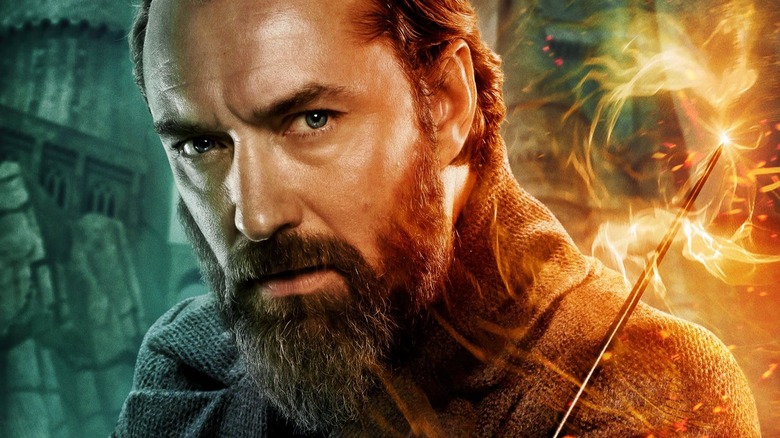 Warner Bros.
Once upon a time, there was a magical franchise called "Harry Potter" that seemed like it could do no wrong. Little kids, newly invigorated with the joys of reading, waited in line for hours to buy books at midnight release parties; films with fast-rising young stars Daniel Radcliffe, Rupert Grint, and Emma Watson brought joy to millions of moviegoers. Then it ended, as all things must, and the wand seemed to snap in half. Series creator J.K. Rowling made polarizing, hurtful statements, the franchise branded itself "Wizarding World" and tried to limp along with a spinoff series of "Fantastic Beasts" movies, and aside from the impressive Universal Studios lands, a darkness descended upon the franchise as if brought about by Voldemort himself.
Now comes "Fantastic Beasts: The Secrets of Dumbledore," a film that arrives with the tagline "You are invited back to the magic," and in some ways that is correct. Following the 2016 somnambulant spinoff "Fantastic Beasts and Where to Find Them" and 2018's almost unwatchable "Fantastic Beasts: The Crimes of Grindelwald," arguably the worst film to ever fall under the "Potter" umbrella, "Secrets" feels as if this Eddie Redmayne-fronted franchise is finally beginning to locate its footing. Or more accurately, the final third of the movie is where it all finally comes to life.
With a screenplay by Rowling and direction from David Yates (who made the first two films and is expected to direct a total of five "Beasts" movies), "Secrets" picks up right where the last film left off. A dangerous, widening chasm has developed between former compatriots Albus Dumbledore (Jude Law) and Gellert Grindelwald (Mads Mikkelsen), hindering on the latter's desire to bring magic out of the shadows by whatever means necessary. Feeling a bit like "The Magnificent Seven" if Steve McQueen and Yul Brenner carried wands rather than six-shooters, the early parts of "Secrets" has Dumbledore assembling a team of quirky magic-wielders to stand up against a power play that has Mikkelsen seeking an appointment that would allow him to take control of the wizarding world.
This being a magical tale, the election is largely decided by a magical creature called The Qilin, who resembles a baby deer and has the ability to discern inherent goodness in a person. The film opens with a powerful sequence that has Redmayne's Newt Scamander assisting in a Qilin birth, only to defend the creature from Grindelwald's minions from its first breath. The "Beasts" series, ironically enough, hasn't always excelled at making its beasts much more than porg-level CGI gimmicks, so it's refreshing to see one both instrumental to the plot and somewhat compelling.
Do you even wand, bro?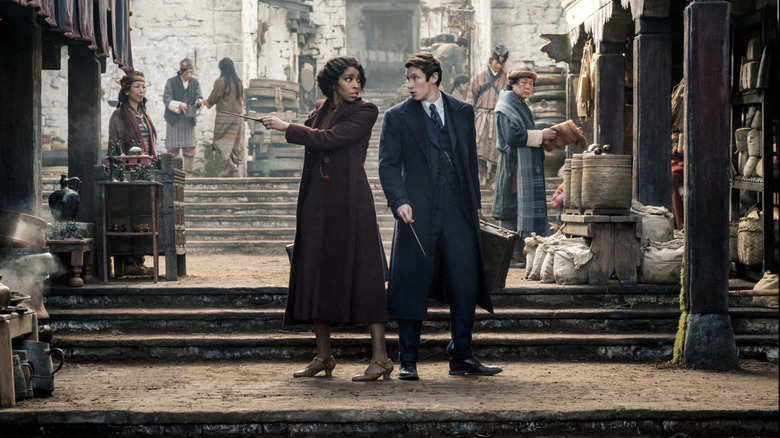 Warner Bros.
After a lot of exposition — so, so much exposition — about offscreen characters, unseen events and dubious, clouded motivations, "Secrets" kicks into high gear in the wisest of locations: Hogwarts School of Witchcraft and Wizardry. The moment the film cuts to the familiar sight of a Quidditch player zooming around Harry Potter's old (well, future) school, it not only earns tremendous goodwill with viewers who've sat through one too many scenes of Newt Scamander looking uncomfortable, but also begins tying together the old movies with the new. We see the Great Hall, Slytherins and Gryffindors, the Room of Requirement, and more.
The Hogwarts scenes put the struggle in perspective, and soon our heroes are off on a mad dash to stop Grindelwald's power grab. The fellowship includes Newt's brother Theseus Scamander (Callum Turner), best-thing-about-these movies Jacob Kowalski (Dan Fogler) and "Lally" Hicks (Jessica Williams), who sounds like she's watched too many Howard Hawks films. It builds to some truly engaging magic smackdowns (the best being Lally and Theseus versus some Grindelwald disciples), a touching climax between Dumbledore and Grindelwald, and the promise that the next film will be more like that and less like the two-and-two-thirds movies that came prior.
If you choose to see it, don't be surprised if your audience lets out a little cheer (deservedly so) early in the film when Dumbledore and Grindelwald sit down together to catch up on old times. In 2007, Rowling (pleasantly) stunned much of the "Potter" fanbase with the revelation that Dumbledore was gay, but after that bomb was dropped, it was largely ignored by the official output of the series. This film presents it as simply as it should: explaining why he had been loyal to Grindelwald up to a point, Law's Dumbledore explains: "because I was in love with you," and this now-canonical revelation is reinforced several other times throughout the film.
Another noteworthy element of "Secrets" is that Mads Mikkelsen, rapidly on his way to becoming this generation's Max Von Sydow, has taken over The Grindelwald role from the embattled Johnny Depp. Not only do these two actors look extremely different, but they bring very different elements to the table; Depp was playing against type as a duplicitous villain — when the Qilin genuflects towards Grindelwald in this film, indicating Mads Mikkelsen is pure of heart and intent, you wonder whether the beast has ever seen, like, a single Mads Mikkelsen film.
The aforementioned Dan Fogler is a hoot in this flick, with many of his best gags revolving around a wand given to his muggle Jacob that may or may not actually have magical powers. He also brings substantial heart to the film via his continued love story with Queenie (a delightful Alison Sudol), who he still hopes to marry if she can ever get over the whole "turning to the dark side" thing. Williams is a lot of fun as Lally, and this film makes Redmayne's Newt as endearing as the character has ever been, even if he is still so mousy and awkward that it's at times difficult to want to keep hanging with the character.
You will forget you ever heard the name Johnny Depp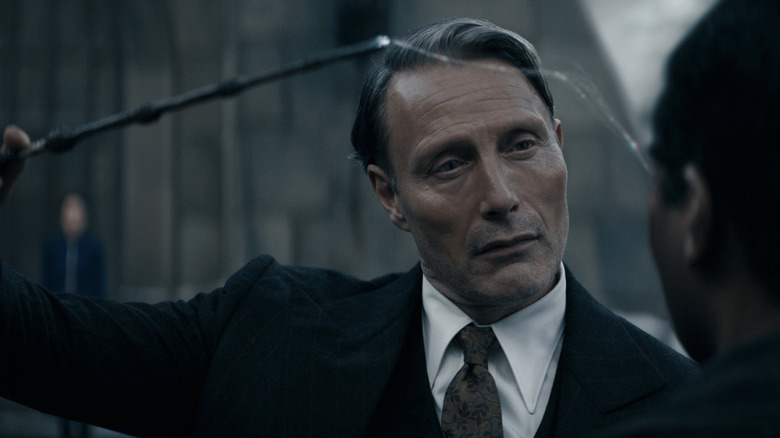 Warner Bros.
Groundbreaking character revelations notwithstanding, the Achilles' heel of the franchise, at this point, seems to be Law's Dumbledore. Everybody loves Jude Law, he's a fine actor, no complaints there. But at no point during "Secrets" do you feel like you're watching anything more than Jude Law giving another Jude Law performance; aside from names and circumstances, there are precious few reminders of Richard Harris or Michael Gambon, little to none of the spark and fatherly mischief those actors brought to the role. Compare Law's work here with Ewan McGregor deftly channeling the legacy of Sir Alec Guinness in his Obi-Wan performances, and it underlines the shortcomings of this portrayal that is essential to the franchise.
Similarly, Ezra Miller's work as Credence Barebone is ... well ... stripped down to the bare bones. The character is largely a goth afterthought, popping up in random scenes to pout or be on the verge of apparent death, then vanishing for a dozen scenes at a time. His relationship with Grindelwald is hampered by their lack of scenes together, which can also be said for Yusuf Kama (William Nadylam), another character whose lack of screentime seriously hinders the actor's ability to do much more than check off a box or two on the list of mandatory plot points.
Despite all this, by the end of "Secrets of Dumbledore" you might find yourself feeling like the film series has finally turned a corner. Grindelwald is scary, Dumbledore determined, Jacob in love, and Newt still walking around with that creepy green stick in his pocket. Where does it go from here? Will it be worth watching? If the second half of this franchise can maintain the enthusiasm and charm of this film's conclusion, it could just pull off the cinematic equivalent of yanking a rabbit from its hat.