The Amazing Connection Between These Two Goonies Cast Members - Exclusive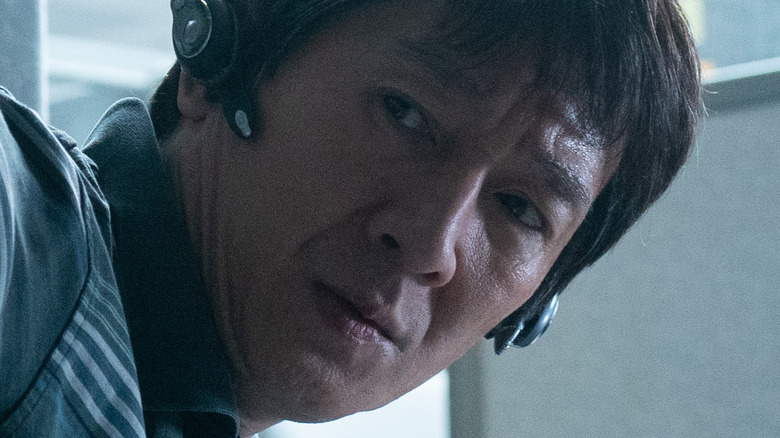 A24
One of the many fascinating stories surrounding the making of the new movie "Everything Everywhere All at Once" is that of actor Ke Huy Quan, who sat down with Looper for an exclusive interview. After Quan and his family immigrated to the United States in 1979 from Vietnam, they settled in Los Angeles — where, several years later, the then 12-year-old Quan accompanied his brother to an open audition in Chinatown and ended up winning the role of Short Round in "Indiana Jones and the Temple of Doom."
Quan's luck continued the following year when he landed the part of Richard "Data" Wang in 1985's "The Goonies." Quan pursued his acting career for the next decade and a half, but after finding less and less work for Asian actors at the time, he retired in 2002 and began contributing behind the scenes as a fight choreographer and assistant director.
But when Quan saw the success of "Crazy Rich Asians" in 2018 — a film with a largely Asian cast that became a massive hit — he decided to try acting again. Meanwhile, "Everything Everywhere All at Once" directors Daniel Kwan and Daniel Scheinert were wondering what had happened to the actor who played Short Round, and it wasn't long before Quan got the call to star opposite Michelle Yeoh in the trippy sci-fi action comedy as her husband, Waymond.
But amazingly enough, Quan's longstanding friendship with one of his fellow cast members from "The Goonies" was also a factor in helping him get his first acting job in almost 20 years.
Another Goonie helped Quan restart his acting career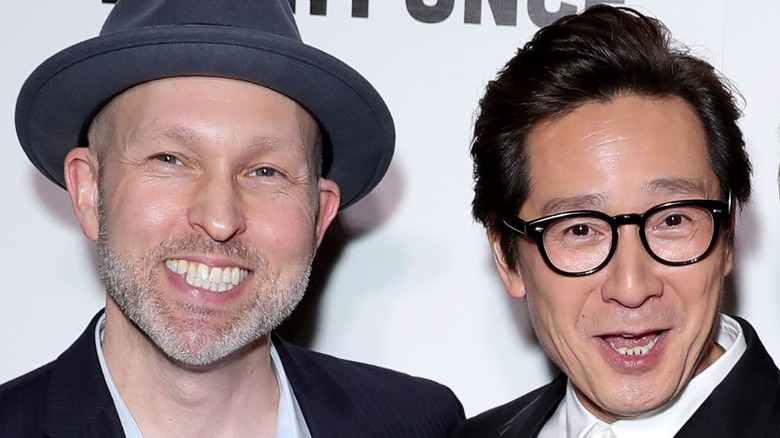 Leon Bennett/Getty Images
Among the young cast of "The Goonies" — which featured Josh Brolin, Sean Astin, Corey Feldman, Martha Plimpton, and others — was an actor named Jeff Cohen. He portrayed Lawrence "Chunk" Cohen, so nicknamed due to his physical appearance but also known for making up all kinds of wild stories. Like Ke Huy Quan, Cohen eventually found it harder to land roles (once he got older and shed the weight, which was his defining characteristic to Hollywood casting directors) and left acting.
Cohen went to law school and co-founded an entertainment law practice in 2002, Cohen Gardner LLP, and it was to Cohen that Quan turned to close his deal when he was offered his contract for "Everything Everywhere All at Once."
"My producer told me this funny story," Quan explains. "When I got the part of Waymond, he had to get on the phone to talk with Chunk, to get Data to be in this movie. I thought that was pretty funny. Jeff Cohen, aka Chunk, is a good friend of mine. He's been a brother to me for 35 years, ever since 'Goonies,' and working on that movie was one of the greatest adventures of my life."
Quan adds that he has nothing but affection for the rest of his fellow Goonies, decades after they all came together to shoot the film. "I love Sean. I love Corey, Josh, Kerri [Green] and Martha ... It's unbelievable to me that I'm really fortunate to be part of that, but also how loved this movie is 35 years later ... For the seven of us to be there, it was like a playground every single day. We bonded on that movie, and because of that movie, we will always be a family together."
"Everything Everywhere All at Once" is in theaters now.