What Only Archie Comics Fans Know About Riverdale's Percival Pickens
Archie and the gang are no longer in high school on "Riverdale," but that doesn't mean they're free of the outlandish and, at times, absurd hijinks they are accustomed to. Season 5 introduced a seven-year time jump in which Archie (KJ Apa), Betty (Lili Reinhart), Veronica (Camila Mendes), and Jughead (Cole Sprouse) were reunited in adulthood. Since then, the series has only increased its heightened plotlines — most notably with the introduction of a multiverse in Season 6 and the supernatural-themed arc titled "Rivervale."
"Riverdale" continues to engage in supernatural storylines, even though the characters have returned to reality. This is most evident with the inclusion of new antagonist Percival Pickens (Chris O'Shea). The descendant of notorious founding father and killer General Augustus Pickens, Percival arrives in town, claiming he wants to change Riverdale for the better. But as it always goes with newcomers to Riverdale, Percival is not as he seems. Though his motivations are shrouded in secrecy so far, Archie Comics fans know something crucial about this character.
Percival does not appear in the comics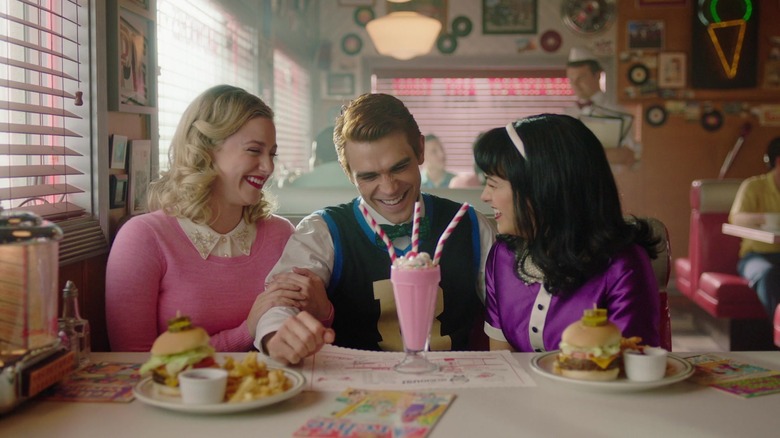 The CW
Percival blends in well within the "Archie" brand with his alliterative name and his family's long-established history relevant to the town of Riverdale. His ancestor General Pickens was responsible for running the indigenous population out of their native lands, and he made Riverdale what the townspeople know it as today. Even well-known landmark Pickens Park was named after him. However, Percival is not an original character from the comics. In fact, in an interview for Deadline, showrunner Roberto Aguirre-Sacasa stated that he wanted the character to be closer to a Stephen King villain.
This isn't an entirely unbelievable leap to make. Many of the characters on the show are only shadows of their comic versions. Jughead is not asexual as he is represented in the comics (via The Beat). Instead, he and Betty were one of the more interesting couples in the series, even if Betty has chosen Archie for the time being. Percival is an addition who is well within the brand that the series has set up, wreaking havoc in a way that is classic "Riverdale." He inexplicably has mind control powers and is using them to gain supremacy over the town. As Hiram Lodge (Mark Consuelos) is canonically dead, with his actor having left the series, "Riverdale" needs a new villain. And there is nothing scarier than a fanatic convinced they are the only one who can make the world a better place.