The Last Movie Gilbert Gottfried Was In Before He Died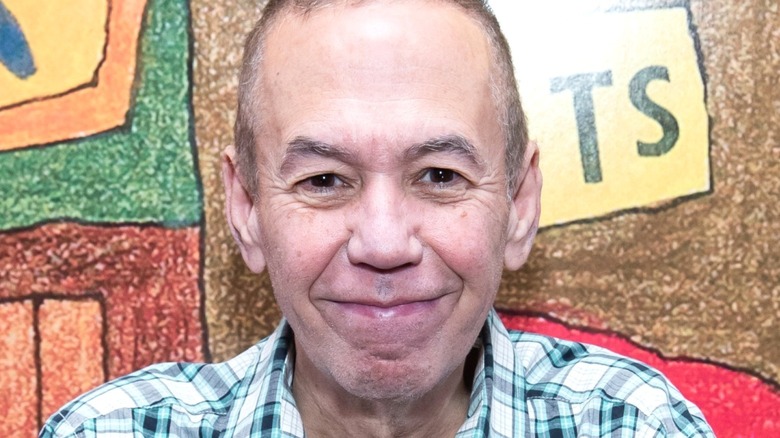 Sagliocco/Getty
Comedian Gilbert Gottfried — known for his crude humor and signature voice — has died at the age of 67. Gottfried was a prolific performer who is probably most known for voicing Iago, the conniving parrot sidekick to the villainous Jafar (Jonathan Freeman) in the 1992 Disney film "Aladdin," a role he would go on to reprise in a slew of sequels, spin-offs, and video games. And while Iago may be the comedian's signature film role, it was far from his only one. 
Gottfried had dozens of movie roles throughout his career, from Eddie Murphy's live-action "Doctor Doolittle" to the 1980s comedy "Problem Child" to the "Sharknado" series, in which he appeared multiple times as news reporter Ron McDonald. Whether providing voiceover or appearing in live-action, Gottfried was a reliable supporting presence across cinema since he began his career in the early 1980s. And if you would like to watch the final movie Gottfried appeared in before his death, then we hope you're feeling in the Christmas spirit. 
Gottfried's last movie was The Truth About Santa Claus
The last movie Gilbert Gottfried appeared in was the 2020 Christmas film "The Truth About Santa Claus." Directed by Chris Bayon, "The Truth About Santa Claus" introduces Michael (Bayon), a man who doesn't want children despite the fact that his partner (Olivia Hamilton) does. But everything changes for Michael when he meets Santa Claus (Robert Kelly) himself, who turns his world upside down. In the film, Gottfried plays Dr. Leland, the couple's therapist who Michael and his partner visit to work through their issues.
You'll be forgiven if you haven't seen the film, as "The Truth About Santa Claus" flew pretty under the radar when it was first released. However, if you're finding yourself craving a mix of Gottfried's signature voice and comedic stylings, as well as a little off-season holiday cheer, you can find the film for rental or purchase on Amazon Prime Video.