The American Pickers Team Confirms What We All Suspected About The Cast Of Pawn Stars
Reality TV shows tend to exist in their own universes, because they're often highly specific, and focus on very particular talents of their stars. Entertaining as the idea might be, this essentially means that you're highly unlikely to get a season of the "Real Housewives" franchise where the ladies go full "Gold Rush" in the unforgiving wilderness of Yukon. 
That being said, when two reality shows run on the same network and their premises are adequately similar, the situation changes. For instance, "American Pickers" and "Pawn Stars" are both History shows, and focus on the strange and surprisingly lucrative world of rummaging through the world's unwanted memories for profit. Granted, the "Pickers" crew does this by hitting the road and going through people's strange possessions in search of a juicy find, while the "Pawn Stars" crowd appraises the potential treasures people bring in their Las Vegas pawn shop. Still, the premises are similar enough that the two shows' stars have run in the same circles ... and, it just so happens, this interation allowed the "American Pickers" team to confirm what we all suspected about the cast of "Pawn Stars."
The American Pickers like the Pawn Stars folks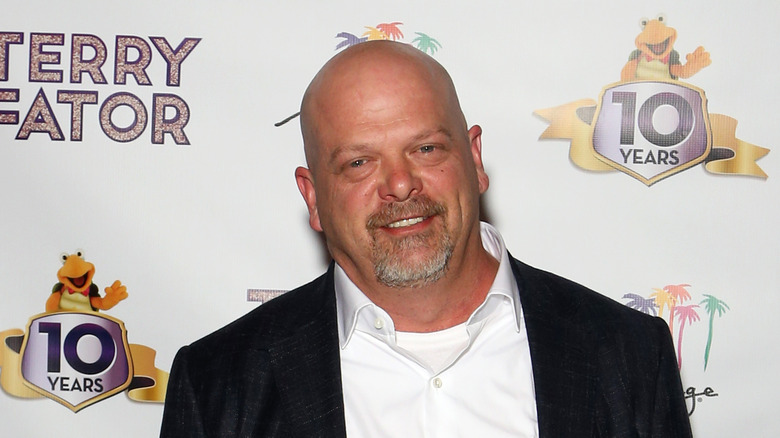 Gabe Ginsberg/Getty Images
Per Outsider, the "American Pickers" duo of Mike Wolfe and then-co-host Frank Fritz first met the "Pawn Stars" cast in 2010, during an event set up by History. As is often the case when meeting colleagues whose work you're technically familiar with, but whom you haven't actually personally met before, the meeting had potential to be awkward. However, Wolfe said that everything ultimately went pretty smoothly, and that the "Pawn Stars" stars were very pleasant company.
"They were all really nice," Wolfe said, though he acknowledged the less than ideal nature of a first meeting with History's cameras pointed at everyone. "We had never talked to each other, and they put us in a room and we're like 'Hey, what's up?'"
Uncomfortable circumstances aside, it's nice to hear that the "American Pickers" and "Pawn Stars folks turned out to be kindred spirits, considering the entrepreneurial spirit of both parties, and the particular niche they both focus on.
Pawn Stars and the American Pickers team have worked together
After the first meeting between "Pawn Stars" and "American Pickers" team went well, it was probably just natural that the two History reality show groups would cross paths in one of the shows, as well. This happens in Season 4 of "American Pickers," when Rick Harrison of "Pawn Stars"  appears on an episode called "The Pick, The Pawn, & The Polish. It's easy to understand the "pick" and "pawn" parts of the title, but if you're wondering about the "polish" part, there's a reason for that, too. The episode is actually a bit of an all-stars gathering, since Frank Fritz, Mike Wolfe, and Rick Harrison also visit Rick's Restorations, which features in a third History reality show, "American Restoration." 
The episode kicks off when Harrison commissions the pickers to locate a very specific classic car for his dad's birthday present, and after a suitable specimen is found, everyone heads to Rick's Restorations to make sure that the car is fully polished up into a worthy gift. As you can assume, everyone makes a day out of the event, and it's pretty clear that these absolute professionals of their respective industries work very well together. 
Mike Wolfe used to worry that Pawn Stars would steal his spotlight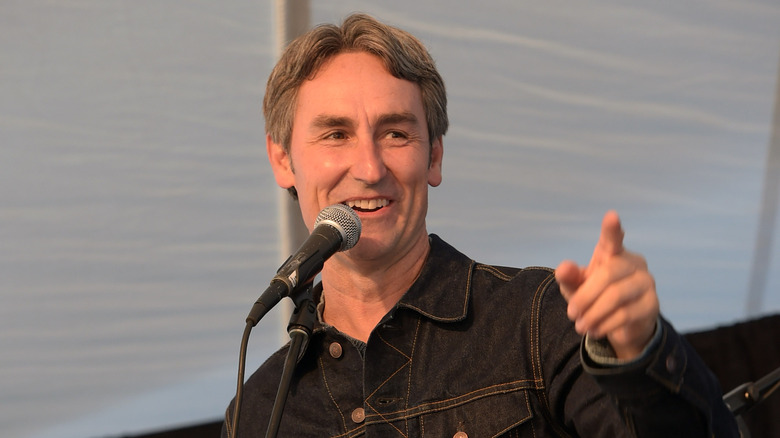 Rick Diamond/Getty Images
The fact that the "Pawn Stars" and "American Pickers" people would get along pretty well may seem pretty intuitive, when you consider the similarities of their jobs and fields of expertise. However, it wasn't necessarily a given. In fact, "American Pickers" star Mike Wolfe was originally far from happy when he found out that "Pawn Stars" was becoming popular (per Outsider).
This wasn't out of personal animosity, though. "American Pickers" and "Pawn Stars" are both venerable shows, but while "Pickers" has more seasons, "Pawn Stars" is actually the older show. It started airing in 2009, while Wolfe and Frank Fritz's on-screen adventures started in 2010. Given the similarities of the two shows' basic premises, the earlier debut of "Pawn Stars" made Wolfe worry that it might hurt "American Pickers'" chances to make it big.
The potential boogeyman "Pawn Stars" presented was a pretty huge one because, as Wolfe told Script Mag in 2013, he'd invested a massive amount of his time and personal bandwidth to create a successful show, despite having zero connections in the industry when he started planning the project. "I didn't know anybody," Wolfe described the process. "But I knew there were people I needed to know, so I kept asking questions, Googling people, including [producer] Sara Kozak, finally getting her email address. At the end of the day, we were lucky, but I was very persistent."
Knowing this, it might have been hard for Wolfe to meet the "Pawn Stars" folks if the show would've made things difficult for "American Pickers." However, since both shows turned out to be successful, there was no such baggage, and it appears that the stars got along just fine.