The American Pickers Episode Everyone Likely Forgot Starred Pawn Stars' Rick Harrison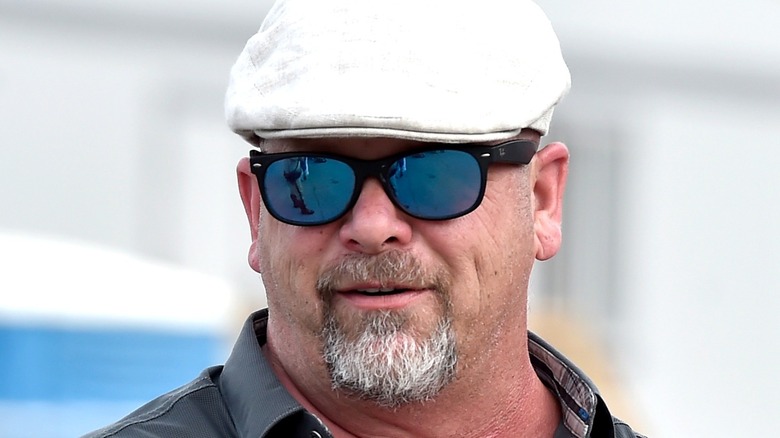 David Becker/Getty
Corporate synergy is the name of the game. A company can have varying machinations at play, and it's up to the higher-ups to determine how to make those properties work to their fullest potential. It's why you see so many crossovers in this day and age, and back in 2011, History had a major one on its hands with the "American Pickers" episode, "The Pick, The Pawn, & The Polish."
Things start out like they usually do on "American Pickers." Mike Wolfe and Frank Fritz are on the road looking for a good find when they get a call from Danielle Colby. It turns out she has a specific request from a very high-profile client, namely Rick Harrison of "Pawn Stars" fame. Harrison normally has no shortage of old junk lying around his own shop, but he wants something specific for his father's birthday — a 1957 Chevy. To make things even more interesting, the pickers have one week to track one down, which may seem like an insurmountable task for some, but the guys have their connections.
A crossover between "American Pickers" and "Pawn Stars" makes sense. After all, they both deal with finding beauty in antiques, but Rick Harrison's role in the episode extends far beyond a standard cameo.
The pickers have their work cut out for them in the episode
What makes this Season 4 episode of "American Pickers" so special is that it's not a simple crossover between two shows but three. Wolfe and Fritz manage to find the car, but it's in need of some considerable repairs. After all, Rick Harrison doesn't want to give his dad a beat-up piece of junk, so to get the item in tip-top shape, they head over to Rick Dale's shop as seen on "American Restoration." The other History series centers on Dale and his shop, Rick's Restorations, where they restore all kinds of items, particularly vehicles.
It was a real treat for History fans to see the three shows crossover, culminating in one of the sweetest moments ever featured on the channel. When Rick Harrison finally gets the chance to unveil the car to his father, you could almost hear a pin drop. "Old Man" Harrison is completely taken aback, and that fact wasn't lost on fans. On a YouTube clip of the moment, fans wrote, "Watching the old [man's] reaction to his 70th birthday gift made me cry in cheers" and "I cried when the old man seemed happy."
The episode saw several tough negotiators enter the ring together and ultimately settle on prices for the greater good of making "Old Man" Harrison happy for such a monumental milestone. There's never been another episode quite like it on History, but no doubt fans would love to see "American Pickers" and "Pawn Stars" crossover once again.