The Nostalgic Scene In Law & Order: Organized Crime Season 2, Episode 17 Fans Couldn't Help But Love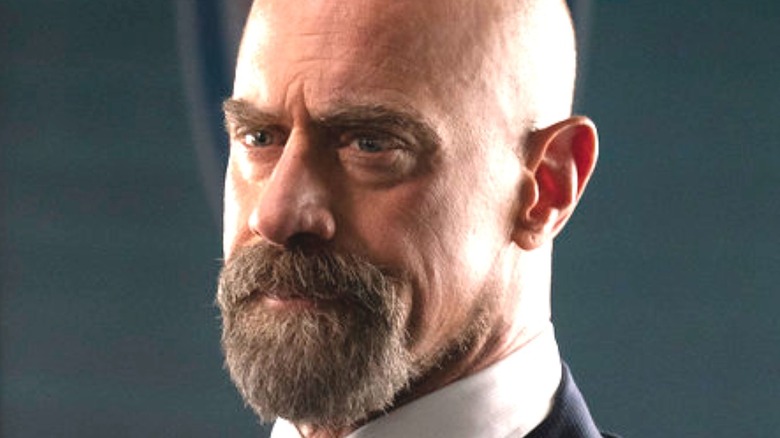 Virginia Sherwood/NBC
The 2nd season of "Law & Order: Organized Crime" is still in full swing, with Christopher Meloni's Elliot Stabler continuing to do his thing for the NYPD's Organized Crime Task Force. Since the show's debut in 2021, there's been a number of Stabler run-ins with famous "Law & Order" characters from years past, including several crossover episodes and interactions with Meloni's old show, "Law & Order: Special Victims Unit," and his former partner Mariska Hargitay's Olivia Benson. Fans got treated to yet another "SVU" guest spot during the April 7 episode of "Organized Crime," with one of the longest-running "Law & Order" characters and actors ever making a brief appearance during an emotional scene with Stabler.
"I felt the history in this scene," a viewer tweeted on April 7. "I have chills."
Since the first episodes of the original "Law & Order" began airing in the 1990s, the iconic police procedural has always been a franchise fueled by its emotional and realistic characters and their relationships with one another. And in the latest episode for "Organized Crime," this theme was blindly evident, with fans calling the nostalgic Stabler moment — and the associated cameo from a former franchise mainstay — one for the ages.
Dann Florek's Cragen returns to chat with Stabler
It was a shocking moment that fans couldn't stop talking about, and one that "Law & Order" diehards can't help but love — Dann Florek's Donald Cragen, back in the flesh to converse with Elliot Stabler following all their shared history together on "SVU." The scene saw both men talking about controversies surrounding Stabler's cop father and his reputation on the force.
@jennasvuoc tweeted afterward, "Elliot Stabler and Don Cragen face to face tonight I need a minute," garnering over 350 likes and retweets. Another Twitter user, @OHSNAPitsyawman, commented, "Stabler seeing his old captain warms my heart, welcome back cap."  A third viewer, @Jen_Paris14, wrote, "Hearing Cragen say 'Elliot' I just went back in time." 
Florek's Cragen character first made his debut on the original "Law & Order" and served as commander of the 27th Precinct, with the actor appearing from 1990 to 1993. After being replaced by S. Epatha Merkerson's Lt. Anita Van Buren, Florek eventually made his way over to "SVU" in 1999 and was featured as the head of the Special Victims Unit until his departure in 2014 (via The Hollywood Reporter). In addition to "Organized Crime," Florek reprised his role as Cragen on "SVU" in the 2015 episode "Perverted Justice" and in 2021's "The Five Hundredth Episode."