The DC Villain You Likely Didn't Know Chicago P.D.'s Jason Beghe Played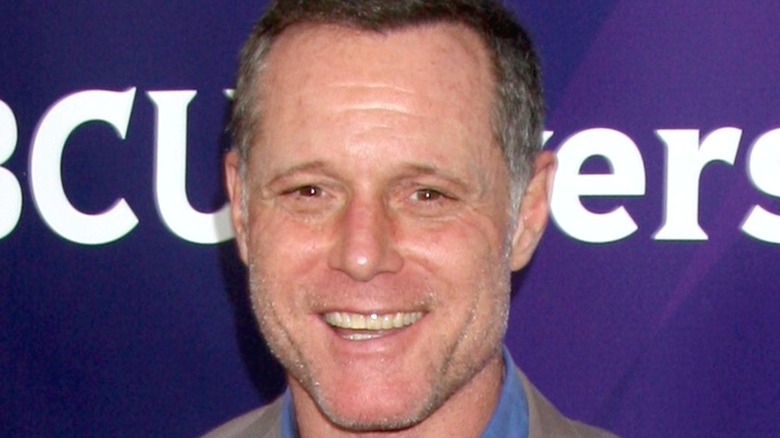 Kathy Hutchins/Shutterstock
While the Marvel Cinematic Universe has dominated live-action film over DC's attempts to match its success, the animated movie scene is where DC has been living large. "Superman: Unbound" is a 2013 release that continued that trend. Matt Bomer voices the titular hero, lending his talent to quench fans' thirst. It doesn't take an intense Internet dive to find fans clamoring for him to don the cape (via Twitter). Alongside him are "Castle" alumnae Stana Katic as Lois Lane and Molly C. Quinn as Supergirl, as well as the always menacing and unique voice talent of John Noble ("The Boys," "The Lord of the Rings") as the villainous Brainiac.
The film follows Superman and an inexperienced Supergirl as they battle the coming of an old nemesis responsible for capturing the Kryptonian capital, Kandor. "Unbound" is driven by a dive into the connection between the superheroes and their past, along with facing their fears against an enemy more powerful than them both. The movie was well-received, landing a rare 100% review rating from the critics on Rotten Tomatoes.
Eagle-eared fans may also hear another voice they are familiar with: Jason Beghe, who plays Hank Voight in "Chicago P.D." If you missed it, here's where you can go back and listen to him again.
He was 'in deep trouble' with Supergirl
If you're a fan of "Chicago P.D.," you know very well who Hank Voight is. His drive to protect his city causes him to go off the deep end at times, disregarding all rules and protocol in the interest of completing the mission. While some other officers don't agree with his methods, there is little debate that his results keep him on the brass' good side. At the end of the day, he believes the end justifies the means, putting the safety of his city above anything else.
In "Superman: Unbound," Jason Beghe lends his voice to someone whose code of conduct is far from that of Hank Voight. During the film's opening moments, terrorists kidnap Lois Lane and try to escape on a helicopter, using rocket-propelled grenades to aid in their getaway. Chasing them down is Supergirl, leading Lois Lane to remark to their leader (Beghe) that he is "in deep trouble." He is, of course, no match for Supergirl. She dispatches him quickly, even though Superman is needed to step in since she is inexperienced and reckless.