One Of Kara Killmer's Favorite Chicago Fire Scenes Is A Brettsey Classic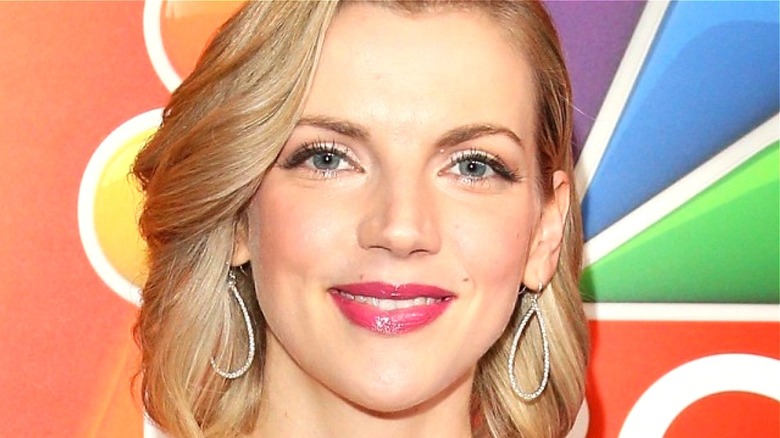 Jean Baptiste Lacroix/Getty
As possibly the most ardently-shipped of all "Chicago Fire" pairings, the duo affectionately dubbed Brettsey has endured and become one of the series' favorite, most closely followed couples. Pairing paramedic Sylvie Brett (Kara Killmer) with former firehouse captain Matthew Casey (Jesse Spencer), the Brettsey relationship has been a long-distance affair since Casey's character left Chicago to take up a new position in Oregon in the show's landmark 200th episode. And, as it turns out, Killmer's Brett decided that the long-distance element currently stressing their relationship is just a little more than she wants to put up with. In recent episodes, Brett has been away rekindling her relationship with Casey (although, she is slated to return for the Season 10 finale). 
So, with their relationship continuing to drive storylines on "Chicago Fire," what better time than now to look back at one of the all-time best Brettsey scenes. This one, in particular, has actually been cited by Kara Killmer herself as one of her favorites for the couple.
The time Brett and Casey played Heads Up is Brettsey gold
The iconic Brettsey scene in question plays out in the "Chicago Fire" Season 9 premiere episode, "Rattle Second City." As the action unfolds, Brett is out on a call with fellow Ambulance 61 paramedic Gianna Mackey (Adriyan Rae). Tending to a young O.D. victim, Brett has a gun put to her head by the man's brother, who threatens to kill her if she fails to save his sibling. When the victim later dies, Brett is understandably worried the hot-head brother will come looking for her. Feeling vulnerable, she asks Casey to come over and keep her company, and the two share a decidedly friendly evening together.
Part of that evening includes a round of the popular party game Heads Up. In an interview clip one enthusiastic fan posted to Twitter, Kara Killmer identifies this scene as one of her all-time favorites. Undoubtedly the best part is when Casey has to give Brett clues to help her guess the word "Australian." To do so, he does an incredibly lame and comically faulty attempt to imitate an Australian accent. The hilarious sub-text for long-time "Chicago Fire" viewers in the know is that Jesse Spencer is actually an Aussie in real life. 
So, while the scene is endearing simply because of the growing bond it shows developing between the two, Spencer's deliberately cringe-worthy accent is another reason this is one of Kara Killmer's favorite Brettsey moments on "Chicago Fire."