The Best Find On American Pickers Season 17
For over a decade, Antique Archeology shop-owner and television personality Mike Wolfe has been inviting audiences to join him on his hunt to uncover historically relevant and re-sellable rarities on History's "American Pickers." Along with his trusty cohort and shop manager Danielle Colby (and, formerly, alongside his picking partner Frank Fritz), Wolfe combs the country roads and rural map specs of the U.S. in his imposing but functional van, occasionally coming across antique and vintage oddities whose stories are almost as unique and fascinating as those of their often eccentric and always passionate collectors. Some finds, as fans well know, are rarer than others, and their monetary value actually meets or surpasses the sentimental value they hold for their owners. Such is the case for a very special find in Season 17 of "American Pickers."
The Season 17 premiere episode is a big one for Mike and Frank, who stumble across a gold mine of vintage cars and motorcycles when they travel to Oregon to meet with a collector named Zane and his mother. Zane inherited the massive lot of motor nostalgia from his father Larry, who'd been into cars and bikes since he was in his early teens, and at one point, boasted a collection of over 150 titled vehicles. Zane has no intention of maintaining and restoring each and every item on the lot, but the stakes are high when Mike zeros in on one of the few items that Zane is not convinced that he wants to part with. 
Mike and Frank gamble on an Ace in the Season 17 premiere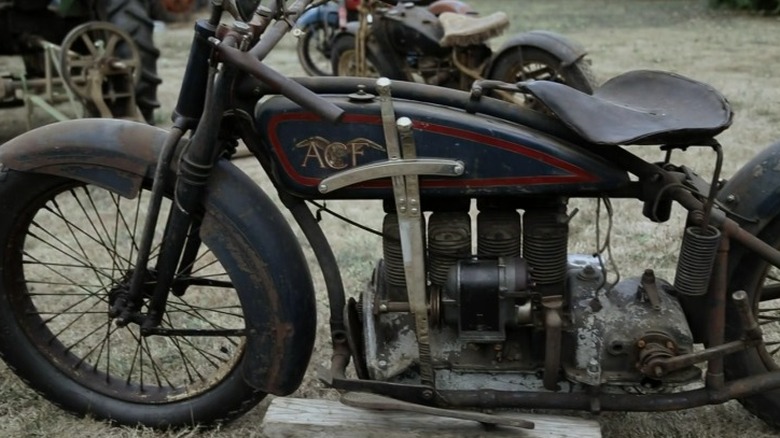 History
Among Zane's many vehicles, Mike Wolfe finds and immediately falls in love with a 1922 Ace 4-cylinder Motorcycle. As the experienced picker explains, Aces are extremely rare thanks to the company's limited life span. Founded in 1919 by William G. Henderson, the Ace Motor Corporation was quickly bought out by competing manufacturer Indian Motorcycle just a few years after Henderson's death in a vehicular accident in 1922. Subsequently, both the bikes themselves and the parts to restore them are incredibly difficult to come by. 
Despite Zane's Ace having been modified over the years (mainly, its paint job) Mike recognizes its rarity, value, historical importance, and potential. He does his best to convince the mother and son duo to sell the motorcycle despite the fact that, for them, the bike carries a lot of sentimental value. Ultimately, the collectors do agree to sell the storied bike, but it comes at no small cost to the pickers. Partially, this is due to the fact that in addition to the Ace, the team discovers a Harley Knucklehead engine from 1947, a 1931 Indian 4-cylinder, and a 1938 Indian "Johnny Cash Special," aka, a bike modified using several different companies' parts.
The Pickers spend an unprecedented $90,000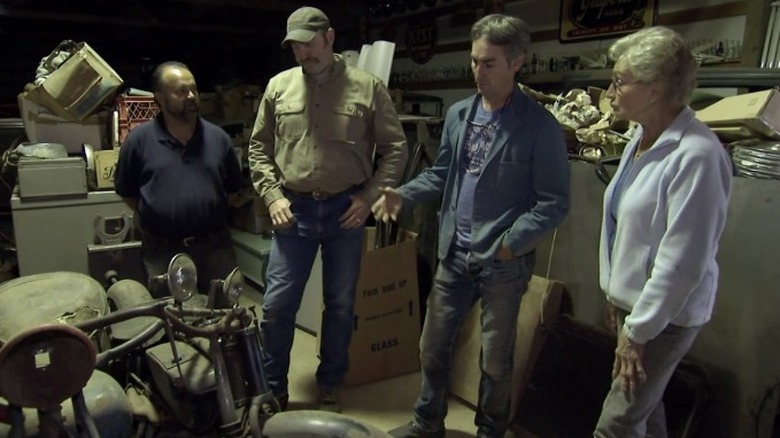 History
In order to purchase all four rarities, as Frank Fritz explains, the pair will have to take out a line of credit between $40,000 and $50,000, and then do their best to recoup the accrued debt. "We've been burned by large purchases before," he notes, "and this would be the biggest." The Ace alone sets the team back $45,000, but Mike is unwilling to pass it up, particularly given the item's place in motorcycle history. In 1923, he reveals, a rider named Red Wolverton made headlines when he reached a top speed of 129 mph on an Ace 4-cylinder.
In the end, Mike and Frank fork over $90,000 in all in order to leave Zane and his mother's collection with what they feel are the rarest and most potentially restorable and re-sellable finds. It's an unprecedented amount for the pair, as both Mike and Frank are quick to point out after privately debating whether or not they should go for it. Given the extreme scarcity of the Ace 4-cylinder, however, neither appear to regret making the massive gamble.