Jesse Spencer Might Return To Chicago Fire Sooner Than You Think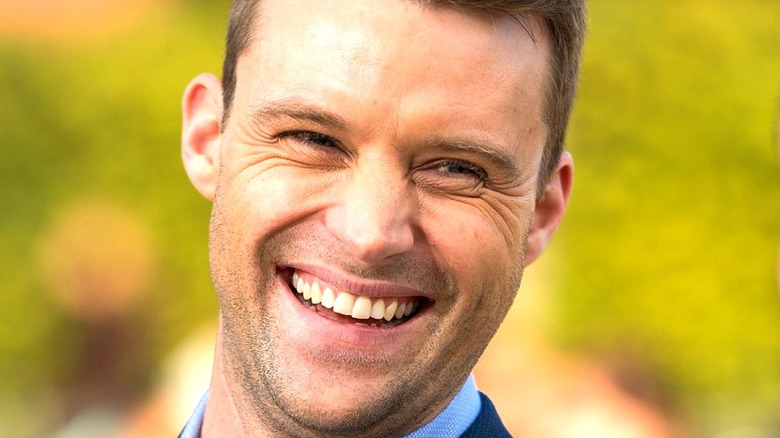 Noel Vasquez/Getty
Jesse Spencer has been a staple of "Chicago Fire" since the series premiered in 2012, appearing in 200 episodes over the course of his 10-year run, plus the "One Chicago" sister series "Chicago Med" and "Chicago P.D." (via IMDb). As Captain Matthew Casey, he is a member of Truck 81, specializing in the operation of hydraulic ladders. Throughout his time on the series, Casey also shows a passion for carpentry, leading him to work as a freelance construction worker when he isn't fighting fires.
At the beginning of Season 10, Spencer's character left "Chicago Fire" to move to Portland, Oregon. The NBC series had set the stage for Casey's potential relocation in the pilot, in which his friend and colleague Andy Darden (Corey Sorenson) passes away in the line of duty, leaving two sons behind. With the now-teenage boys' mother in jail, Casey heads west to look after them — at least until they turn 18. The actor's reasons for leaving were admittedly less dramatic, citing his 18 consecutive years on the air–first on "House," then "Chicago Fire" as a reason to take a much-needed break. Now, Spencer is teasing a return to "Chicago Fire" sooner than fans may have expected.
Spencer is rumored to return for the Season 10 finale
Jesse Spencer last appeared on "Chicago Fire" in the fifth episode of Season 10, "Two Hundred," which aired back in October 2021. Despite the episode's sense of closure, the actor was quick to tease his character's eventual return. Immediately following his exit, he told Deadline, "I think it was pretty organic that he's leaving, and he's going for three years but is he? We don't know."
Now, Deadline has the rumor mill churning once again. Ahead of the Season 10 finale on May 18, executive producer Derek Haas hinted that Casey could be making an appearance in the Windy City. It's welcome news to "Chicago Fire" fans who have long been anticipating a reunion between Casey and Sylvie Brett (Kara Killmer), as they've been maintaining a long-distance relationship since the former's departure.
Spencer seems just as eager to continue working with his former cast member. He shared, "[Leaving] was difficult because I really like Kara, and we've established a really nice relationship. I really liked working with her." The details around how Casey's return could play out are still unclear. Hopefully, we'll see the firefighter rekindle his friendly chemistry with other characters, including Severide (Taylor Kinney). Indeed, some fans have speculated whether Casey is returning to attend Severide's wedding. It's also worth noting that a screen credit for Season 10, Episode 17 of "Chicago Fire," which is set to air on April 6, has appeared on Spencer's IMDb profile. However, it's unknown if that's the episode he's set to appear in.
Whether Casey's return is a one-time thing remains to be seen. Fans may have to wait until Season 11 to find out if the Firehouse 51 captain is back for good.