The Law & Order: SVU Character You Likely Forgot Sharon Stone Played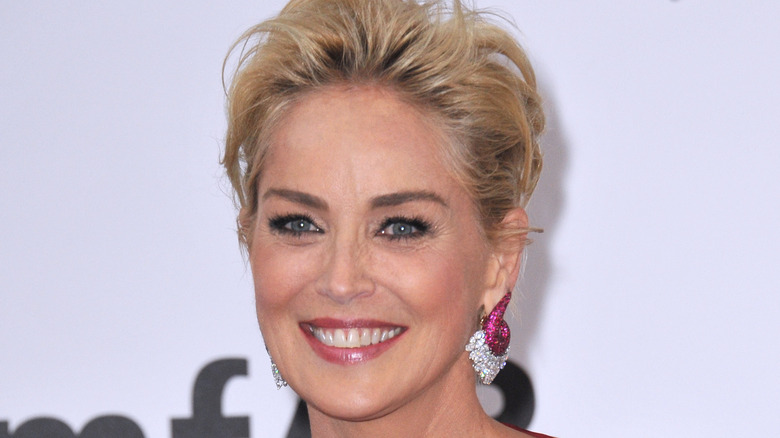 Featureflash Photo Agency/Shutterstock
In the more recent segment of her four decades-plus career in show business, the Emmy-winning and Oscar-nominated actor Sharon Stone has appeared in a number of surprising television projects, much to the delight of fans more typically accustomed to seeing the star on the big screen. Most recently, she tackled the role of anti-hero Cassie Bowden's (Kaley Cuoco) mother in HBO's critically-acclaimed mystery series, "The Flight Attendant," and in 2020, she joined the Ryan Murphy club with her role as the eccentric and sinister Lenore Osgood in Netflix's "Ratched." But a decade before she began imbuing bad television mothers with her characteristic allure, Stone had already enjoyed a four-episode arc on one of primetime TV's longest-running police procedurals, "Law & Order: Special Victims Unit."
Technically, "enjoyed" may not exactly be the correct term. In a 2015 interview with Harper's Bazaar, the "Casino" actor referred to her time on the series as "humiliating," if motivating. After suffering an aneurysm and extended cerebral hemorrhage in 2001 that affected her cognitive skills (and, subsequently, her career) Stone felt like she "got thrown off the bullet train," as she told the outlet, and was going to have "to crawl up a hill of broken glass, get back on the train ... and work [her] way from the cattle car up."
Despite the series' popularity, it wasn't a place Stone wanted to be, and after just four episodes of Season 11, she moved on and made her way back onto the proverbial train. So who, exactly, did Stone play in "Special Victims Unit," and why did the character require her to wear "L'eggs panty hose" and an oppressive amount of "white primer?"
Stone played A.D.A Jo Marlowe in Season 11 of SVU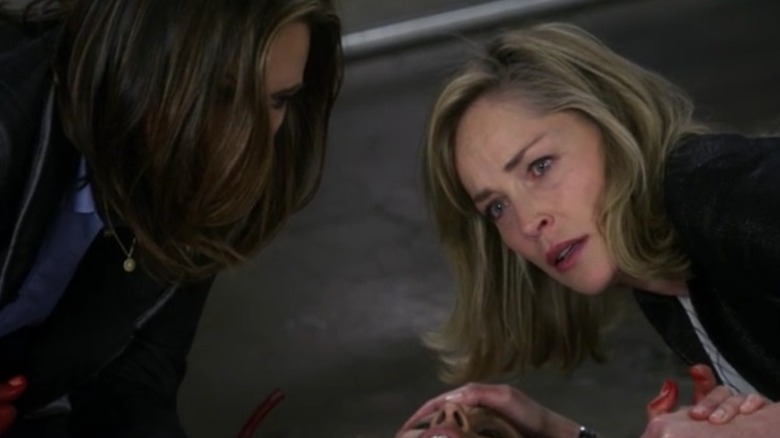 NBC/Amazon Prime
In Season 11's "Torch" (Episode 21), Stone makes her first appearance as former celebrated NYPD officer and current replacement A.D.A., Jo Marlowe. As fans will recall, the squad had some difficulty holding on to A.D.A.s at that time. Diane Neal's Casey Novak left (temporarily) after being censured in Season 9's "Cold," and her replacement, Christine Lahti's Executive A.D.A. Sonya Paxton, was suspended and sent to rehab following the revelation that she was intoxicated in open court. Early on during Marlowe's first episode, we learn that she was Detective Elliot Stabler's (Christopher Meloni) former training partner, and it's heavily implied that something romantic took place between the two.
Marlowe's experience as an officer serves her well in each episode of her brief storyline. In "Torch," she suspects that a defendant on trial for burning down his house with his children in it is actually innocent, and a casualty of misinterpreted crime scene evidence. In "Shattered," Stone's final appearance in the series, she uses her negotiating skills and personal tragedy to prevent a traumatized, grieving, and gaslit mother (guest star Isabelle Huppert's Sophie Gerard) from unleashing further carnage and devastation.
Stone may not have relished her time on "Special Victims Unit" (understandable, given the trajectory and echelon of her career prior to that point), but her episodes' ratings range from 8 to 8.5 for viewers on the series' IMDb page, so it's safe to say that a whole lot of viewers did.