Rabbit Hole - What We Know So Far
What does Kiefer Sutherland do best? If his recent string of TV roles is anything to go by, he defends the American democracy and defeats the "bad guys." And that is exactly what he'll be doing in the new Paramount+ series "Rabbit Hole." The "24" and "Designated Survivor" alum will find himself in a role similar to two of his most famous parts. On "24," Sutherland played an intelligence agent operating with organizations like the FBI and the Counter-Terrorist Unit. On "Designated Survivor," he is Secretary of Housing and Development Thomas Kirkman, who becomes the President of the United States after a shocking terrorist attack kills all other cabinet members who would be in line to take on the role.
Following a turn on the 2020 Quibi show "The Fugitive," Sutherland is once again preparing to get back into the "government thriller-action" genre mode with "Rabbit Hole," where he will be taking on the lead role, per a February Deadline report. After confirming the addition of shows like "Seal Team" to its streaming roaster (via Variety) and announcing a revival of beloved CBS procedural "Criminal Minds," it looks like Paramount+ is pulling out all stops to attract all crime drama fans. Deadline's latest update on the project also notes the eight-episode series was given the go-ahead in May 2021, and, in a recent virtual TCA session at Paramount+, executives shared new details about the show, beginning with its title, which is, of course, "Rabbit Hole." But wait, there's more.
Rabbit Hole will put Kiefer Sutherland back in the spotlight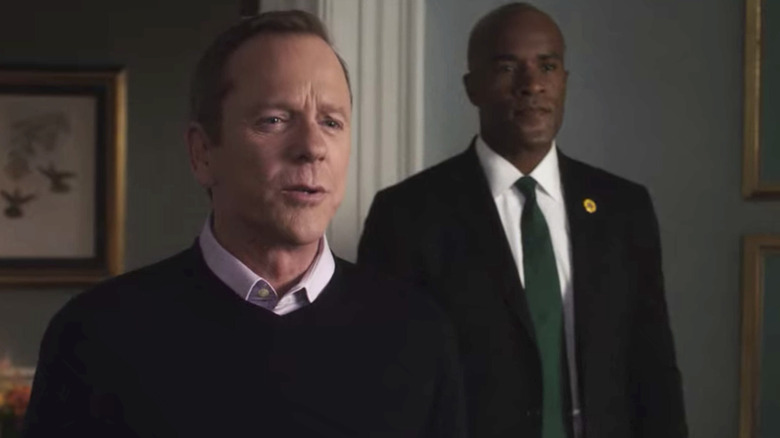 ABC
According to Deadline's February report, Kiefer Sutherland will play a "private espionage operative" named James Weir on "Rabbit Hole." Apart from Sutherland's leading role, most of the cast of the series has been kept under wraps so far. However, the IMDb page for the show reveals that "American Rust" alum Rob Yang has joined and is set to play a character named Edward Homm, although his relationship with James Weir or role in the show's plot is unclear. Deadline offers a summary of the plot of "Rabbit Hole," places Sutherland's James Weir "who finds himself in the midst of a battle over the preservation of democracy in a world at odds with misinformation, behavioral manipulation, the surveillance state, and the interests that control these extraordinary powers." 
"Rabbit Hole" was created by John Requa and Glenn Ficarra. The duo directed the pilots of NBC's "This Is Us" and the Apple TV+ limited series "We Crashed." They will also serve as executive producers, as will Sutherland, Charlie Gogolak, Suzan Bymel, and Hunt Baldwin. According to Nicole Clemens, president of Paramount Television Studios & Paramount Plus Original Scripted Series, the Sutherland-led project will soon go into production.
While the premiere date of the Paramount+ show has not been revealed, Clemens said that the show will debut on Paramount+ in fall 2022. With the release of "Rabbit Hole" a few months away, more details of the cast and plot should be revealed soon.